I grew up in a home that was PINK! My mother had our 2 floor apartment outfitted in various shades of dusty pink. Laura Ashley wallpaper adorned her room and our one bathroom, wall-to-wall pink carpet unified the whole. There was one room that was lavender blue… mine.
I don't know if it was early rebellion or simply my child's way to express my individuality in my mother's eyes, but I had no pink in my room at all… not even a "Care Bear"!
It took my first apartment in California to rekindle slowly with this soft hue. It started in the delicate flowers of a table cloth I had made myself (not a craft project I will share anytime soon… it was pretty bad actually). Then I came back to Canada (fast forward a few years), bought my first home and had my first daughter. At that point both her and my rooms were… pink!
My room had one wall of a vibrant peony pink colour and her room was all over dusty pink with a beige plaid tediously painted onto the crib wall. I even had a custom crib duvet over made with a pink and cream Toile de Jouy motif. What had happened from my "pinkless" childhood to my "pinked-out" early adulthood?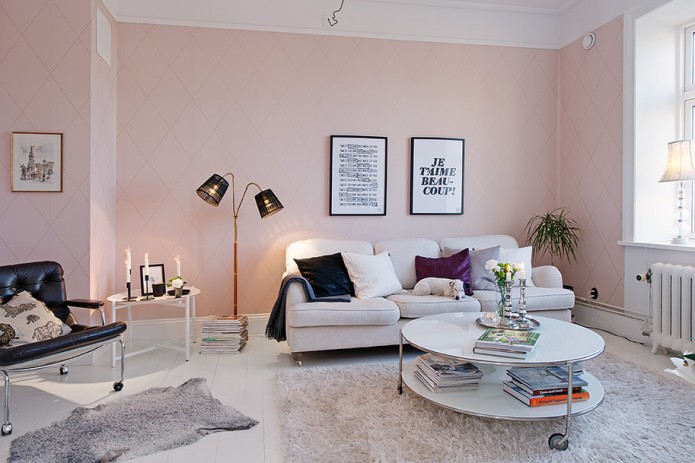 I am sure it would not take me long to find studies preaching the "happy factor" of pink into one's home. And even without any study to show for, I can tell you that pink makes me smile. It is a fresh and jolly colour… but also a feminine one. In my current home there is is only pink in our daughters room as my husband did not particularly feel like living in a cotton candy castle.
I have my views on the subject…but I am a god wife and there are so many colours to explore that it is a battle I did not even think of picking. But this is my time and hence, allow me to express how I feel about the colour of… Loooovvveeeee!
I am tickled with pink. Although it is perceived as being somewhat feminine, I believe that it can be displayed in a very current and gender neutral kind of way. Pink is gorgeous mixed with distressed brown leather as well as weathered grey tones. It is preppy when paired with Kelly green and exotic with rich wood pieces and saffron & gold accents. Pink comes in all sorts of shades from neon to shell and can be introduced in any room of the house from the kitchen to the office.
The case at hand is a romantic and feminine rendition of pink. All stops were taken out in creating this lovely apartment. A dollhouse effect that is Oh so pleasing to my eyes…
source: Alvhem Mäkleri och Interiör
0