Androgynous everything has been "the thing" for some time. Jeans, sunglasses, spectator shoes, and even fragrances that suit both a man or woman, furniture and decor elements that ooze streamlined elegance and put forward their materials quality rather then their ornate workings. Well that's all fine and dandy, but this Spring I am embracing my femininity!
Oust goes the tailored man suit fabrics on drapes and upholstery and in comes the flowy and floral sensibility of ladies past. I am channeling Jane Austen… with a twist!
I have to say that I have never really been a "frou-frou" kind of girl. My mom could even attest to the fact that if anything, I was more a tomboy that a girl at all. But it hit me like a ton of brick this year when I became interested in vintage porcelain cups, so delicate and feminine.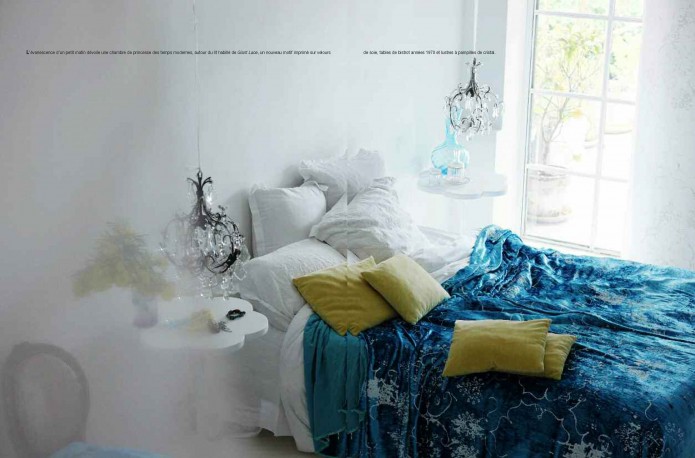 That being said, I am not running to the nearest wallpaper store to stock up on Laura Ashley floral patterns of my powder room (although in small quantity it could be really lovely!) but I have to say that I find really freshness in the crumpled look of linen and the watercolour motifs of this year's fabrics.
Will this trend fade in the near future? I don't think so. It's been long overdue and I think that it is here to stay. We already see a shift on how it is presented with cleaner lines, geometric patterns, and bolder colours. So have no fear there is no deep end in sight… maybe just a censoring department amongst our spouses whim might want to put a brake on our frenzy. Alright, if it happens I already have a plan B… I'll build him a man cave!
Sources: 1. A Creative Mint, 2.Carolyn Quartermaine in Vogue Living Australia (Photos: Marten Morell), 3. Kala-Vera via Pinterest,  4. Sequins & Pretzel Salt, 5. Carolyn Quartermaine in Côté Sud (Photos: Marten Morell), 6. Adore Home, 7. Carolyn Quartermaine in Côté Sud (Photos: Marten Morell), 8. The Jew in JCrew,  9. Carolyn Quartermaine in Vogue Living Australia (Photos: Marten Morell), 10.  Sweet Paul for Better Homes & Garden, 
0