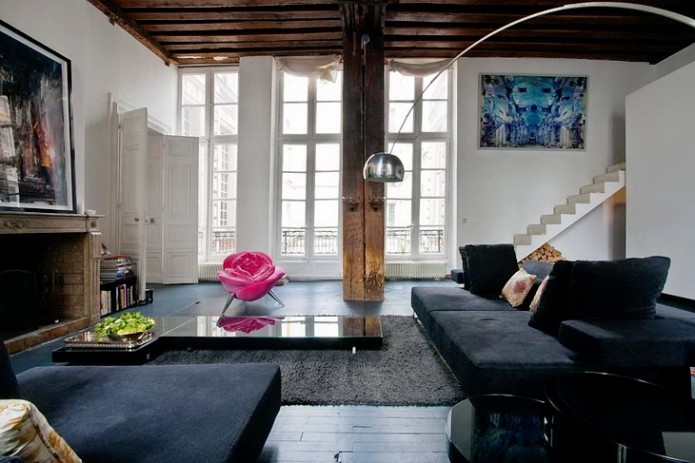 "Quand il me prend dans ses bras, il me parle tout bas, je vois la vis en rose" – Edith Piaf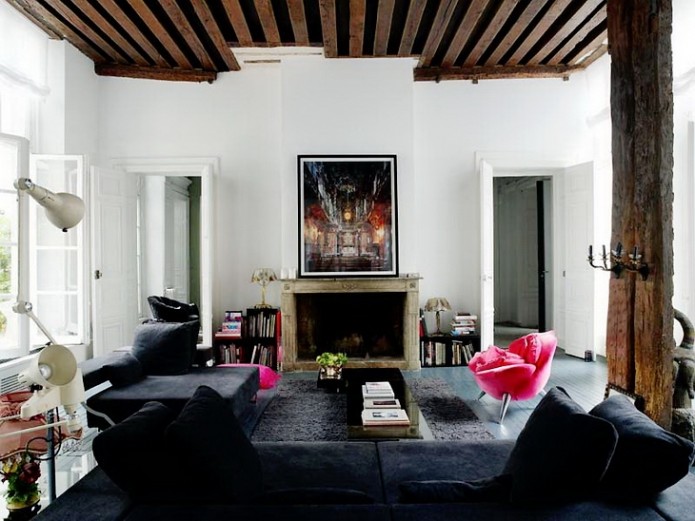 In a small city called let's say… Paris, there was a loft, hundreds of years old. Its bones were delectable and vulnerable at the same time. Beams and rafters lay there in plain sight, for everyone to see.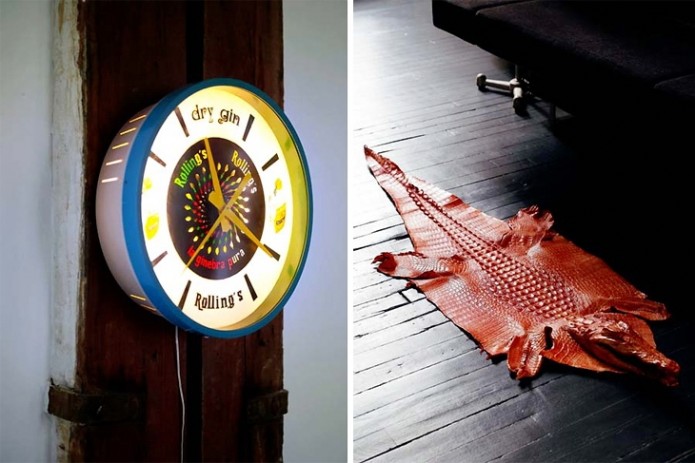 It's owners revived the space by leaving it with its natural charm, which they enhanced with blackened floors and chalky white walls. Then came the makeup! In the living room a lipstick shade pink chair, in the shape of a rose, pops against the charcoal grey sofas and rug. An orange alligator keeps it company… for conversation and visual delight.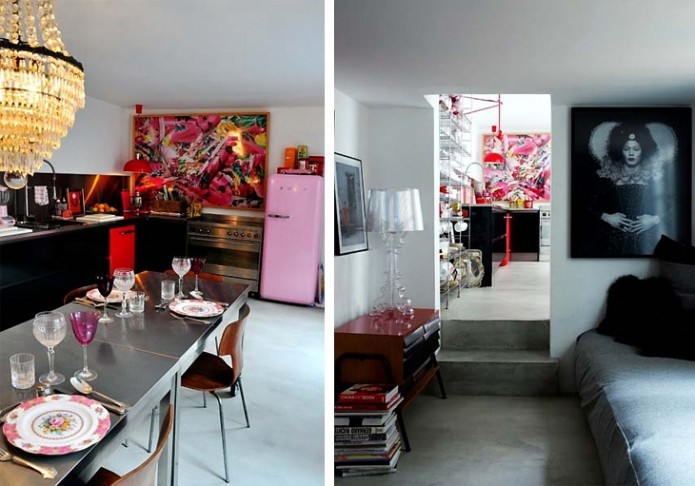 Different room, same scenario. In the kitchen the white box made by the painted floors and walls, comes alive with colourful elements such as the Smeg pink & red fridges, the gloss black kitchen cabinets, and colourful oversize painting.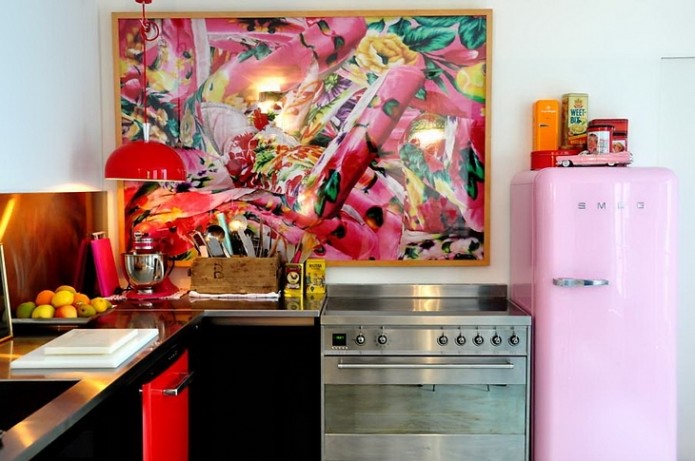 Even the bread & sugar boxes, on the counter, got the (Pantone) message.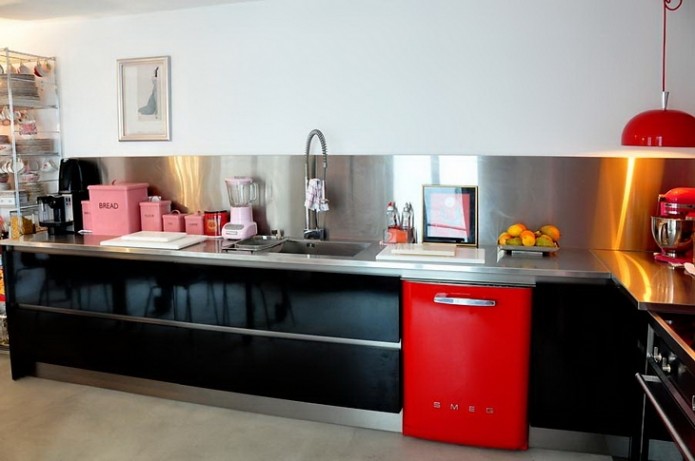 What got me to give this loft a look, then a second and a third, is the fact that is looks so pulled together without abiding by any rules one can think of.
Restaurant grade metal shelving is used to house antique china, an ornate tiered crystal chandelier hangs nonchalently over the stainless top kitchen table, & mismatched red lacquered lights are used as task lighting over the prep counter.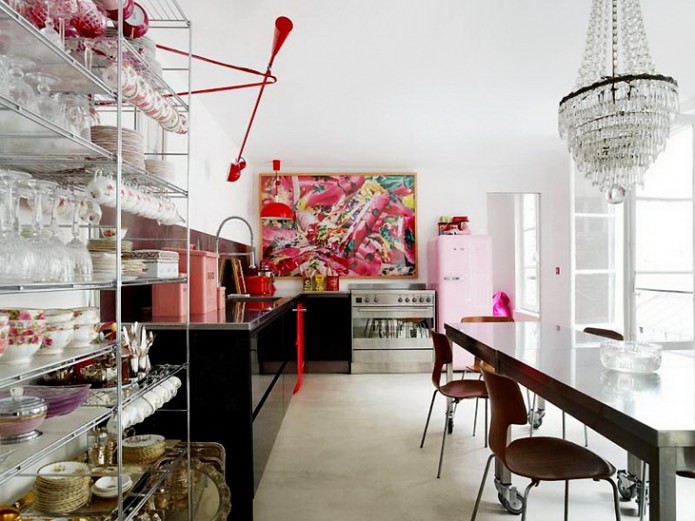 After the spectacular display of singular taste in the living room and kitchen, I did not expect the other rooms of the loft to be disappointing at all… and I was not.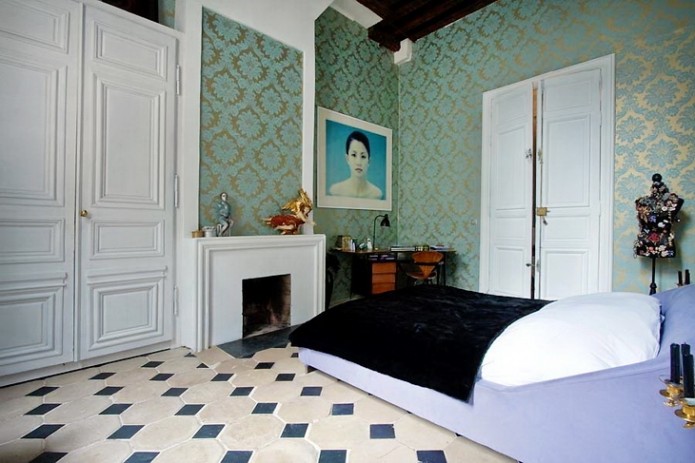 The bedroom and adjoining bathroom are anything but cookie cutter. Maybe a little more "expected" of a Parisian apartment in terms of French style, but it is the combination of materials and colours that makes it really pop. The concrete bathtub and ornate gilded mirrors in the bathroom make an unexpected statement that is both "vieille France" and refreshing.
So if you hear that I have mysteriously left my home town of Montréal in the middle of the night and you really need to speak to me… you might very well start by looking at this address in St-Eustache, Paris.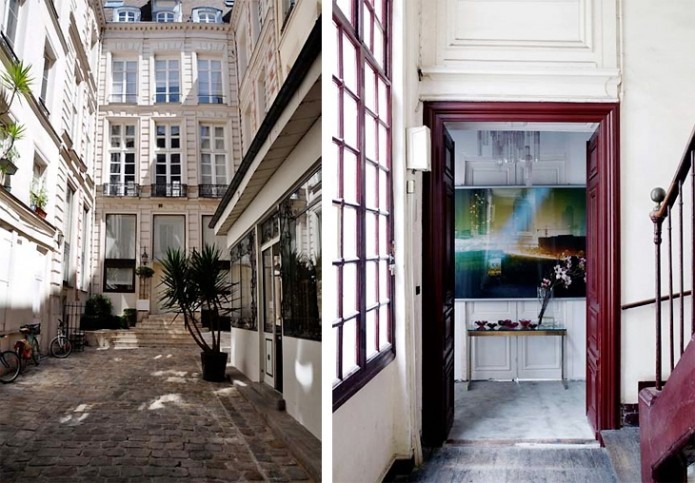 source: Josephine Interior Design
0