If you've followed my blog for any amount of time, you undoubtedly know that bookcases are my favorite thing in a home. Strangely enough, my contemporary side has a tendency to resurge whenever a bookcase is involved. Go figure.
To me, a bookcase is the heart of a home just as much as a kitchen is. Maybe it's because my parents had walls of books when I was growing up (and still do), but there's just something about a bookcase that to me feels secure, complete and civilized.
I've come to the conclusion that more than any other place, a bookcase is a place to showcase who you are as a person: books you've read (or want to read but never got around to!), artwork you cherish, family pictures you hold close to your heart, artifacts from travels, etc.
I was never much of a minimalist and maybe a bookcase is just part of that love for maximalism. My favorite kind of bookcase is a built-in one, especially when it involves a doorway! There's nothing chicer than to walk through a wall of books. That being said, even an Ikea bookcase more than fulfills the role.
As a side note, a built-in bookcase is one of the best ways to camouflage a flat-screen TV. That being said, I've seen my fair share of messy bookcases and so, I thought useful to share my 5 tips to enhance your bookcase.
1. With the risk of sounding like a broken record here, lighting is key! For bookcases, I prefer art lighting or sconces above the top shelf, and above every column. This will ensure that your bookcase is well lit and shines in all its glory at any time, day or night.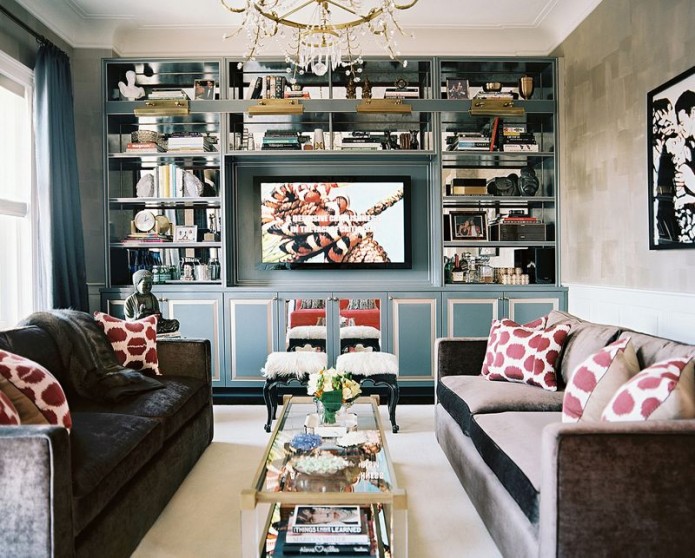 2. You must know by now that art is another staple of mine. You hang art on the walls, so why not in your bookcase? The effect is truly stunning, layered and original. Just make sure you don't hide the frequently used books behind the art!
3. Be mindful of the back of the bookcase. It's too easy to simply settle on white paint, or whatever other color the bookcase is painted in. But complementary colors, wallpaper or even mirror could give the back of the bookcase a whole new degree of pretty!
4. Bookcases are the perfect place to display any collection you may have, but this is also dangerous! Overdoing it will just result in your living room looking like the one of your great-aunt's who collected glass menagerie knick-knacks. Space the items out, carefully select them and only display the best!
5. Ladders may be something out of Beauty and the Beast, but you really don't need a library the size of Texas to get a ladder. Bookcases always look their best when they go up to the ceiling. As soon as you are unable to reach the top shelf, a built-in ladder is justifiable.
How else are you going to reach that one book you're dying to show you friends at a dinner party: go fetch the ugly weekend ladder out of the basement or shed; try to catch your balance on a wonky chair or stool in your six-inch heels? I think not.
So folks, what's your opinion on bookcases? Anything you'd like to try or just completely avoid?
Gabrielle | Savvy Home Blog
Sources: 1. Celerie Kemble via Lonny 2. Mi Casa 3. Ellie Somerville via Lonny 4. Christiane Lemieux's Loft via The Glow 5. Pereira Associates via Lonny 6. Peter Estersohn Photography 7. Michele Bonan via Lonny 8. Miles Redd 9. Diane Von Furstenberg's House
0