I personally lived the wallpaper revolution a few years ago, where my opinion of wallpaper went from dusty, ugly and old to fresh, vibrant and young.
I'm now a huge wallpaper fan and a firm believer that if you're lucky enough to have a relatively stable home (meaning you're not moving every 6 months like I've done for most of my young adult life) you need wallpaper in at least one room.
If you're wallpaper shy, start by a smaller area: a closet, a bathroom, your entrance hall… Make sure it's a pattern or color you'll truly love because wallpaper is very durable and, contrary to paint, it can last much longer. I once heard: "you get bored of white much quicker than you do with bold colours and prints". So don't be afraid to go bold. Just like quality leather, it only gets better with time.
Here are a few wallpaper options that makes my heart flutter… I purposely avoided grasscloth because I think we can all agree that I talk about it a little too much around here but yes, it's definitely a fabulous option!
1. Rivets: First spotted in Tilton Fenwick's room in the Hampton Designer Showhouse last year, I love how it adds a dash of glam to a room. I actually cheated… this is a grasscloth. A Manila Hemp by Phillip Jeffries to be precise.
2. Oversized Paisleys and Paisley Lookalikes: Though this is technically not a paisley, this Katie Ridder wallpaper gives the same effect in a more modern way.  Designer Alessandra Branca also used beautiful paisleys in her designs.
3. Chinoiserie: Some may consider it a bit old-fashioned, but used in fresh new ways chinoiserie can be truly stunning. This bedroom by Nick Olsen recently featured in Veranda magazine is an excellent example.
4. Lacquer: I only recently discovered this: a time and cost friendly alternative to spraying 12 coats of lacquer on your walls (that usually need to be gyprocked first unless they're unusually perfect) is wallpapering your room in a wallpapered vinyl. Michael S. Smith did this in Ali Wentworth's house and the result is really stunning.
5. Leafy: Nothing is fresher than bold leafy wallpaper. This bathroom covered in Peter Dunham fiddle leaf wallpaper is one of my favorites of all time. This is especially great for bathrooms that have no window as it's another way to bring the outside in!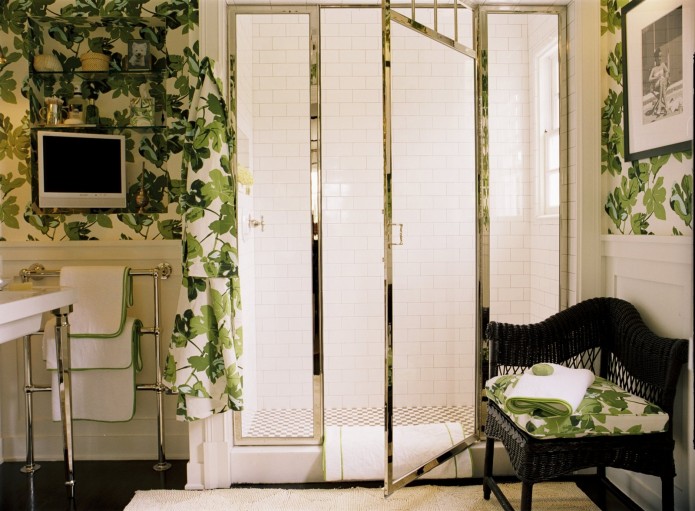 What type of wallpaper would you use in your home?
Sources: 1. Thibaut Wallpaper 2. Jeffrey Alan Marks 3. Cathy Kincaid Interiors 4. Peter Frank 5. Tilton Fenwick 6. Betsy Burnham 7. Nick Olsen 8. Michael S. Smith 9. Peter Dunham
0