Secondary homes are a huge luxury, and while you may not want to pass every last penny into decorating your cottage, you don't necessarily want it to look like grandma's dusty attic either.
It can be really fun to explore the art of country decorating without falling into the clichés by pairing more contemporary pieces like art and accent furniture with country classics such as antiques finds, floral fabrics and wood panelling.
Whether you're going for country traditional, nautical beach home or white and bright contemporary, the main thing to consider is comfort. After all, what's a cottage for if not for relaxing?
Here are a few of my tips to go about decorating your secondary residence on a small budget.
1. Work with your wood panels instead of against them. That goes for every other less than perfect feature of your cottage. If you don't want to splurge on renovations, there are ways to make something ugly look good. Use creativity and a lick of paint if necessary.
2. Sometimes all you need to make an old kitchen feel new again is a bit of paint and some new hardware. After all, the accessories can really make a room. Choose warm and earthy neutrals and fill the space with your favorite items.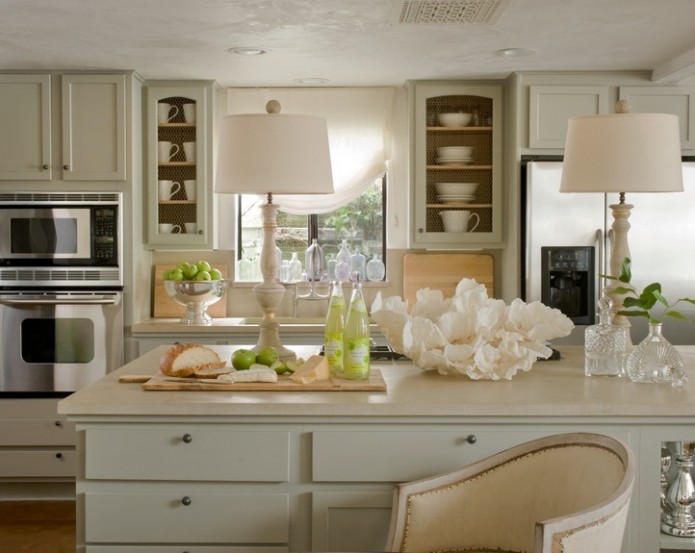 3. Think light and bright. When all else fails, this tactic won't. Paint your walls, floors and old furniture in a beautiful soft white and accessorize with colourful vintage rugs, art and cushions.
4. Scour country antique stores because they're filled with underpriced vintage treasures that will look fabulous in your cottage. When it comes to bedding and linens, go for durable fabrics that will look good even when wrinkled like quilts and antique linens.
5. Organize your outdoor space. You escape to the country to spend some time outside don't you? There is no good reason why your house should be well-appointed if your outdoor area isn't. Whip out the outdoor fabrics, the wicker furniture, the votives, garden stools, outdoor rugs or whatever you need, but make sure your outdoor area is as comfortable as your living area.
What tricks have you used to improved the look of your cottage on a budget?
Sources: 1. Katie Ridder 2. Tom Scheerer  3. House Beautiful 4. Tom Scheerer 5. McAlpine Tankersley 6. Brooke Giannetti 7. House & Home 8. Hamptons Designer Showhouse 2012 9. Frank Features
1