Anyone's up to pool together a hefty 20M$ to buy this Upper West Side Apartment with me? It comes fully furnished… art and all!
Alright maybe not. I have a better deal though… let's peek through the looking glass that is this window clad wall and admire the artful living room this "anything but humble" abode has to offer.
Decorating around large windows is always a little tricky… for obvious reasons. Primo, there is the lack of privacy, which in this case seems to be solved by the fact that there are no neighbours at eye level of this penthouse.
Seconds, there is the beaming light management issue. Light, although a prized possession to have in any home, can be challenging when it comes to the choice of fabrics on sofas and chairs as the sun is knows to wash them out over time. Add to that the vast collection of artwork , also very susceptible to direct sunlight and whoever owns this home better have a map of the sun's trajectory handy to see how to hang them.
These minor inconveniences aside this home is a work of art in itself, except maybe the "Sixtine Chapel" lookalike ceiling that is a bit much for my taste.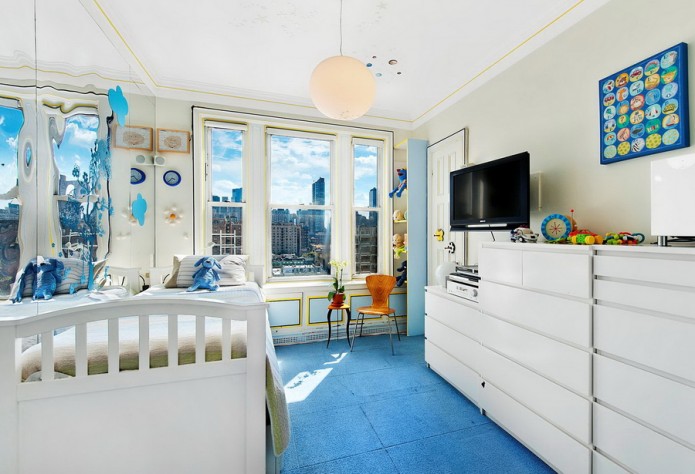 Now, if I ever have another child (hold the rumour department… I am not expecting my 4th child I assure you) this would be a room high up on my inspiration list. I love the mirrored wall which doubles the space and gives it a "fish bowl" kind of look. The yellow trim all around the room gives the modern space a whimsical look which I love.
I guess before I have to worry about outfitting another child's room… I should first focus on the small matter of owning such a place. Nah! I am perfectly content in my very humble Montréal duplex!
source: Knight Frank
0