Hi all, Gabrielle from Savvy Home here for another top 5. Here's one thing that bothers me from time to time: sublimely decorated homes with boring and bland bathrooms.
If your home is meant to be a reflection of who you are, and a bathroom is by far the most private part of your home, why doesn't it get the same decor treatment as the other rooms?
I'm a firm believer that a bathroom should infuse just as much of your personality than the other rooms and perhaps even more. A bathroom is usually small and therefore great for decor experiments and big impacts.
If you agree, here are my tips to put back some life into your bathroom: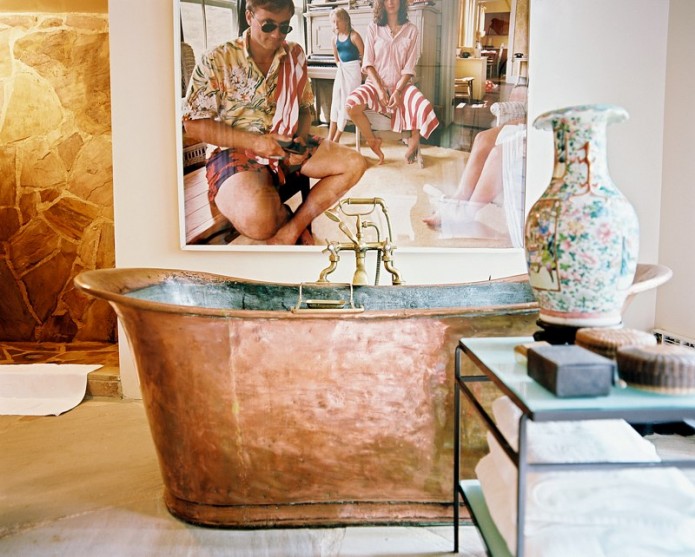 1. Don't limit yourself to store bought shower curtains. How cozy would you feel taking a long bath in this cosy little nook? Consider having floor to ceiling curtains made for your bath but make sure you choose water resistant outdoor fabric and still use a liner on the inside of the curtains.
2. Will your guests use your bathroom? If so, create a moody experience: think dark walls, art, dim lighting, burning fragrant candles, monogrammed hand towels, quality hand cream and anything else you think your guests might enjoy. Good news is, the accessorizing of a guest bathroom doesn't have to be expensive at all!
3. If you want to breakdown the typical boring feel of your bathroom, accent furniture is your best friend: think garden stools, small occasional tables, caddies or even chairs if you have space.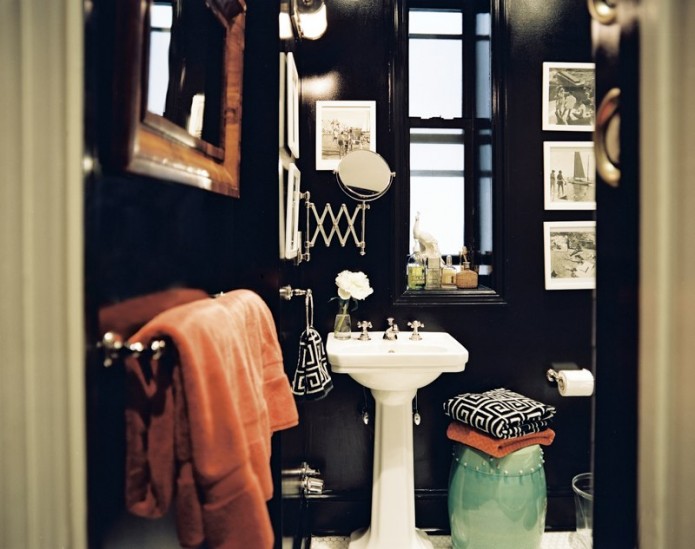 4. Many designers argue the best towels are crisp white (they're bleachable and they always look clean). I would add that monogrammed white towels are the best. they're so chic and timeless. If you get good quality towels, they will last forever.
5. I cannot stress the importance of lighting enough. Bathrooms don't need to look like your local dentist office. If you get ready in your bathroom you'll want a good light source, but consider ambient lighting as well: sconces positioned below the eye line. Make sure they're installed on dimmer switches. Everyone will look and feel like a million bucks in your bathroom and you'll enjoy it too when it's time for a relaxing bath.
How would you infuse some personality into your bathroom?
Twitter | Facebook | Pinterest | Instagram
Sources: 1. Tresham by Kohler 2.  Mike Clifford 3. John Dransfield and Geoffrey Ross 4. Vicente Wolf 5. Bailey McCarthy 6. Ruthie Sommers 7. Ethan Feirstein and Ari Heckman 8. Blair Clark 9. Celerie Kemble
0