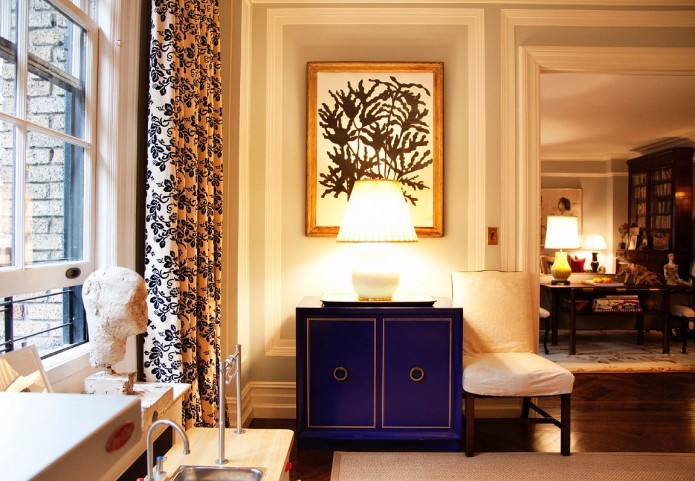 Hi all, Gabrielle from Savvy Home here for another top 5. As we recently turned the clocks back for the upcoming winter months, this is the perfect time to do a little refresher on lighting at home.
Natural light will be sparse for those of us living in the Northern Hemisphere, but that's no reason to drown ourselves in unflattering neons and downlights. I've seen too many homes flooded in light with 1,000 watts bulbs to pretend that lighting is an art that we've mastered.
The first step is to consider how much lighting you actually need in a particular room. Are you trying to prevent prisoners from escaping, or do you merely want a little ambiance lighting for late night relaxing and a bit of casual reading? The answers will differ from the kitchen workbench to your bedroom.
Then, you may want to follow these few tips:
1. First, a room needs multiple sources of lighting to be both functional and flattering. And by multiple sources, I don't mean 20 downlights. Make sure you have both overhead lighting and lamps slightly below eye level, and try to follow the magic "three point lighting" trick often used in cinema (three lamps positioned in a triangle around the room). You will look like a movie star in your own home.
2. Pink lightbulbs or better yet pink or red lampshades is a decorator's best kept secret. One word: flattering! No one will ever tell you that you look sick or pale, ever again.
3. I think that by now you've gathered I'm not a huge fan of downlights but there are exceptions. For example, if you're trying to highlight a particular architectural feature like a beautiful built-in bookcase or artwork. Better yet, use sconces and art lighting and forget about downlights altogether.
4. Kitchen lighting is tricky. It should be bright enough to not cut yourself while chopping carrots but it doesn't need to look like a science lab. I love to use pendants over work benches and subtle lighting underneath the upper cabinets (or in cabinets with glass doors). A lamp on the kitchen counter also never goes astray.
5. There are rooms where you want it to be dark moody sometimes. These are usually the rooms you relax in: living room, bedroom, bathroom, cigar lounge (oh, no one has one of those?) Make sure you have dimmers installed in these rooms (and every other room). Also make sure that swing arm lamps or sconces are installed wherever you have a tendency to sit down and read so that you can always redirect the lighting and read comfortably without hurting your eyes (I sound like a mama hen don't I)?
Of course, there are a dozen more lighting tricks I could share with you but I think these cover the basics. How would you improve your lighting situation at home?
Twitter | Facebook | Pinterest | Instagram
Sources: 1. Kate and Andy Spade 2. Tilton Fenwick 3. Michael S. Smith 4. Meg Braff 5. Beth Webb 6. Lorenzo Castillo 7. Charlotte Moss 8. Kelly Wearstler 9. Sarah Richardson
0