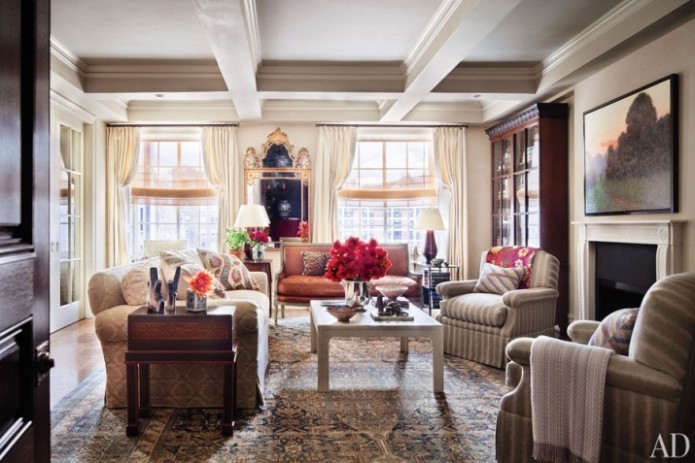 Hi all, Gabrielle from Savvy Home here for another top 5. I don't know about you, but in my family we celebrate Christmas in the living room (with short trips to the dining room and kitchen). The living room is traditionally where the Christmas tree stands, where the fire roars and where the people gather.
You see where I'm going with this? You have about 33 days to whip your living room in shape, ready for entertaining your guests. You have even less time if you're hosting early Christmas parties, and if you're not hosting at all, well at least you can have a pretty living room.
So how do you go about revamping a living room? Here are a few tips for you.
1. Sectionals, be gone. I know I won't be popular for saying this, but sectionals give me a migraine. Sure, they can accomodate a large family. But they're bulky and they generally don't fit the space they're sitting in. So unless you have a ballroom sized living room, best to keep the sectional for the basement or the home theater.
Instead, opt for an array of versatile seating: sofas, loveseats, daybeds, lounge chairs, stools, and ottomans are all great contenders.
2. Pretty please don't push furniture against the wall. This crucial design rule is especially important in a living room where the goal is to inspire conversation and gathering. Funeral parlour or dance hall is probably not the vibe you're going for. First, bring the sofa forward and away form the wall just a few inches. Then, center the coffee table 15 inches away from the sofa, no more no less. Finally, position all the other seating (see the list above) around the coffee table, also at a 15 inch distance.
If your furniture looks all bunched up in a corner there are two causes: you either need to repeat a second seating arrangement in the room (that means you have a big room, lucky you!), or it means your coffee table is too small, change it.
3. Mark my words: Each seat should have a dedicated side table. No one wants to hold on to their drinks all night, or leave them on the floor for others to trip over and spill. A sofa should have side tables on each side and a coffee table in front. With chair pairings, you can get away with a single side table in the middle.
Basically, sit in each spot in your living room with a glass of wine, and try to reach a surface to prop your drinks without getting up or stretching awkwardly.
4. Now that guests are confortable, time to take care of the ambiance. I sometimes feel like I sound like a broken record, but I'm going to say this anyway: a single overhead lighting source is not appropriate for a living space. In fact, I don't even have overhead lighting in my living room, and I don't feel I need it.
Instead, try three-point lighting (at a minimum) : three sources positioned in a triangle around the room. You can do even better by using pairings (a pair of sconces, a pair of lamps on a console), but make sure there is a triangle in there somewhere. This is not a cinema lighting trick for nothing. It works.
5. Time for the all important question of art over a sofa. If you have a large sofa on an empty wall, chances are you can't necessarily afford the large scale artwork it requires. This is fine, as long as you don't settle for an awkwardly under-scaled piece that will look out of space. Thankfully there are options.
The first one is a gallery wall created with a collection of small artwork. You can also opt for wallpaper, either on the entire wall, or framed as a great artwork alternative. If your only option is the under-scaled painting, don't center it: offset it a few inches to the side to create a more dynamic sight.
Remember this: artwork doesn't have to match the room, but it does have to fit the space.
What are your tried and trusted tricks for a pimped out living room?
Twitter | Facebook | Pinterest | Instagram
Sources: 1. Ali Wentworth 2. Angie Hranowski 3. Atlanta Homes & Lifestyles 4. Hamptons Designer Showhouse 5. Michael S. Smith 6. Ashley Whittaker 7. Kate Spade 8. Tia Zoldan
0