New Year… New Trends. I live for these moments! Although many trends have been talked about for a few weeks already (i.e.: Pantone's colour of the Year), I am always excited to gather all the information I can to make up what is Damask & Dentelle's top 5 trends of the year. This year, I couldn't make the cut at 5 so there are actually 6 trends to watch out for!
Getting Graphic
Tiles have been a trending topic for a while now but it is in their audacity that they are rocking it this year! White subway tiles will always have a special place in my heart, especially when laid out in a chevron pattern, but I am looking for an excuse to try out some of the more graphic ones which have a '70's feel.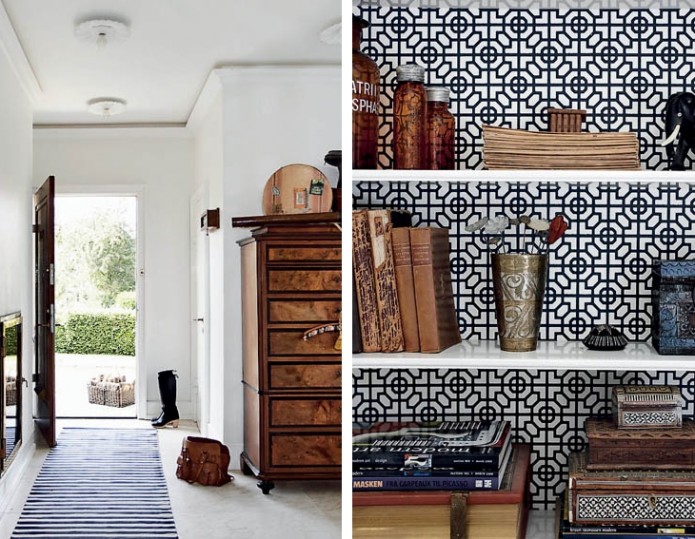 Vintage Anything
In my book, trends never just "arrive" by surprise. They are a build up on what began as a marginal trend, adopted early on by those trailblazers which we all admire and let's say it… are a little envious of. Well the vintage trend has been floating around for some time now and we are now seeing it in its full blown expression. You know a trend has caught in fire when even the mass market retailers are making reproductions of iconic vintage looks (barn wood coffee table with metal wheels anyone?). Well, let's all embrace this trend with integrity and a little leg work by unearthing the real finds in flea markets and yard sales. Not only will we save money but the quest is almost more fun than the actual purchase!
Wallpaper
Wallpaper is getting more "animal" this year, and I LOVE it! Fishes, Beware the Moon's ostriches, Osborne & Little's adorable black & white dogs, & Time to Go Home's Caviar tins even all figure very high on my coveted list.
Florals
Forget Laura Ahsley.. this year's florals are big and bold! Far from being too feminine for our better halves, these prints are graphic and colourful, ideal to spruce up any room for Spring.
Cottage Chic
Let's all agree that a cottage should not be described by the adjective: "Glamour". Crystal chandeliers and lace tablecloths will look great in the city, but the cottage calls for a little ruggedness. Clean designs, rich and lush fabrics, natural materials, and expansive windows are the key elements to jazz up any lake or mountain view shack.
A Punch of colour
We are often "safe" when it comes to colour maybe in part because we are afraid to make a mistake and maybe in part because we keep "resale value" of our homes in the back of our minds. Either way, this boat has sailed!! Colour is the new neutral, red, green, blue and orange are the new gray & black. It going all out is not for you, test the water with a few accessories in bright hues and see if they can make  you embrace further the trend of colour!
sources: 1. Femina, 2. Dusty Deco, 3. Bo Bedre, 4. Petra Bondel, 5. Douglas Friedman, 6. Bolig Magasinet
0