When it comes to grey, I am a hound! Grey creates a modern and cozy scheme, and although this hue serves as a great neutral base to any decor… falling into the gray overload trap is easy to do and can render the whole room rather bland and shapeless. Here are 5 of my favourite tips, sourced from the web, on how to decorate with grey.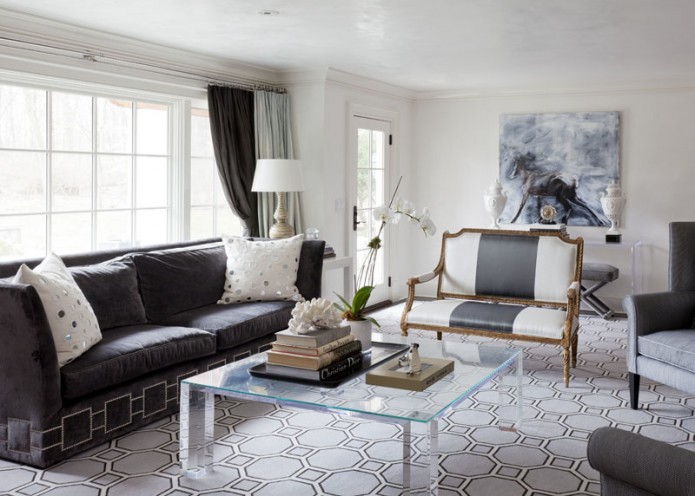 1) "To break up the monotony of the color gray in the living room  use  silver, gold, and lots of pattern." – House Beautiful
Case in point, in this room by designer Tiffany Eastman the patterned rug, striped settee and nailhead detail on the smoky grey couch give the room a dynamic feel.
2) "Think of a room in grey scale (meaning black, white, and everything in between) as you would think of a monochromatic outfit—say, a grey dress. With no further information, you might picture a corporate uniform: dull, austere, and gloomy. But pair that dress with a shimmery, sequined charcoal cardigan, a faded black leather jacket, and a handful of thick silver chains and you have something else entirely, something that takes minutes to decode, rather than seconds." – Style at Home
3) "If muted (grey) tones are not to your taste, team these pastel (grey) shades with black and white for a daring scheme. Gloss surfaces and art-deco inspired furniture will achieve a truly glamorous look." – Love Home
4) "Remember, whatever style is on trend today and is catching your eye might not be something you want to live with for years to come.  There's nothing wrong with taking hints from a store display or a catalog shot, but avoid an overly homogenous look at home by picking your favorite anchor piece from a trusted source and moving on." – Lonny Magazine
Grey walls and matching grey furniture can seem to be very versatile, but mark my words, you will tire of if faster then it will take you to read "Fifty Shades of Grey".
5) "Greys are easy to live with. Metallic finishes and mirrors add sparkle and depth to rooms with near-monochromatic schemes. They can magnify accent colors used throughout the space or bring focal-point status to colourful accents.
Use visual and touchable texture to add interest. Use soft, fuzzy pillows, shaggy rugs, and woven baskets to excite the senses. Play with scale by using oversize accessories such as framed artwork or a large urn for drama. And add surprise to a neutral scheme with bursts of color such as orange, lipstick red, or chartreuse. Inject charm with muted pastels." BHG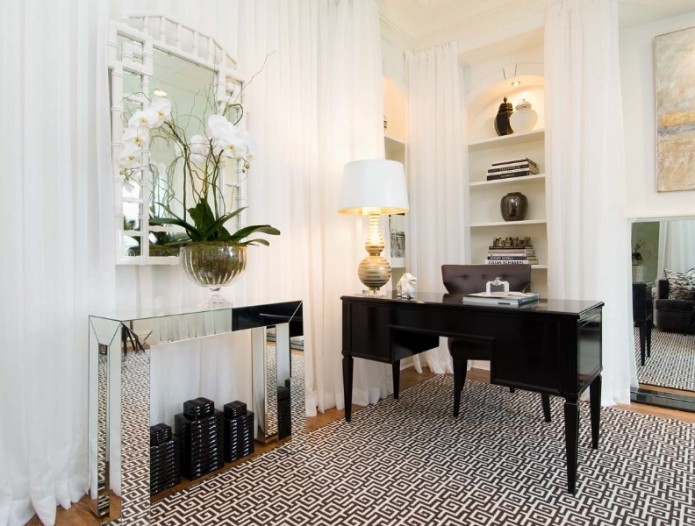 Damask & Dentelle, votre « little black book » déco avec plus de 1000 adresses de boutiques et d'artisans à travers la province pour compléter vos projets de décoration!
Suivez-nous sur Facebook
Suivez-nous sur Twitter
Voyez mes coups de coeur sur Pinterest
source: Tiffany Eastman Interiors
0