Hi, it's Gabrielle from Savvy Home here again! Days like these are the ones where you just want to crawl up in a ball (or climb in a warm bath) and not move for a week! They are the coldest days of winter. -40 real feel over here. And nothing is better than a cozy room when it's cold outside.
So crank up the heat, wrap up in your favorite throw blanket, light your favorite candle (mine is a Ralph Lauren Holiday candle – smells like leather, cinnamon and cloves) and find out all about what makes this bedroom by designer Alexa Hampton extra cozy.
As a side note, I've actually been in this room last year: it was part of the Kips Bay Decorator Showhouse and let me just say: this room was about 1000x better in person.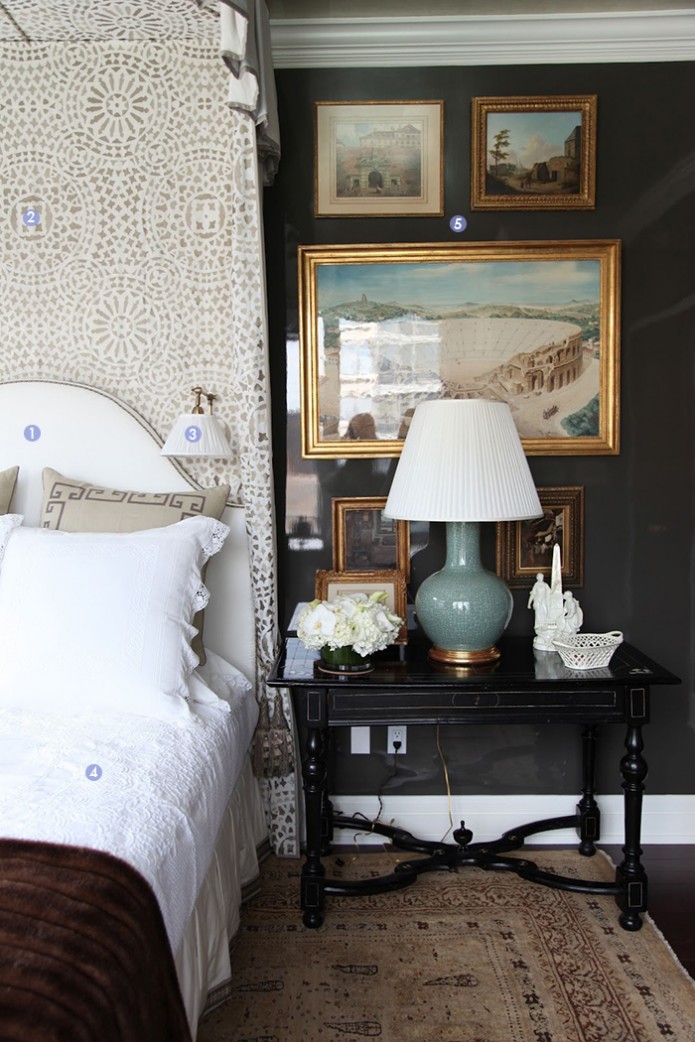 1. Trust my words. An upholstered headboard is pure bliss.
2. It's impossible not to feel cozy in a canopy bed. Traditional or modern. And it adds height to a room.
3. Alexa Hampton pierced the canopy fabric to insert sconces right where you need them: perfect for reading.
4. The bedding is layered: crisp white sheets matched with a fur throw and linen pillows with greek key trim.
5. The gallery wall behind the bedside table adds a sense of history and a layer to the room which feels lived in.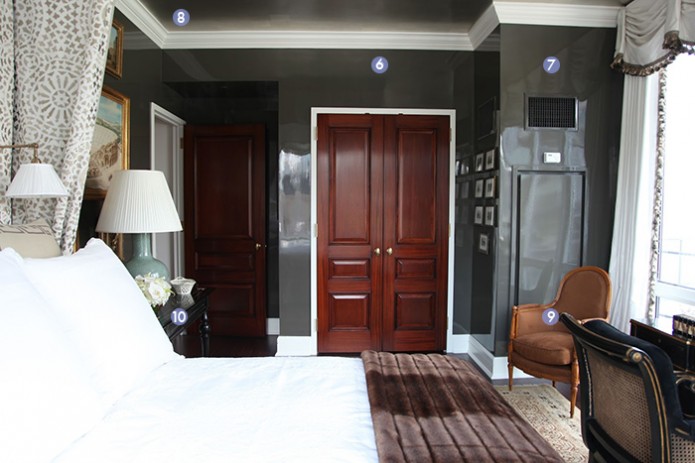 6. This is not your average lacquered walls. It takes about 12 coats to create that lipgloss shine. Celebrity baker Donna Hay talks about the "lickability factor" of icing on a cake, this is the decor equivalent.
7. Who needs 50 shades of grey when you have this perfect creamy warm shade of charcoal?
8. Granted, a silverleafed ceiling is a bit extravagant. But it adds to the cozy luxurious feel of the bedroom.
9. Lots of antiques set in contemporary architecture will give a room a sense of history.
10. The bedside tables and lamp are mismatched, giving a room a more collected look.
What do you think of this room? How did you cozy up your bedroom?
Twitter | Facebook | Pinterest | Instagram
0