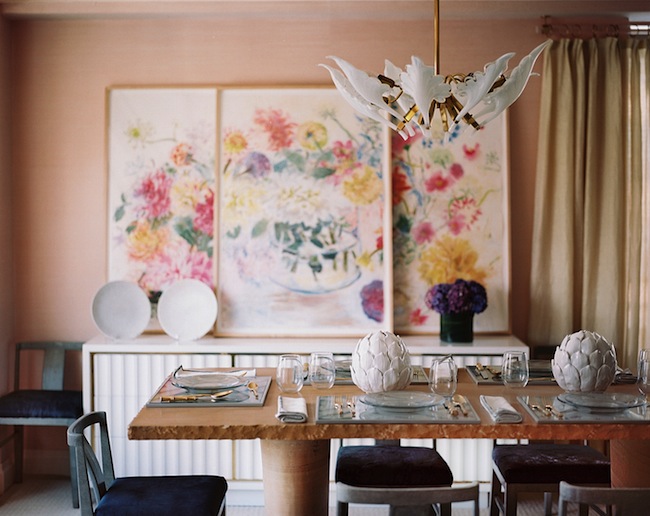 Easter has me thinking about the ultimate gathering space: the dining room. Maybe it's the coming of Spring or Easter influences, but when I decided to share a dining room before this weekend's celebrations this soft pink dining room by Celerie Kemble immediately came to mind.
A dining room should be inviting and comfortable. It should inspire conversation and exchange, and it should look just as great in the daytime (for brunches and lunches) and at night (for long dinners). I think this dining room achieves exactly that, and we can only assume that the room is equally beautiful and glamorous at night.
Dining rooms often look awkward because it's the only room that consists of placing a bulky bundle of furniture smack in the middle of the room. But there are many ways to make the dining room more coherent and cozy. Let's look at a few aspects of this room that make it a successful dining room, to help you achieve the same result in your own home.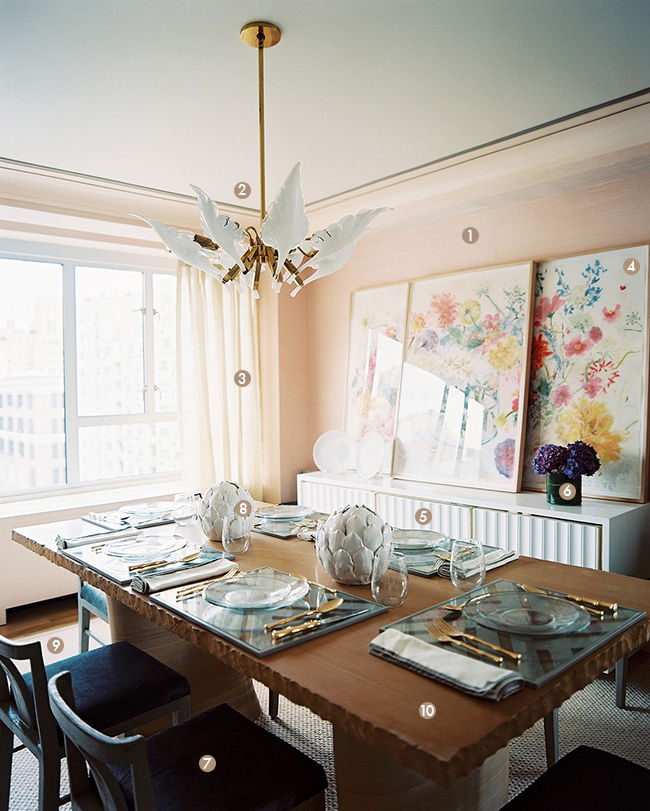 1. The soft pink grasscloth wallpaper gives the room texture and makes it a happy and warm place.
2. The vintage murano chandelier makes a big statement with it's edgy shape.
3. The neutral linen curtains help soften the pink walls and are sheer enough to let the light in.
4. Oversized art is a must in the dining room because the walls would be otherwise largely empty. Don't be afraid to use lots of patterns and colors.
5. The buffet is low and wide, which fits well with the architecture and the shape of the room.
6. Fresh Flowers always brighten up a room. Use them on the buffet instead of the table for something new.
7. Dining room chairs must above all be comfortable, so they need a soft seat. These low back chairs also engage people by enticing them not to lean back.
8. For something different with your centrepiece, why not try whimsical pottery like these porcelain artichokes?
9. A large rug that takes up most of the floorspace is essential to making the room seem more inviting and anchored. Sisal rugs are great because they're inexpensive and easy to clean. Calculate at least two feet of rug space around the dinner table.
10. Whether you want a round, oval or rectangular table, calculate a minimum of three feet around the table for circulation. This raw and massive wooden table counterbalance the feminine edge of the room.
What do you think of this room? Do you love it, hate it or somewhere in between?
0