The countdown seems to be in high speed with barely a week left before Christmas. I came across this French blog and fell in love with the  DIY ornements ideas and crafts. They are easy to do and Oh so very trendy in gold and neon pink. Something I'll have to try with the kids this week! #Love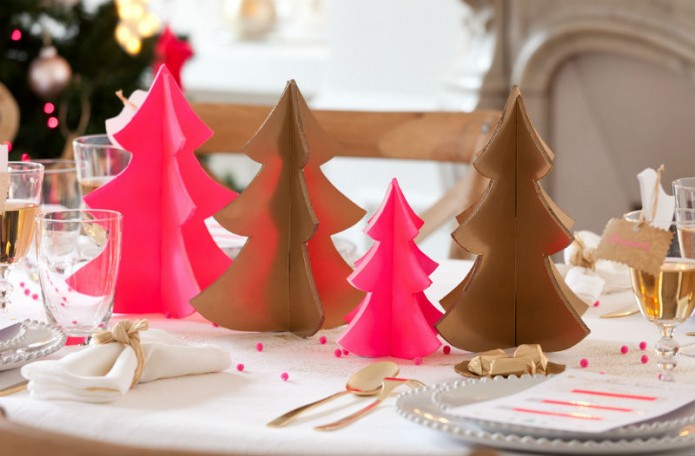 These featherweight trees are great as a table centrepiece. Here is what you'll need to make them:
WHAT YOU'LL NEED:
2 pieces of foam core
Krylon spray paint
Tape or Hot glue gun
X-Acto Knife (And several extra blades)
Cardboard (Or another surface to cut on that you can destroy!)
Cut the foam core in half christmas trees and assemble it using tape or glue before spray painting them in gold and pink. Gotta love the Krylon offer in terms of funky colours. Be sure to spray in a well ventilated room & at a distance of at least 10 inches to avoid paint runs.
And how adorable are these handmade snow globes with little plastic animals hidden inside. To make them here is what you'll need:
WHAT YOU'LL NEED:
Medium-sized mason or jam jars
Hot glue gun
Small plastic figurines
Fake powdered snow & sparkle
Scissors
Distilled water
Glycerin
Stick the animals at the bottom of the jar with the hot glue gun and let dry. With a spoon, sprinkle powdered snow and sparkle, add distilled water & top the jar with glycerin which will keep the glitter from falling back to the bottom too quickly. Screw the lid back on tightly… et voilà!
Source: Olivier martin Gambier pour Cococerise
0