Jacquelyn Clark's condo is indeed a lovely lair. It's that Jacquelyn knows aching or two about beautiful spaces. Interior designer and curator of Lark & Linen, she is also the Style Me Pretty Livings Editor.
I have to admit that I often have a bias against condos, finding them devoid of any personality and charm, but what she has been able to accomplish in this condo is nothing short of fantastic.
Bright and airy, the open floor plan offers visual interest from any angle you look at the space. Despite the visual impact of the living area, there is one thing you will not see and that is any Lego colours upon the walls. In fact, the walls are all a soft shade of silvery grey except the accent wall in the office which has gorgeous black and white stripes.
I like how the space looks so fresh and young with its mix of vintage and new, its iconic design elements and big store accents.
Here are my favourite design takeaways of this delightful condo:
1. The brass accents found around the entire condo which give a touch of of world glam, as if the space wasn't so new.
2. The white curtains, hung as close to the ceiling as possible to give the room height and because their monochromatic colour palette has a unifying effect as well as becoming an anchor of texture and femininity to the decor rather than an element of distraction.
3. The fresh blooms. Always & everywhere, for no particular reason whatever.
4. The sisal rugs in the dining and living room. Look at their textures and yet notice too how unobtrusive they are when considered against the whole of the open living area.
5. The industrial pipes bookcase. A great idea to add storage and a little rugged element to an otherwise quietly feminine space.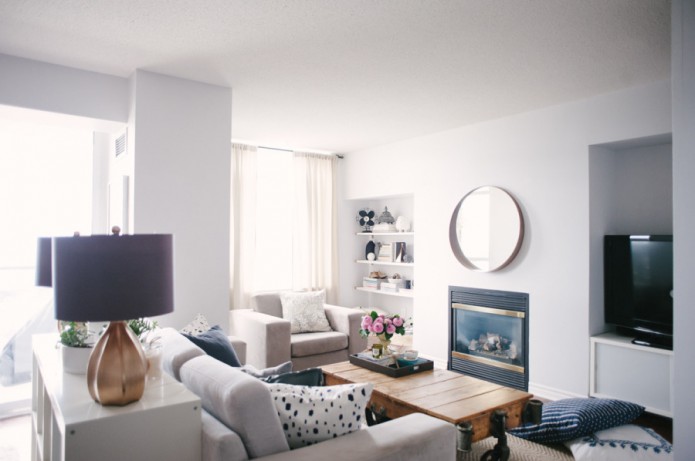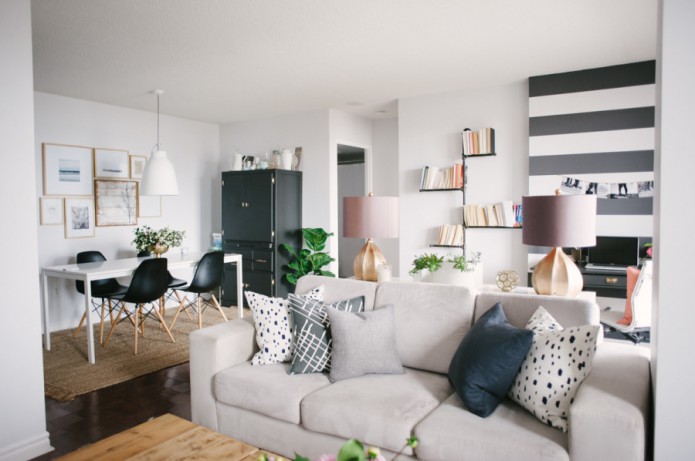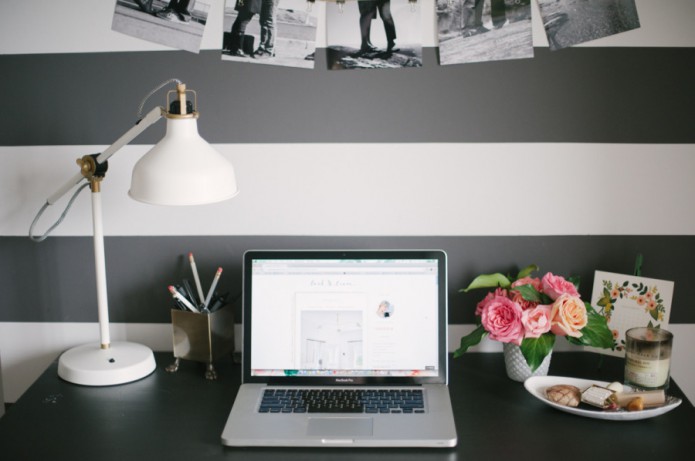 Photographer Heidi Lau for Style me Pretty
0