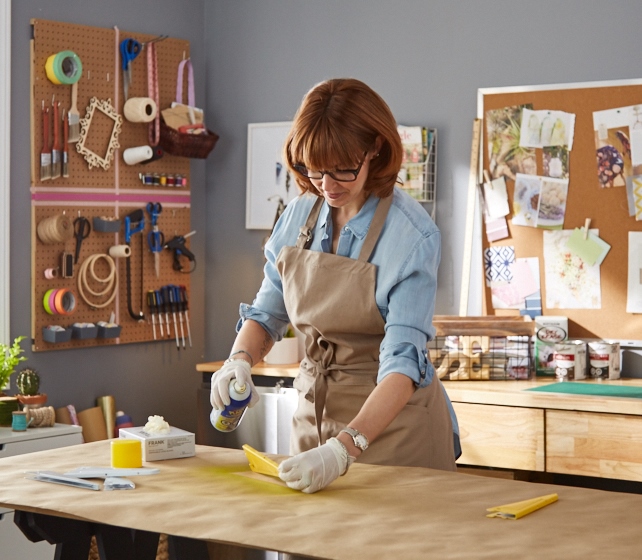 If you know me at all, then you know that I never shy away from a good DIY project. So when Canadian Tire asked me to collaborate with them and to test 3 of their innovative paint products, I was more than excited to see how creative I could get. Check out my inspirations on Pinterest to see how I got to create these 3 vignettes.
A clear dry-erase board for the office
I don't you about you, but I am a "list maker". My head is always so full of projects that I have to keep track of everything in a visual way that does not involve my phone. For the longest time that way had been a cork moodboard where I would pin business cards, fabric swatches, bills to pay, and invitations. But nothing replaces a whiteboard when you really want to scribble, exchange ideas in a meeting or write a quick note.
That being said, a white board on wheels is cumbersome and somewhat unattractive. Enters the clear dry-erase paint. Pause for effect. This paint is fantastic! It gives you all the benefits of a dry erase board without compromising on your wall's paint colour or office style.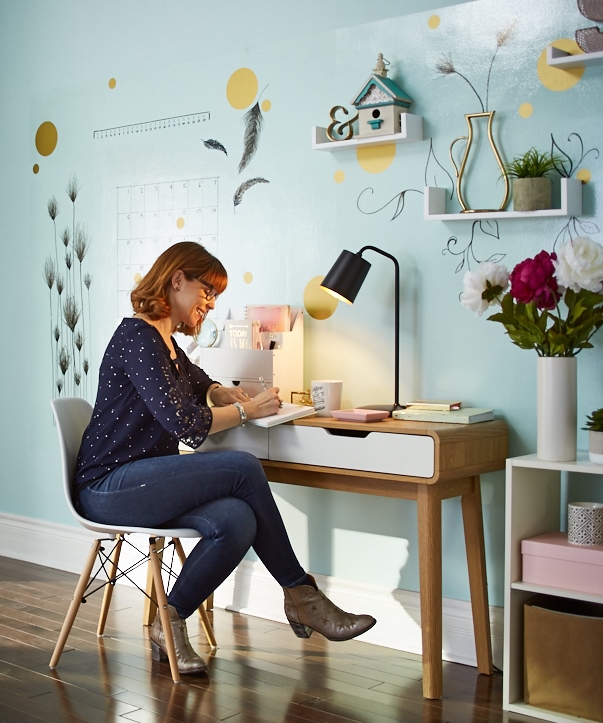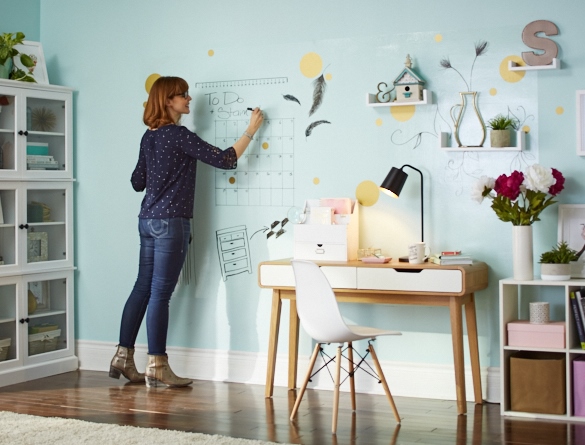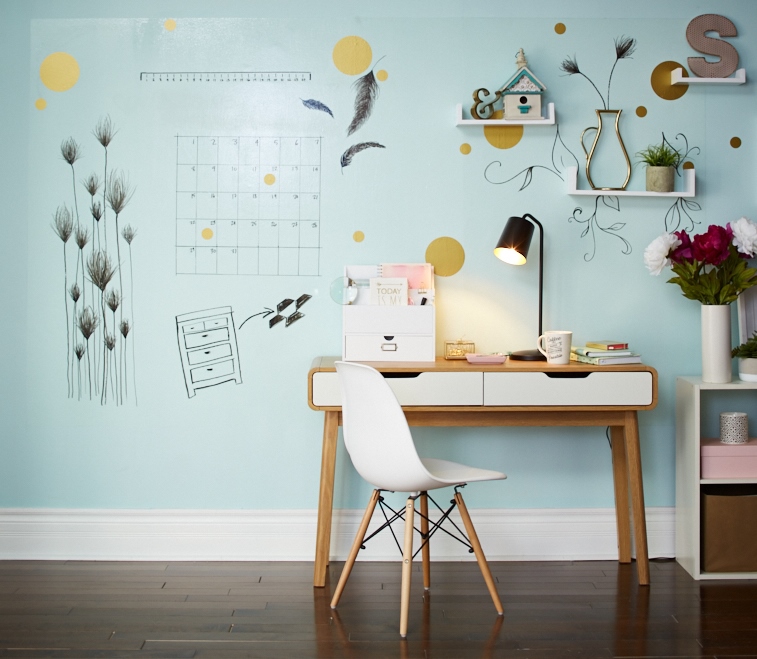 Colourful shelf brackets in the bedroom
Kids like to change their minds… a lot! That's why I like to create whimsical and fun decor for them that I can change up easily with the least amount of effort and cost. My wishes were answered with the Plasti-Dip paint, an aerosol paint that creates a rubber coating on any surface that you can peel off when it's time for a change. Brilliant!
For this particular bedroom, I chose to spray some basic shelf brackets I got at Canadian Tire, in a bright and sunny yellow to add some very useful storage and display area to the bedroom. To complete the look, I also used some CANVAS chevron decals that are so easy to install and that can be peeled off in a breeze.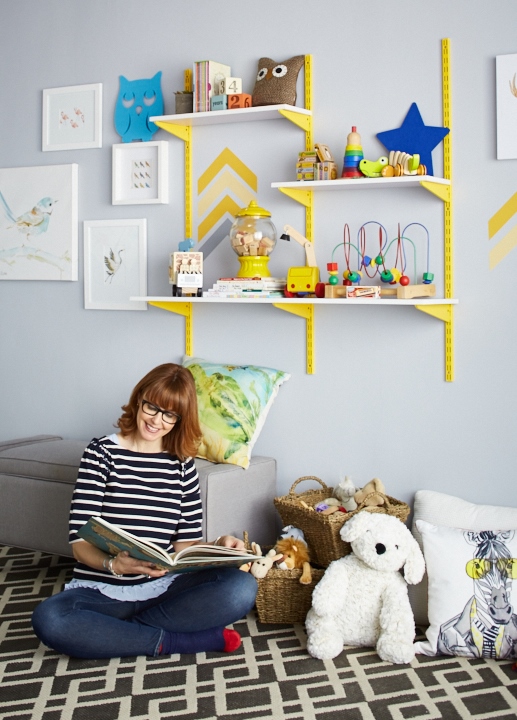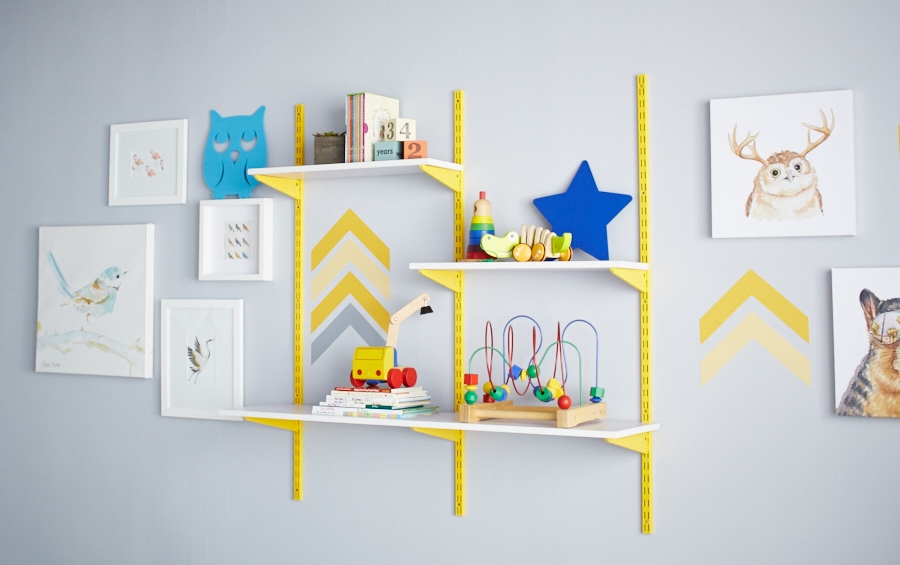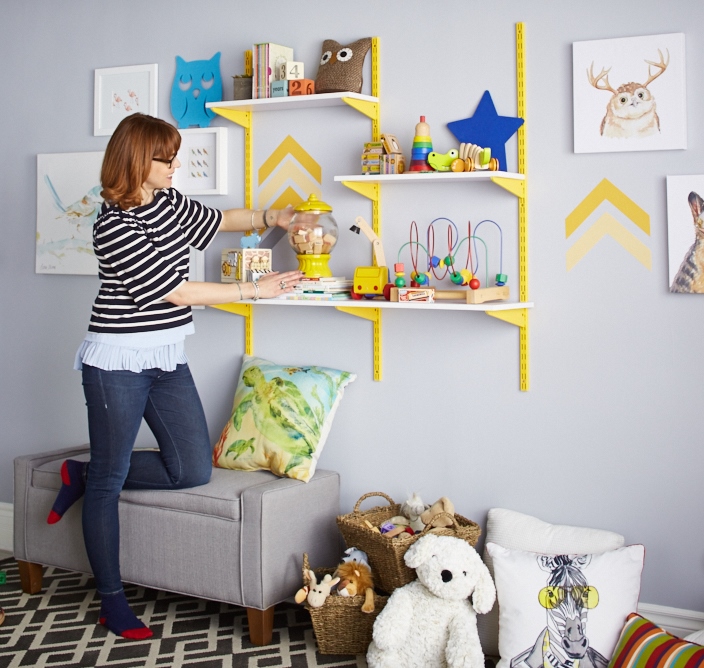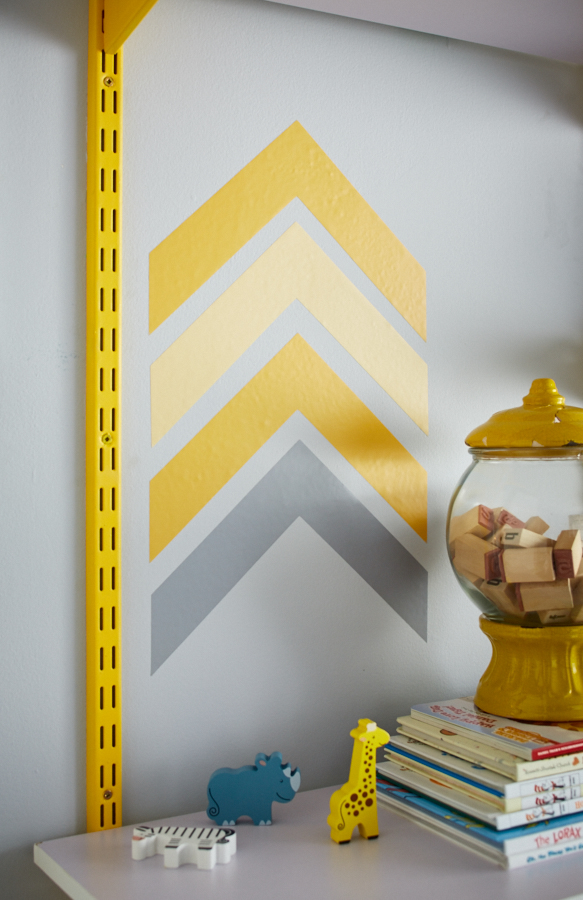 A dresser makeover
For this vignette I went to a place I feel very comfortable in, that is, making over a piece of furniture. I've kind of made a living out of it and so it's always a challenge for me to try and push the boundaries of my creativity in terms of what I can come up with to give an old piece of furniture a fresh new look. Let me introduce you to the Varathane Ultimate Stain & CANVAS Geomania decals. Combined, these 2 easy to use products allowed me to create in a few hours a dresser that I could never find in a store. To make sure that my handy for would remain impeccable for years to come, I coated the dresser's drawers with a clear finish, also by Varathane.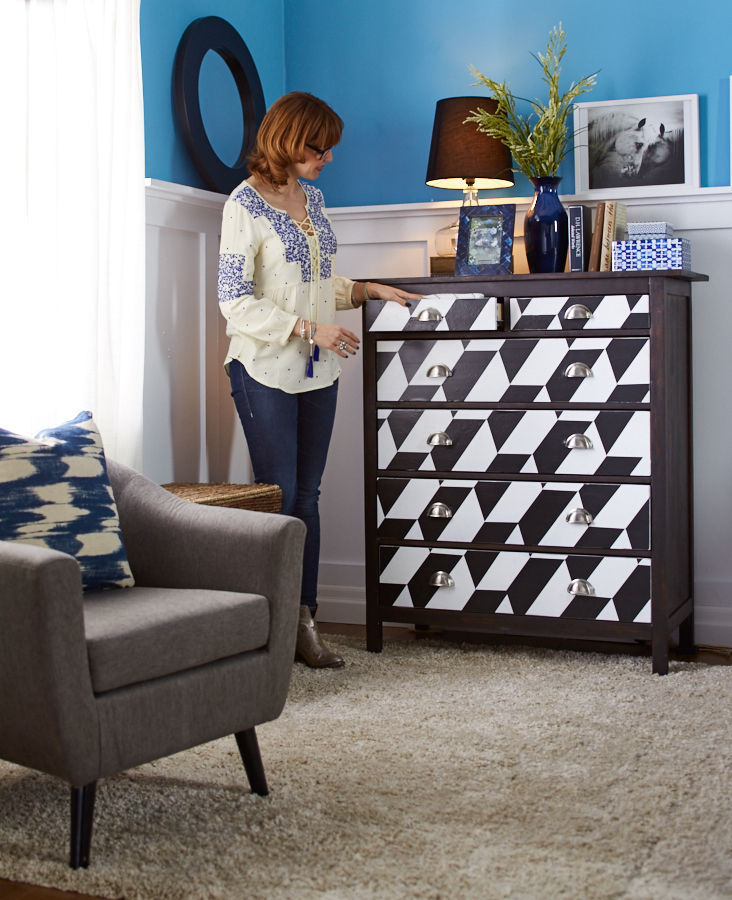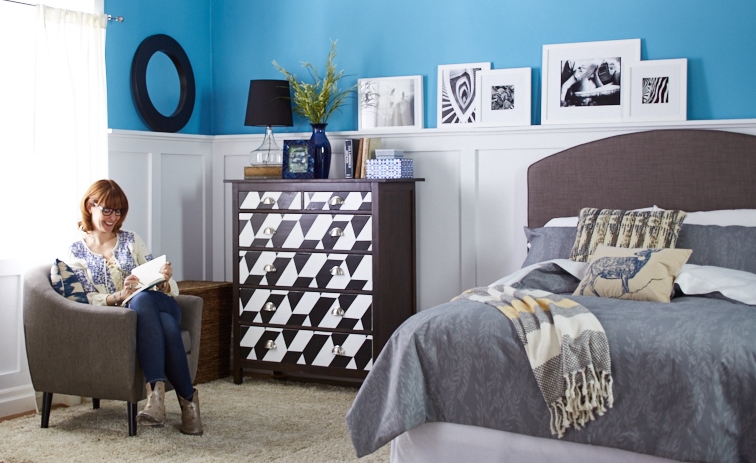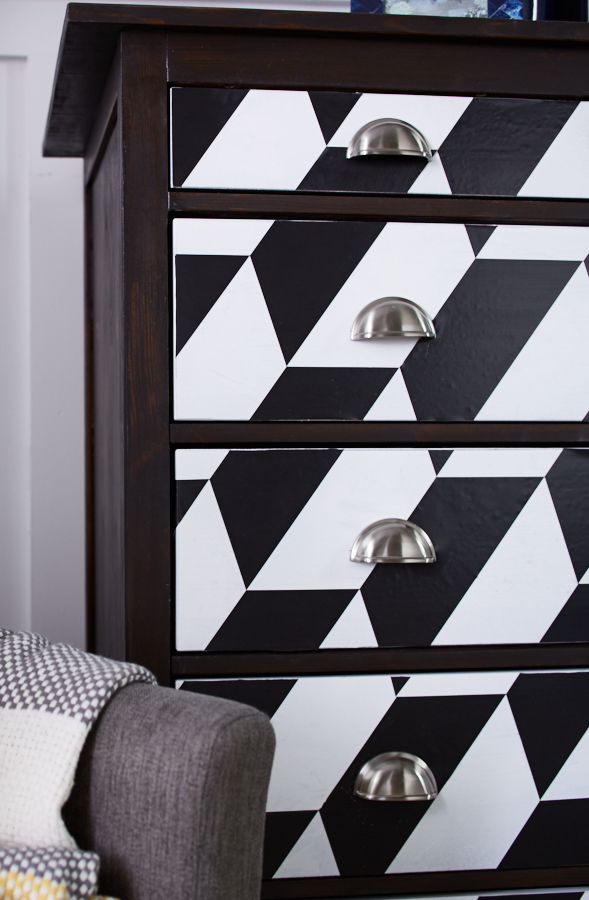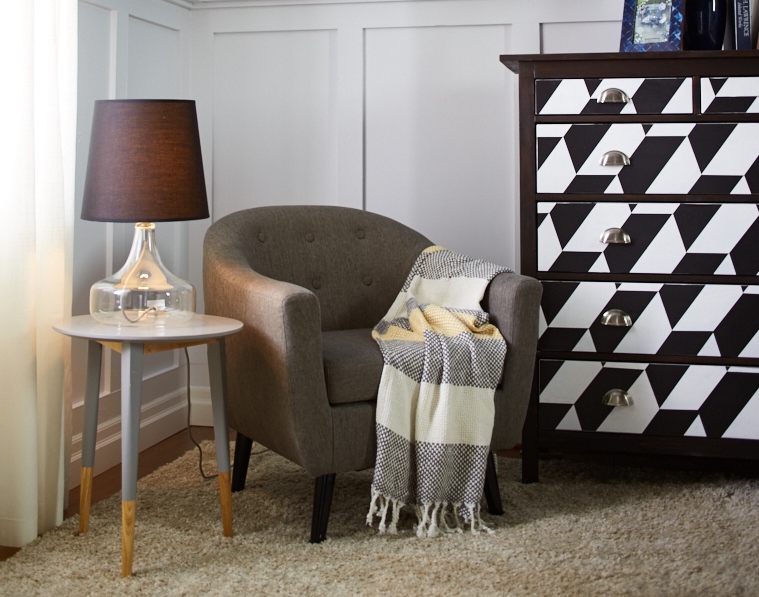 Go ahead, give these projects a try or create your own creative decor elements. Trust me, once you've committed to making something cool and unique for your home, the process then is just fun, fun, fun! To see my projects and a ton of other ideas visit Canadian Tire's brand new Wow Guide and be sure to also check out my inspiration pins for these projects.
Photos: Canadian Tire. This post is sponsored.
0