Lately I've caught myself being inspired by Asian elements in decor. They've been around forever but I've only recently started seeing them in fresh new ways.
I think my first "coup de coeur" with regards to Asian decor was last summer in Barcelona (of all places – not Asian at all!) – we went to eat at the Pulitzer Hotel designed by Lazaro Rosa-Violan and I was blown away by the huge red lacquered Imperial Chinese cabinet in the bar area.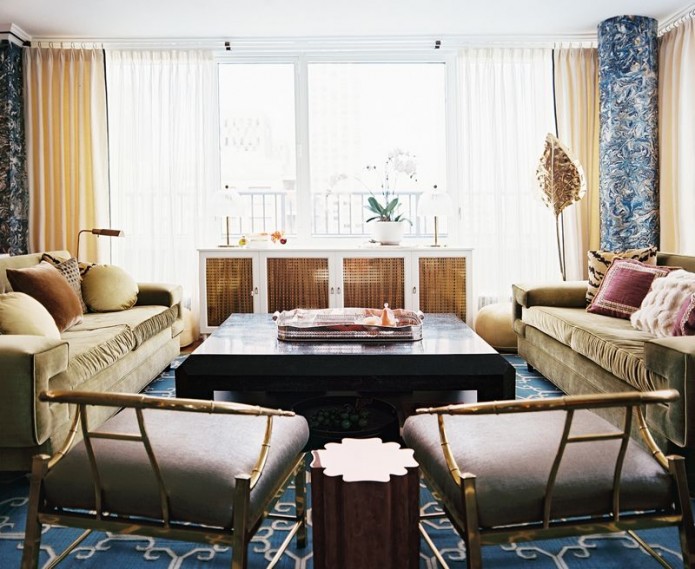 Since then I started seeing Asian decor in a new light. There's no need to decorate an entire house in an Asian themed decor (it can look a little silly if you live in places like North America) – but a few elements might add just the right amount of global essence to your home.
Here are a few Asian inspired elements to get you started
1. Blue and white porcelain, my favorite. Especially when it comes in lamp form. I'm always impressed by the impact it makes on a room, no matter how small the object. For instance, the living room below is located in Beirut and is much more middle-eastern in essence but there's a blue and white porcelain lamp or vase on nearly each table and yet they perfectly blend in.
2. Chinoiserie Wallpaper is another popular Asian element. Granted some of them are more subtle than the one below, but chinoiserie toile always makes a great impact in a room. It's especially popular in dining rooms and bedrooms, but you know as well as I do that sometimes, breaking the rules makes for the best decor.
3. Faux-Bamboo furniture. The chippendale chairs popularized by Jonathan Adler are probably the most popular but faux bamboo comes in many shapes and size: commodes, cabinets, tables, bar carts…
4. Ming Cabinets are another favorite (read the note on Barcelona above). It's hard not to love these high gloss lacquered consoles with beautiful oversized brass hardware and tassels… Besides, a big enough Ming cabinet is the perfect place to hide a TV!
5. Chiang Mai Dragon fabric: the "Mur the Chine" of fabrics… Everyone recognizes it. With its colorful dragons and wild fauna its sure to leave an impact. Chiang Mai Dragon is available in 5 colorways in fabric or wallpaper.
How would you introduce Asian inspired elements into your decor?
Sources: 1. Michele Bonan 2. Mark D. Sikes 3.  Celerie Kemble 4. Ruthie Sommers 5. May Daouk 6. David Cafiero 7. Jamie Meares 8. House to Home 9. Wendy Schwartz
0