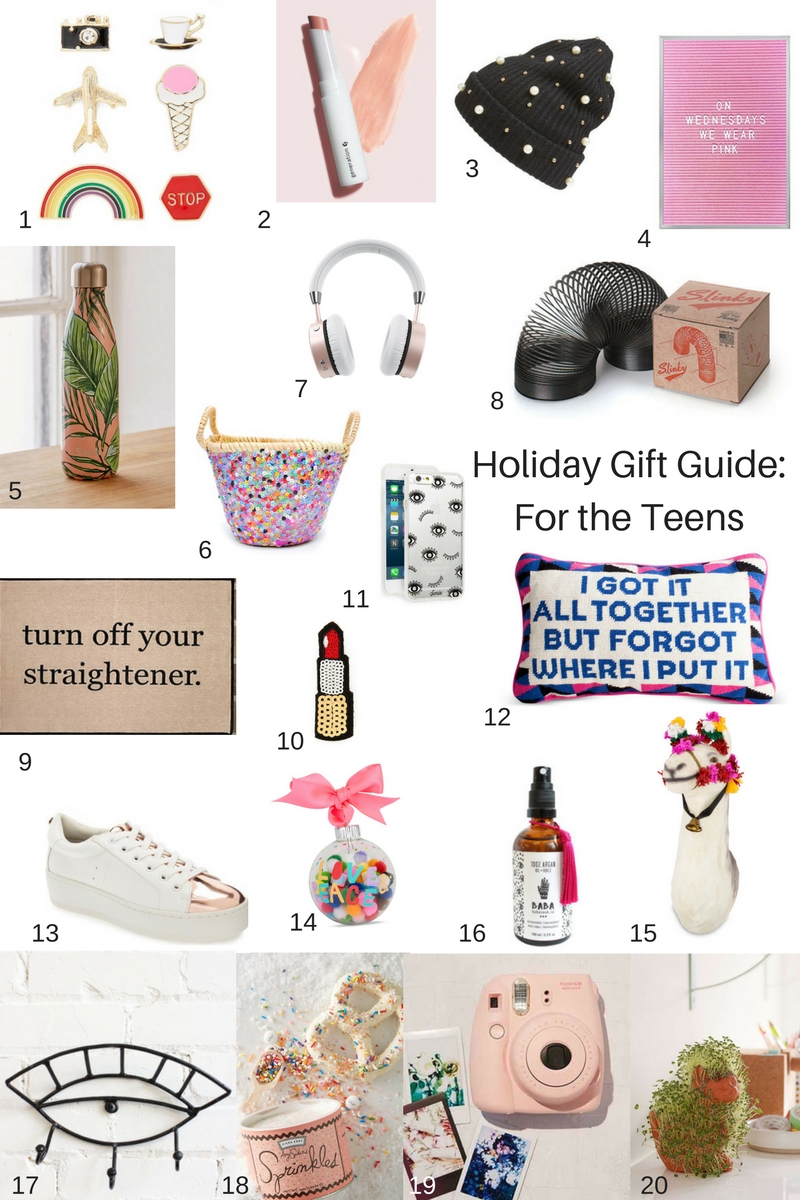 As proud mom to a teeny bopper & ex-teen myself, I feel super qualified in the Holiday present department. Who am I kidding? In my days, a super "rad" gift would have been a sateen concert bomber of NKOTB. Yup, I'm that old! That being said, and thanx to the Wunderlist app, my pre-teen in residence has been fast in sharing what was indeed cool to give at Christmas.
Here's my Holiday gift guide of the 20 best presents for the teens on your list. 
shopping
1. This adorable pack of 6 pins is SO cute, I think I should buy 2, one for my daughter and the other for me. Imagine the pop of colour on a sharp black blazer. Ok, back to the teens…
2. Glossier mat lipstick comes in different colours and the whole vibe of the company is just cool.
3. I am crushing over this embellished beanie, perfect for our Canadian winter.
4. How cool is this pink letter board? Old school with a twist.
5. I don't know what it is about this brand, but they sure have the Midas touch. Their products sell out and this Swell Resort water bottle is no exception.
6. Ohnnnn, cute!  #sequinsbasket 
7. OK so these are über cool! Wireless, these copper headphones have all the doodads a teen craves.
8. Sometimes you just have to go 1.o. No wifi, no bluetooth, no gimmicks, just a sleek black Original Slinky. It's fun and has a great decorative factor. Available at Lee Valley.
9. Turn off your straightener mat . Enough said.
10. The cool factor of this sequins lipstick pin is through the roof.
11. So I confess, my own iPhone case is exactly this starry eyed model . I just love it!
12 I got it all together but forgot where I put it needle point pillow. This pillow will be current all her life. Trust me!
13. Really digging these Metallic platform sneakers 
14. Love & Peace pompom ornament. Quirky and fun.
15. Don't we all need a Papier-maché lama in our loves. Yes, yes we do.
16. So this oil is amazing! The Baba Souk Argan oil is pure and organic, directly from Morocco and super for the acne prone skins of teens. " Since argan oil regulates the production of sebum, which causes acne, its use can help reduce further breakouts. The vitamin E present in the oil contains anti-oxidants that help remove damaged cells and help new ones grow, therefore fading acne scars." – The Dermatology Review
17. Magic eye wall hooks… so she might finally pick up after herself.
18. Fishs Eddy I like you cupcake sprinkles, 'cause life is just so much prettier with sprinkles on top.
19. The Instax Mini 8 camera is high on my daughter's list. The photos are expensive and pretty bad in terms of quality, but the feeling of the old Polaroid is fun and vintage.
20. I am not sure this Cuddly kitten Chia pet is on my list or hers, but anyhooooo it's pretty kitschy-cool.
0