The location
The dining room table of the Apartment by Damask & Dentelle.  
The mood
simply natural 

Why simply natural?
This latter answer will require more than a couple of words to encapsulate the reasons why the natural look is most appealing to me. I have been following and discussing trends for the past 10 years now and I have loved most of them. From the flamboyant Radiant Orchid plucked from Pantone's palette, to the return of Terrazzo, to pastels, and the now ubiquitous cactus and terrarium trend, I've been able to find something I liked in all of them. But, that being said, there is one trend that resonates truer to my personal tastes, that appeals to me most and that makes my heart sing. And it is: everything natural. 
Natural doesn't mean boring though. As in a winter forrest there are a million different shades of evergreens and well as a multitude of shades of whites and browns depending on how and where the sun or the shade touches the snow, Nature has an intricate colour palette of its own. 
My biggest challenge?
Reinventing the Nature that we all know and the festive holiday customs we grew up with in a fresh and current way.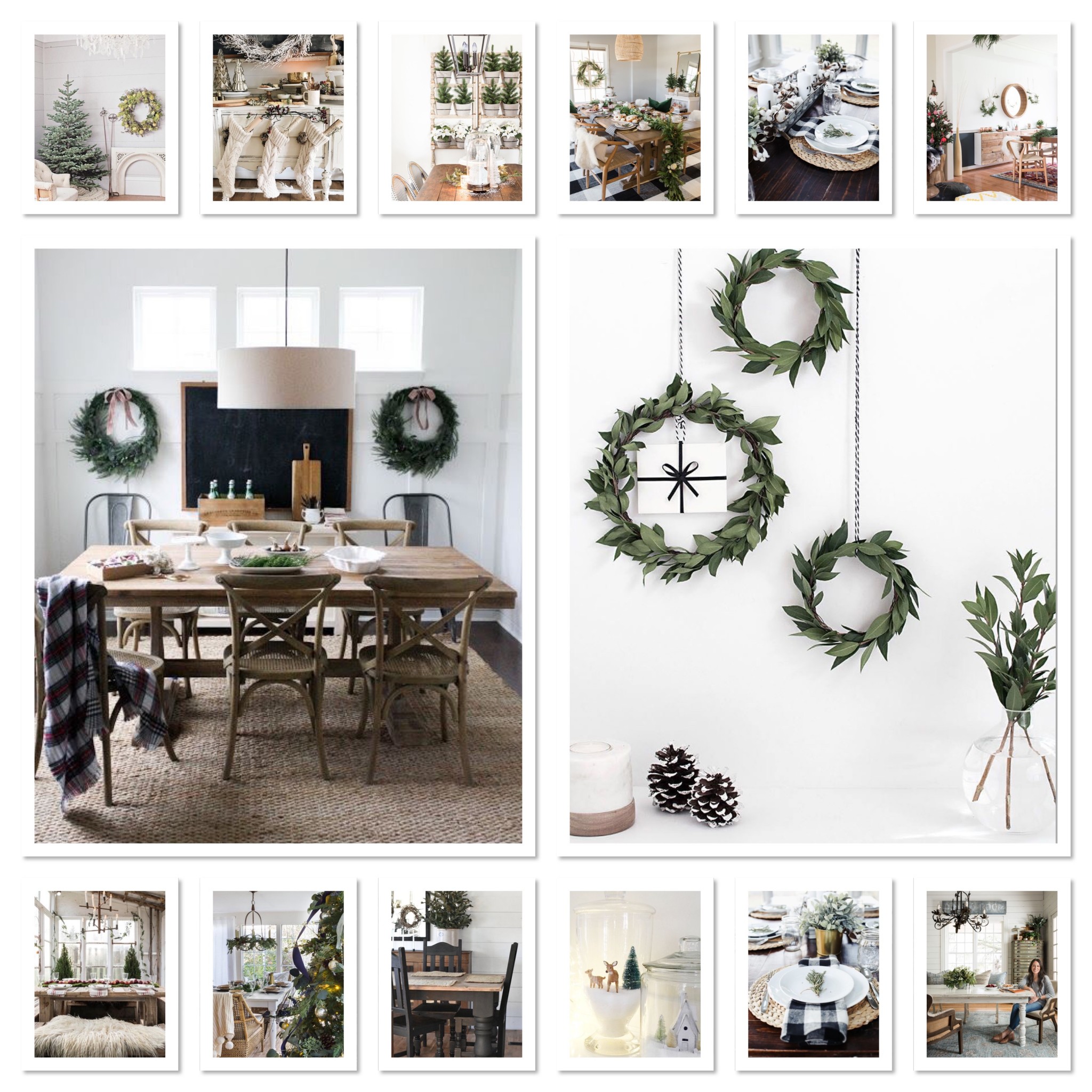 My creative process
With my "forrest after a snowstorm" inspiration in mind, I let a walk through the Decors Veronneau store (the Laval location) do the rest. There is something quite magical to be walking through the flocked and trimmed trees that these holiday wizards prepare. From a mere 3' tall to an astounding 10' or more, each tree speaks to a different audience. Some with their sparkling baubles & glistening branches, others with ribbons of rough jute & raw cotton ornaments. I perused, got inspired and I let myself be carried away into the wreath and garlands section to begin building my table's theme.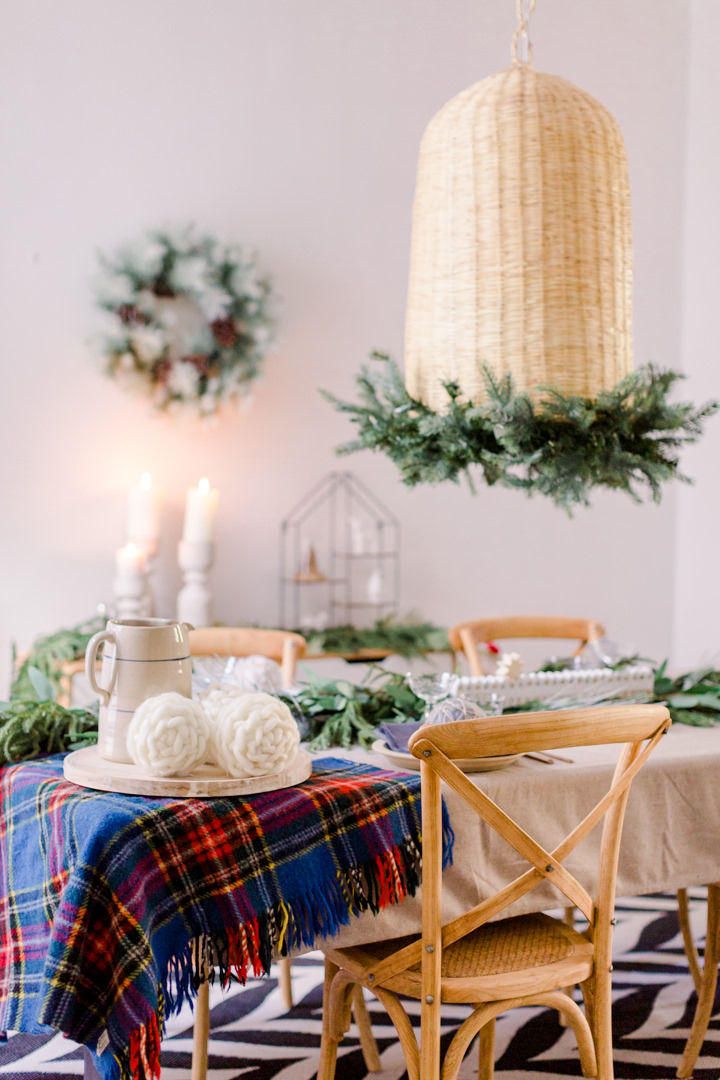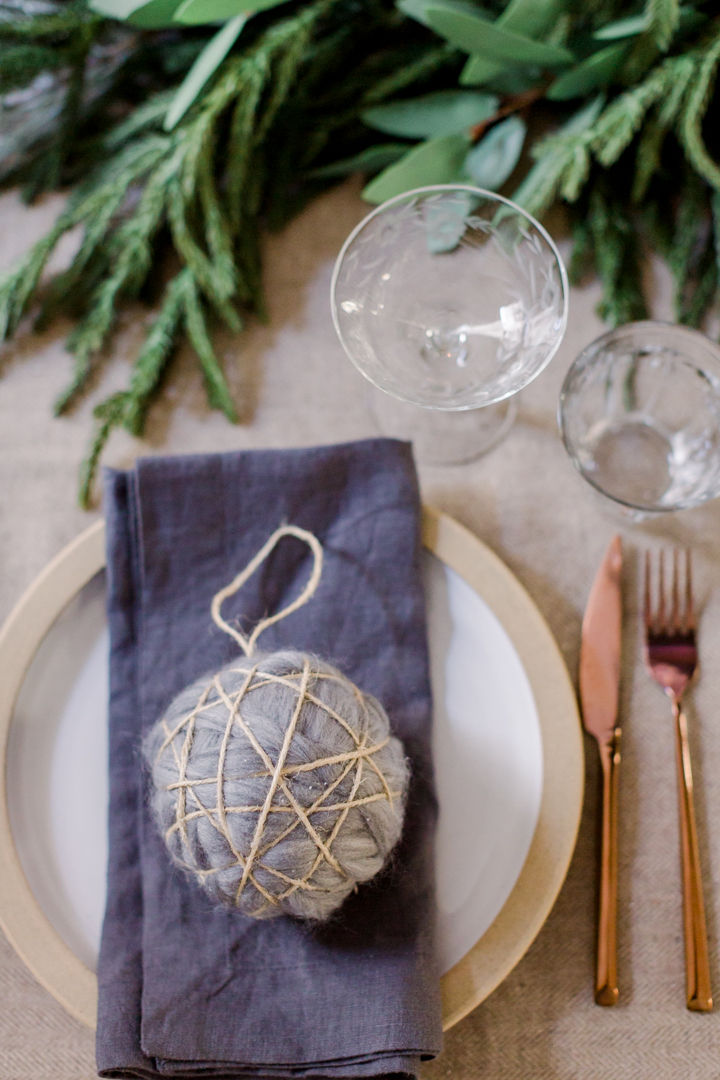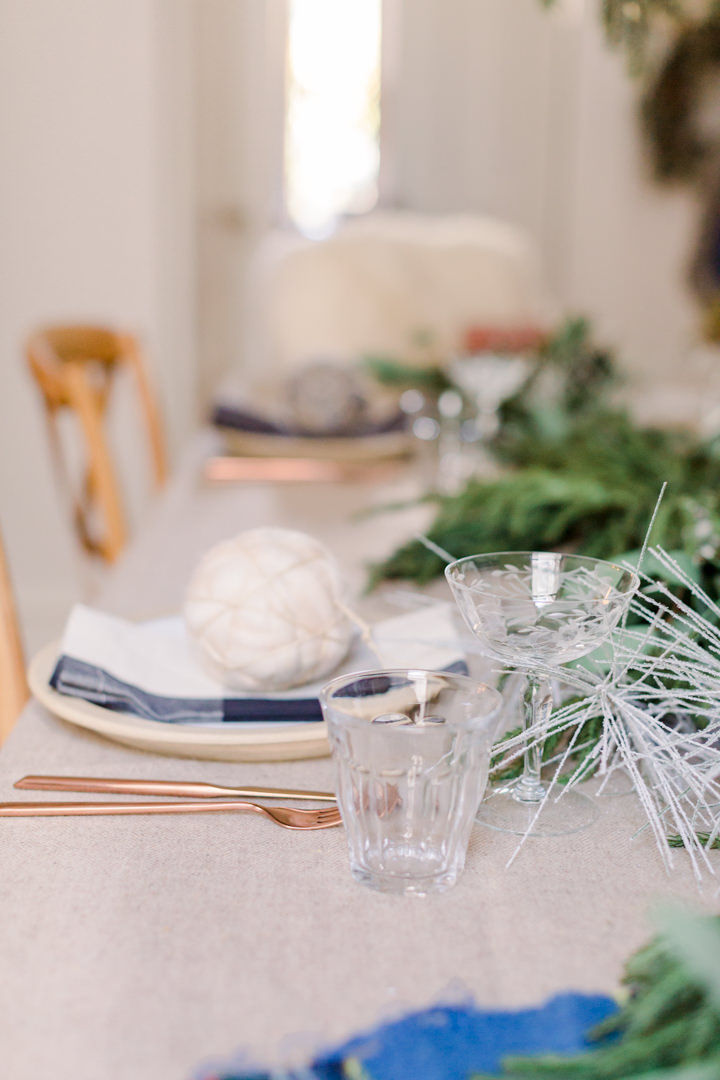 The table
I made a tablecloth from a piece of beautiful wool I brought back from Scotland last winter, weaved in natural & unpretentious fibres of beige and cream. I wish you could touch it, the softness of this fabric is an experience in itself! :) Then, I used these beautiful and hand thrown Farmhouse Pottery plates and glasses. The napkins are voluntarily mismatched, giving a more casual feel, and in each plate, a little "take home gift": a beautiful raw cotton and jute twine ornament in either cream or light grey. To break the pretty monochrome palette, I used a vintage Scottish throw as a colour accent and a place where to display a beautiful tray and pitcher.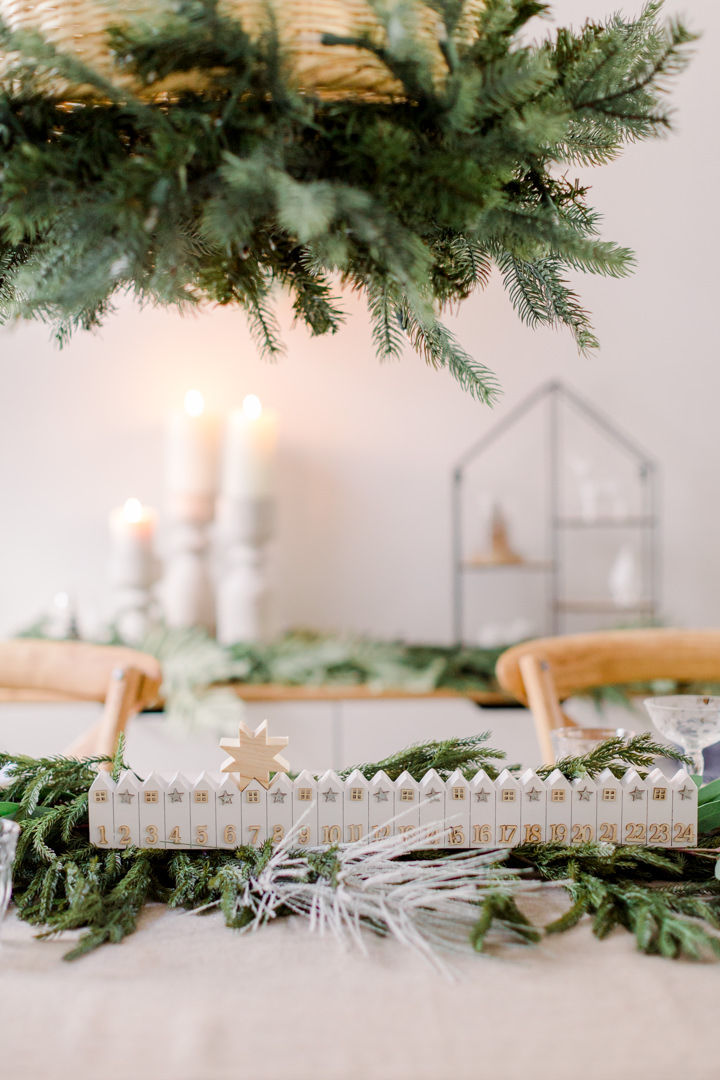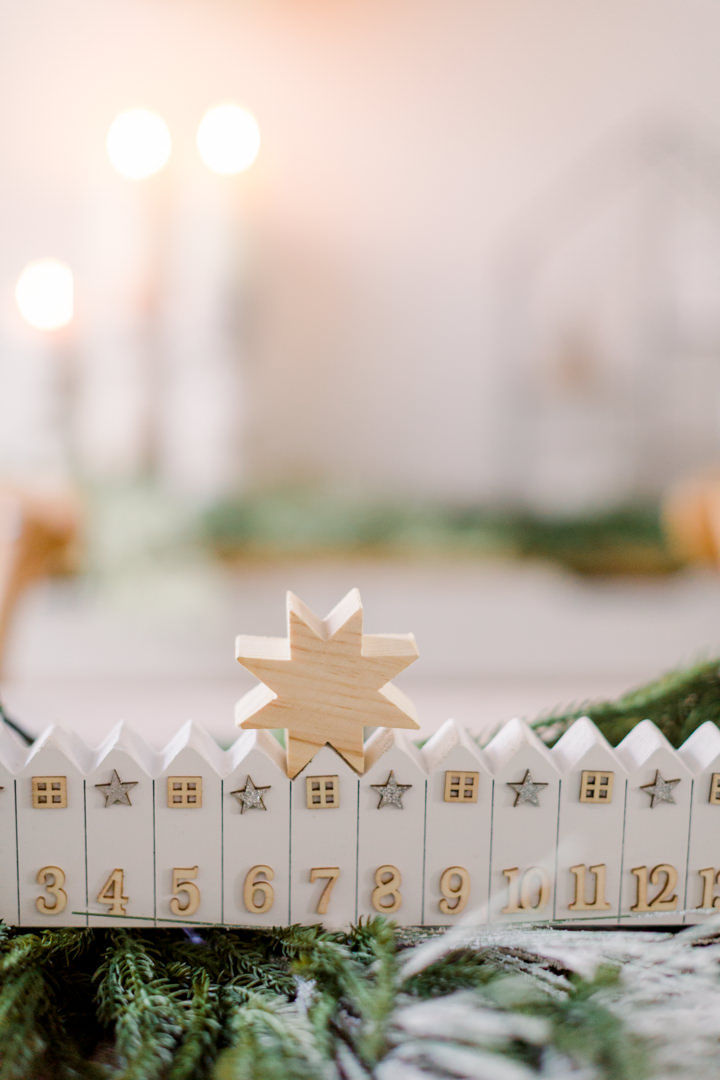 The centrepiece
In terms of centrepiece, I am always sensitive to the mechanics of a large Christmas dinner rather than just the look of a pretty table. Don't get me wrong, I do love myself a large and tall centrepiece, but when I am the one cooking loads of platters of fragrant food for a large assembly of guests, the last thing I want is to be prancing (yes reindeer pun intended!) with my serving platters around the tall foliage. For that reason, I went with a "runner style" centrepiece made from an cedar garland. That too you have to touch! It's a little surreal how soft and real it feels. I weaved some eucalyptus & flocked pine individual branches for added textural interest. As a final touch, I used a beautiful advent calendar made of painted wood that is neither fragile or fattening with its chocolaty content! #score By the way, they have different types of advent calendars: big or small, whimsical and always fun!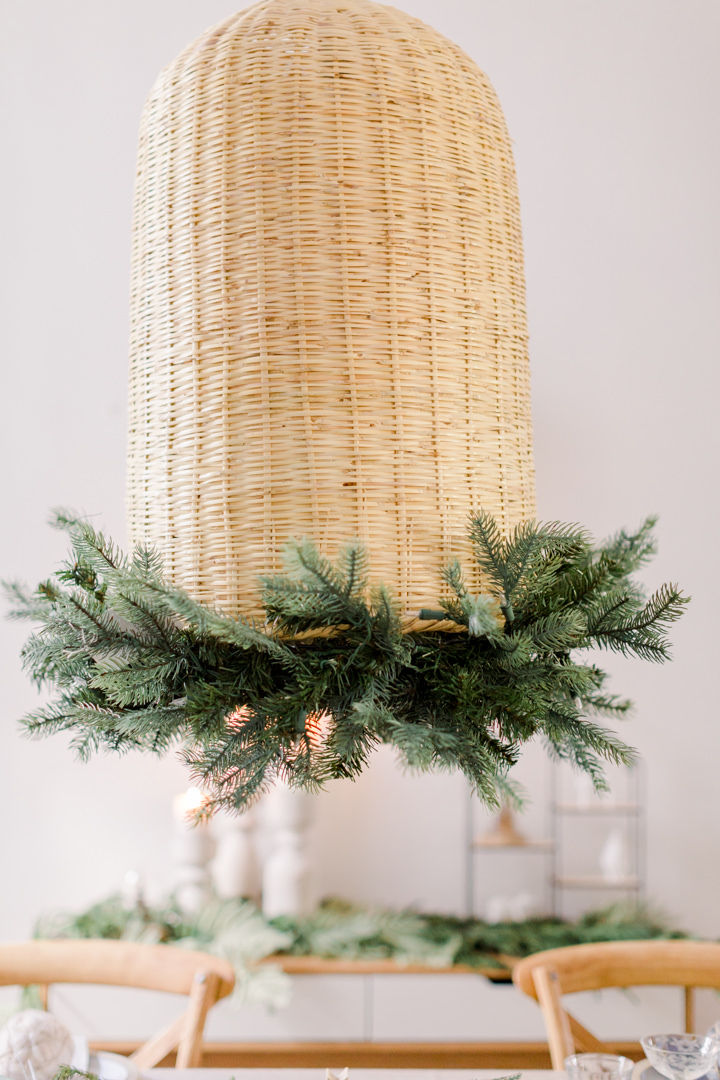 The suspension
The Moroccan suspension is an all time favorite of mine, but even I have to admit that it does project a pretty tropical vibe. How then to "winterize it" without stripping it of its personality or making it look super tacky with trinkets attached to it everywhere? With a simple pine wreath fastened delicately with floral wire from the underside. The result is so festive and magical!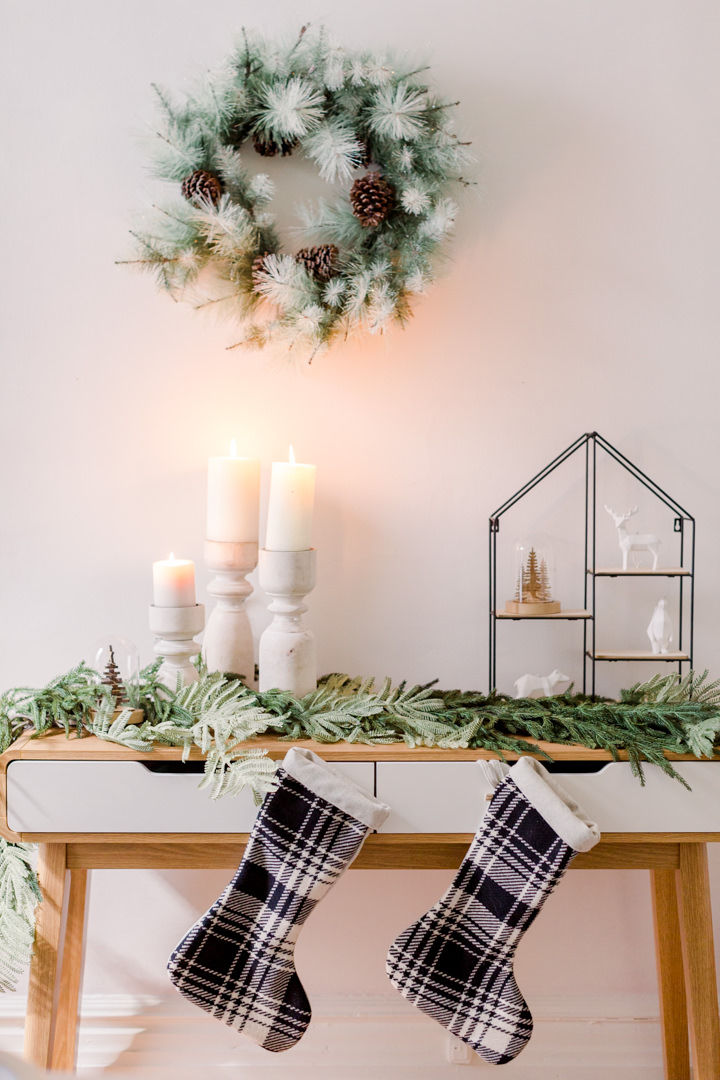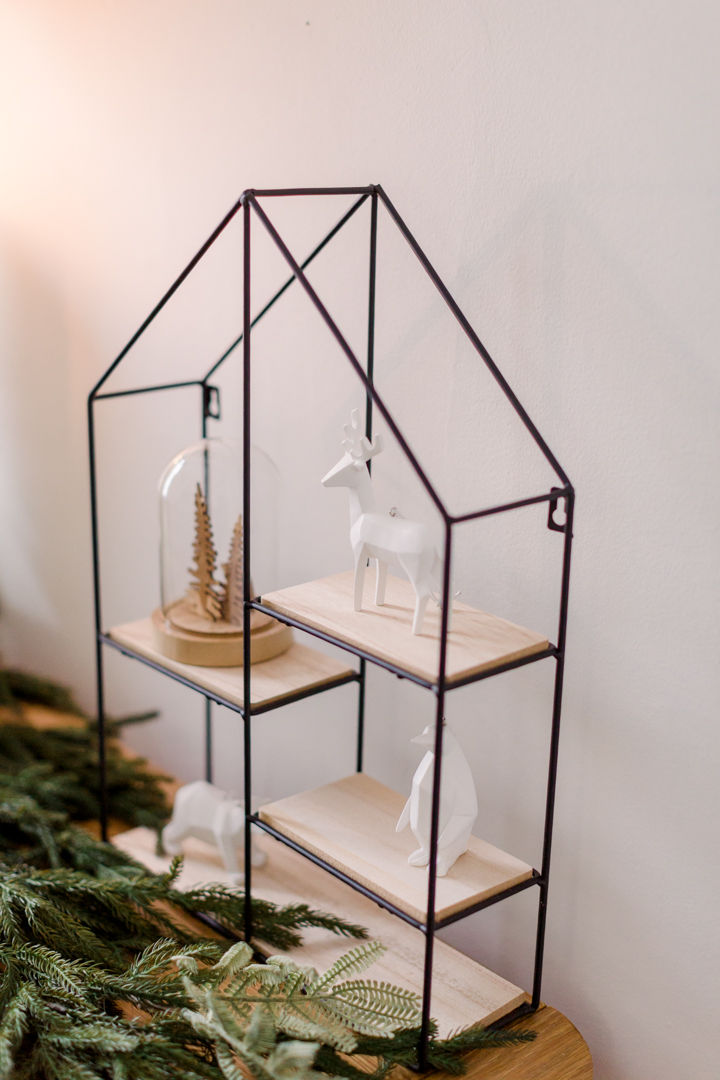 The console
The last element of design came with the console. Again here I used evergreen garlands, two this time, to give a nice overhang to the foliage and make it look full. I added a few branches to jazz up the look of the garland and mix things up a little in terms of textures to be seen and touched. An adorable little presentation shelf in the shape of a house echoes the pointy "house" shapes of the advent calendar on the table. Filling its content with gorgeous ornaments was quite the conundrum as there are literally thousands of different ones, in all the styles you can think of! I finally set my sight on a woodland cloche and nordic animals. Oh yes, there IS method to my madness! :) On the left side of the console, three pillar candle holders in a driftwood finish that add that little bit of candle sparkle so important at Christmas (I find). I used real candles here, but feel free to use battery operated pillar candles if you have small kids running around and are afraid that they might topple them over. Finally, a flocked wreath on the wall completes the look by echoing the other wreath underneath the suspension. The tables cape is now complete, I am ready for the holidays to begin! You?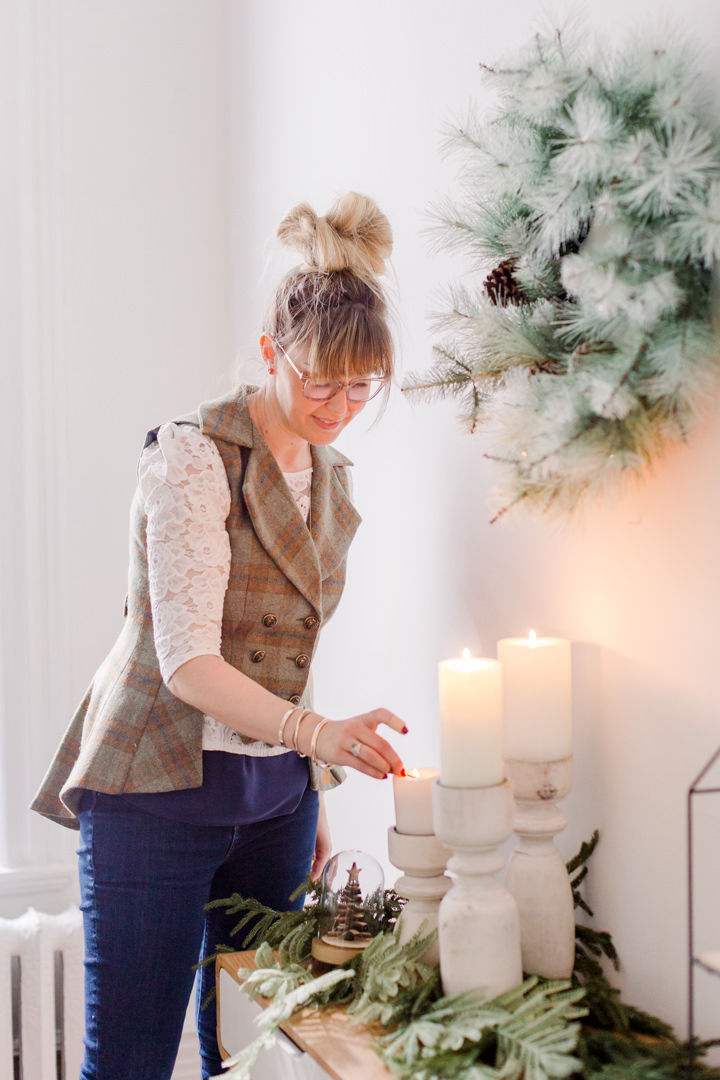 What a treat this has been, to be working with the products of Decors Veronneau to create a holiday vignette. Just as last year I let myself be carried away by the magical & festive environment they so skillfully create in stores to bring some holiday magic to my Christmas decor… naturally.
To let you add a little Christmas cheer to your holiday decor, Decors Veronneau offers you 15$ OFF any purchase of 100$ or more with this promo code vanessa15 from today until the November 29th inclusively.  
Photos: Julia C. Vona
This post is a collaboration with Decors Veronneau. The post's content and creative vignette are my own. 
4