Montréal is the city I have called home all my life. Here are city guides, segmented in neighbourhoods, of my (and those of my collaborators) favorite spots. We've tried to be fair by writing some of them in Molière's mother tongue and others in Shakespeare's. Be sure to go ahead and print our takeaway in order to carry them along with you on your next excursions.
xoxo
v.
EDITOR'S NOTE: Our city guides have made us so happy, that we've decided to expand beyond the limits of our fair city. Come back often to view what we have in store for you next.
****************
Montréal est la ville où je suis née et où j'ai vécu presque toute ma vie. Pour cette raison, j'avais envie de vous la faire découvrir, ou redécouvrir, à ma façon. Avec l'aide de mes précieuses collaboratrices, nous avons créé une suite de guides de ville pour différents arrondissements de notre métropole. Parce que le blogue de Damask & Dentelle est lu dans plusieurs pays, nous avons jugé bon d'en faire certains en anglais et d'autres en français. N'oubliez pas d'imprimer le guide à emporter gratuit et tout "mimi", il sera votre compas lors de vos prochaines excursions.
xoxo
v.
NOTE DE L'ÉDITRICE: Nos guides de ville nous ont tellement remplis de bonheur, que nous avons décidé de franchir les frontières de Montréal pour inclure d'autres régions du Québec, ainsi que New York. Revenez nous voir souvent, pour voir ce que nous vous préparerons ensuite.
Our City Guides: click on the thumbnails below to discover some of Montréal as well as other of our most beloved destinations.
D&D in Montréal
D&D in Region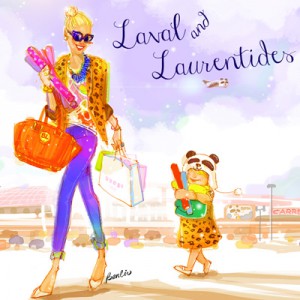 Tying the Knot
D&D around the world