I love this neighbourhood! Whenever I set foot in this area of the city I am awestruck by the gorgeous British style architecture, the brownstones and the presence of magnolias everywhere. It had always been a dream of mine to one day live in Westmount, five years ago I lived the dream… it lasted four years. I loved every minute of it and I got a sturdy pair of runner's legs running up and down the hills.
We sold our home in 2010 and moved next door to Notre-Dame-de-Grâce (NDG to the locals). At the heart of NDG is what is affectionately called the Monkland Village (between Grand boulevard and the Décarie Expressway), a lively street full of local shops and good restaurants. Having left behind my dream home for hopefully greener pastures, I was skeptical of how I would get acquainted with the neighborhood and my really not so green lawn.
Well it did not take more than a minute before I fell head over heel for NDG. Everyone is so nice, the community life is priceless, there are great restaurants and we even got flash mobs on Halloween by the borough's community council or something (Michael Jackson's Thriller: a classic).
Ce restaurant traditionnel japonais offre également un bar à sushis, dans un décor contemporain.
 1232, avenue Greene 
| (514) 934-0962 | www.kashima.ca
An institution in Westmount, Chez Nick's is THE place for Sunday Brunch and lunch. With over, oh I don't know, at least 20 different kind of tasty salads, it has long ago become my "rabbit lunch" place. Always packed, you better arrive 15 minutes early.

Photo Credit: Chez Nick's
Great fries and great cocktails… what more can you ask for?
I feel obligated to talk about the great ambiance and food, because it is true, but really all I can think about right now is their Baked Chocolate Chip Cookie à la mode. A huge cookie served in the cast iron skillet, gooey and warm, with a scoop of vanilla bean ice cream on top. I rest my case…
Photo Credit: Vanessa Sicotte
5- Cosmo
Hang over breakfast galore. Cosmo is tiny dinner with colorful owners and amazing breakfast sandwiches.
Wanna channel the "Eat Pray Love" Experience without leaving the city? Well The Italian Pantry is the first stop on your list! Find here ready-to-go meals and culinary delights imported directly from Italy including various Olive oils, Butter of Parma and Barath & Milano 45 per cent hazelnut crema (that's their very own "BEST IN THE WORLD" kind of Nutella spread).
source: http://hour.ca/2011/09/29/the-italian-pantry-italian-fix/

This boutique is like a candy store to me. From bed linens to frames, scented candles and cool dog gear, Ben & Tournesol offers a collection of delightfully curated objects for the home.

Photo Credit: Vanessa Sicotte
8- Wilfrid & Adrienne
Little sister of Ben & Tournesol, located next door, Wilfris & Adrienne specializes in the "art de la table" (art of the table). Brands such as Arte Italica, Le Creuset, Laguiole, Dean & Deluca, & Sophie Conran's collaboration for Portmeirion are found here in delicious sorbet colors.

Photo Credit: Vanessa Sicotte
Their Carrefour Laval location has long been a hit and now their Westmount venue is following in its steps. Find affordable accessories, rugs, silk flowers and furniture with a contemporary flair.
Chantal Boulé, the colorful designer behind the brand, has been offering a country living approach to her numerous customers for many years (a lady never says how many years…). Visit the Ayer's Cliff (Eastern Touwnships) boutique or, if you are a city dweller, visit their design studio within Tapis Soumack on Sherbroke st.
A showroom for designers, Carrier & Co is en entity in Montréal when it comes to fabrics and wallpapers.
Custom made linens and drapes with a very personalized service and a large variety of fabrics to choose from Find here the collection from Toronto's Threadcount.

Photo: Credit: Linens by Appointment
Souvenirs de Voyages is a lovely boutique that carries fashionable decorations and accessories. If you enjoy original furniture, objects, and accessories, as well as authentic and contemporary styles, for which you can always find a deeper history, this is the place for you.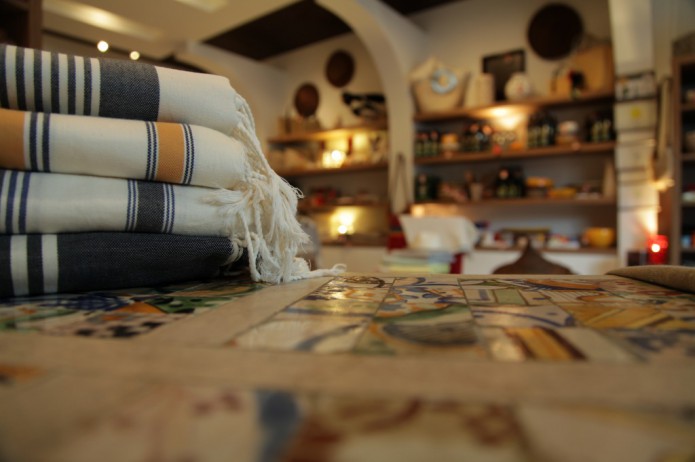 Avid skiers flock to this store from far and wide. Great gear and just a cool cast of characters working there.
My body's temple. Essential to my sanity.

source: Elsa May
I don't know if I go here for my kids or for my own enjoyment. Really you HAVE to see this place. Original & cool toys, clothes, books, and baby gifts are found here.

Photo Credit: Patricia Gajo for Tourisme Montréal
Trendy and hip, the owners of the boutique really have an eye for upcoming trends. I got a cool pair of floral jeans this season that make me giddy I love them so much.
The name says it all… pretty, very pretty ballerinas.

Photo credit: Pretty Ballerina
If I am not working, I am in my Lululemon uniform. Oprah said it… their pants make the best tushies in the world, plus their sports tops are the most comfortable ever.
If you like good quality, tailored cuts and minimal anything, James Perse is your place. Great basics in neutral colors = wardrobe staples.