Sometimes, being one's own guinea pig is the greatest thing in the world! I told you recently about the new serie "A Tea with…" that I was starting on the blog with the help of photographer Emilie Iggiotti? Well, in order to see how the whole thing would go down and how well we could work together, we needed a room in which to try out the idea. Well, we found just the room and it happened to by my very own living room. :)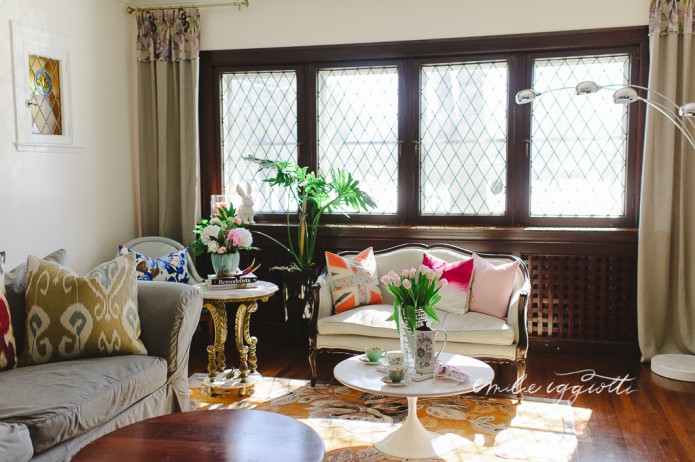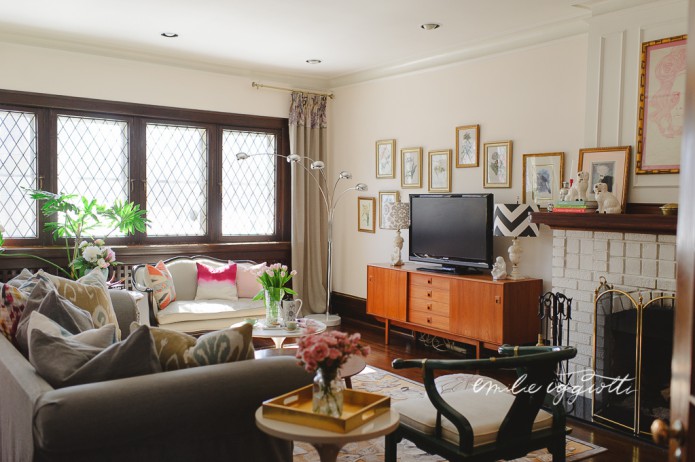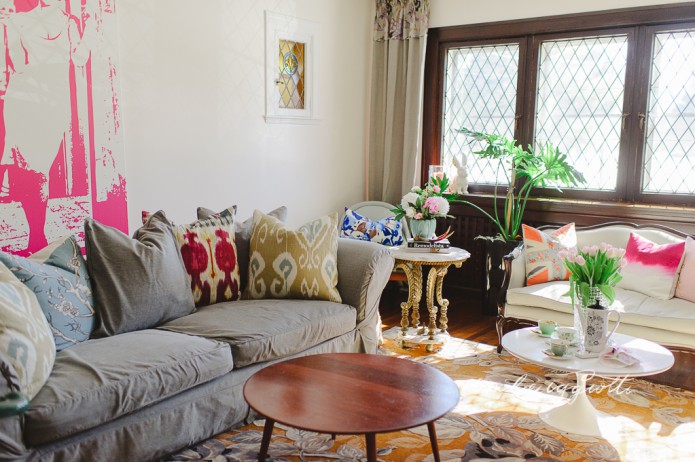 I presented you my living room at Christmas, with decorations and all, well here it is now in its "natural" state. The word natural seems appropriate when you consider the number if items with depicting either flowers or animals… there are: 2 monkeys, 1 cockatoo, 2 dogs, 1 rabbit, 2 birds, & 8 vintage botanical prints!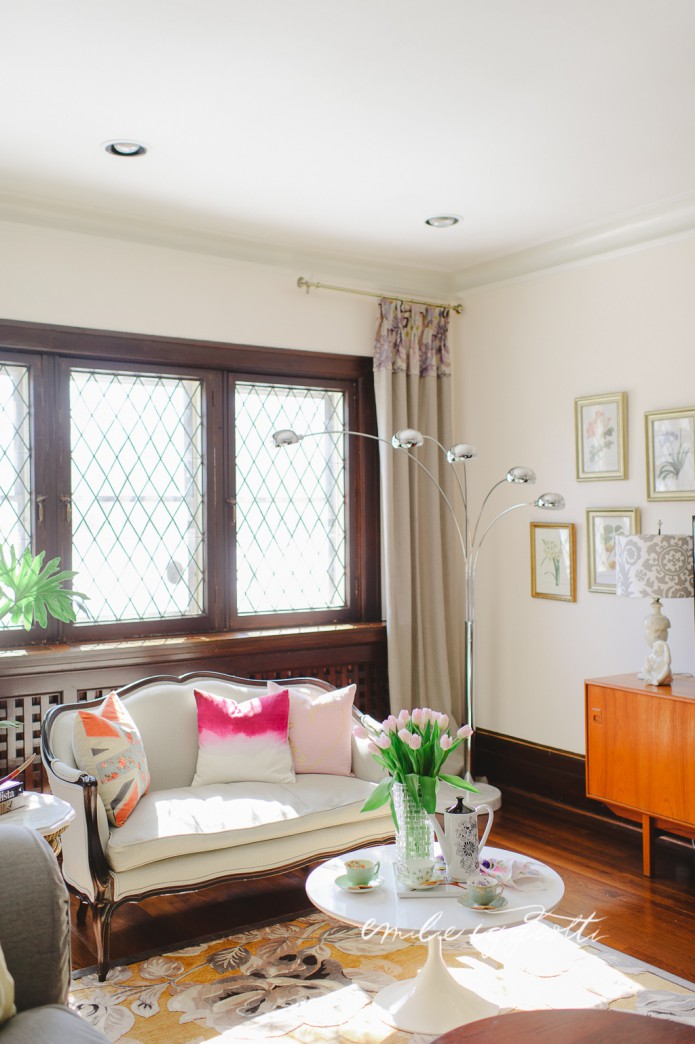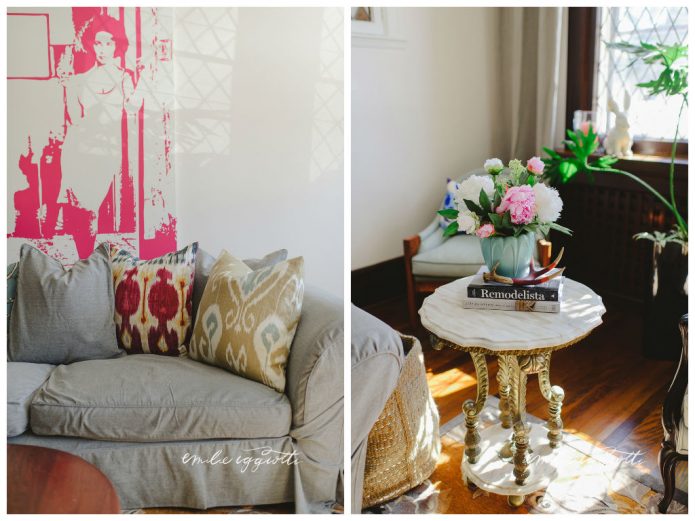 It was so simple transforming the previously buttery yellow room into our lively and whimsical living room. For the walls I chose a light pink (131-1 Floral Linen) by Pittsburgh Paints  & on the ceiling a light shade of grey (555-2 Inverness Gray) to add a more contemporary feel to the room and define the crown mouldings. The fireplace was painted white, but with the terrible cold winter we got and the pure joy we had making real fires, it did not stay white very long. Oh well, it was worth it and you know what, it gives the room a lived in feel.
We then removed the large area rug to discover a beautiful hardwood floor, that did not even need sanding or varnishing. #LuckyDay !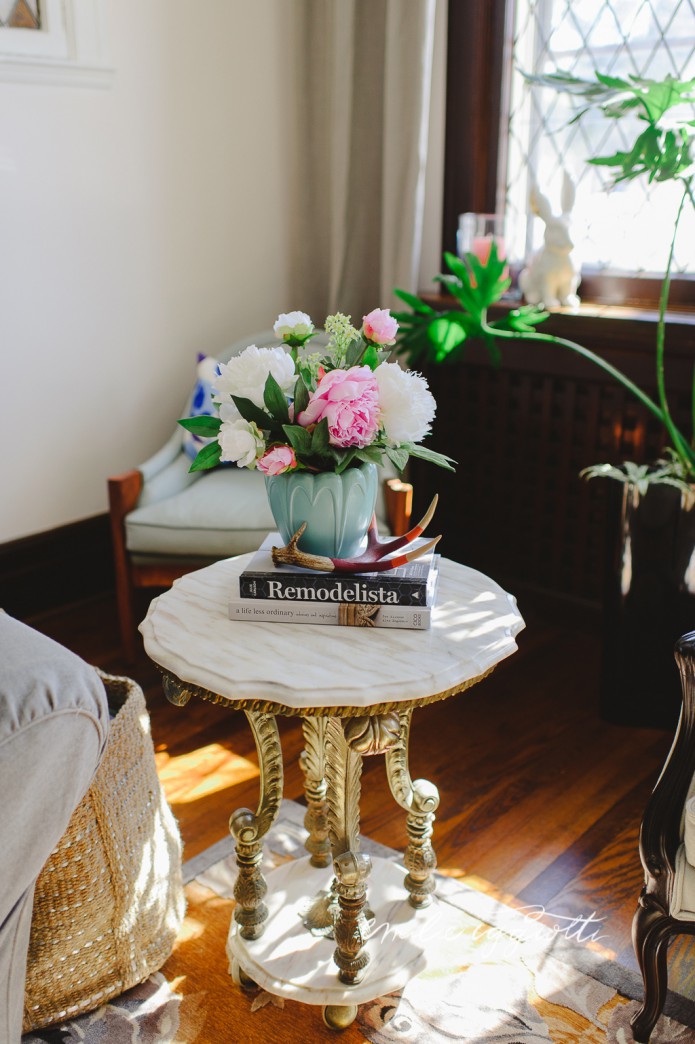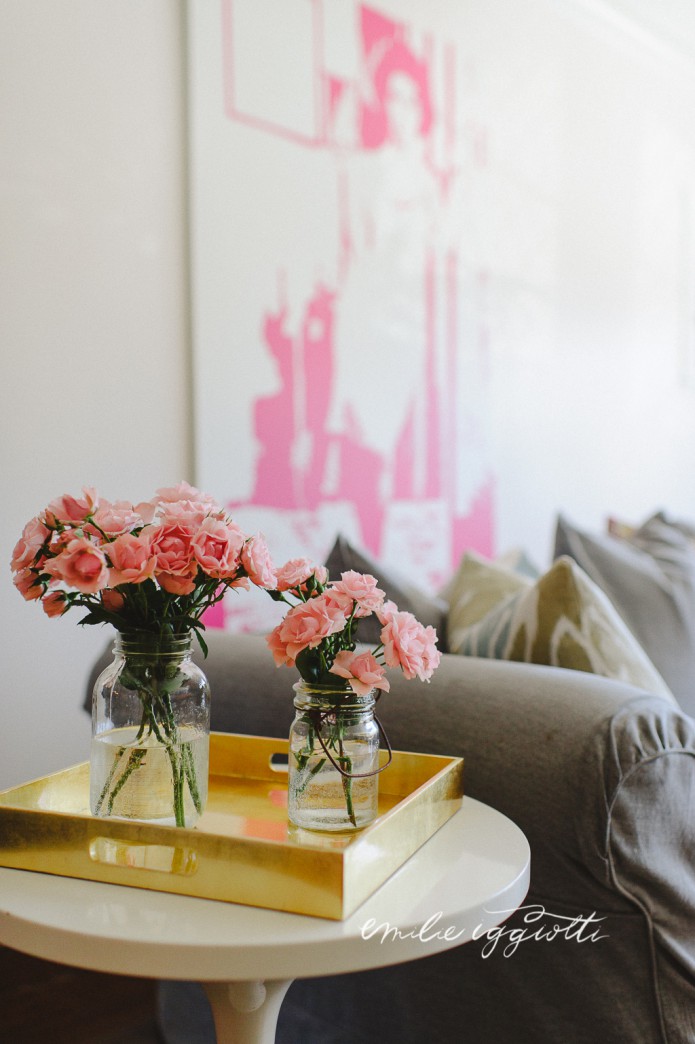 After that it was all about the pretty stuff: my beloved Montauk couch with its mismatched pillows, a settee I found in an auction and had reupholstered in grey linen, a gilded & marble side table I found in a vintage store for 80$ (what a score that was!), 2 round coffee tables to fill in the middle area and give the children plenty of room to draw and play, and a funky floral rug I found at HomeSense.
But the 2 pieces I love most are old and green… the Ming horseshoe chair I found for 75$ in an estate sale and the antique 18th century French chateau chair reupholstered in a gorgeous green and grey peony fabric (this one was a bit of a splurge, but ohhh how I just adore it!).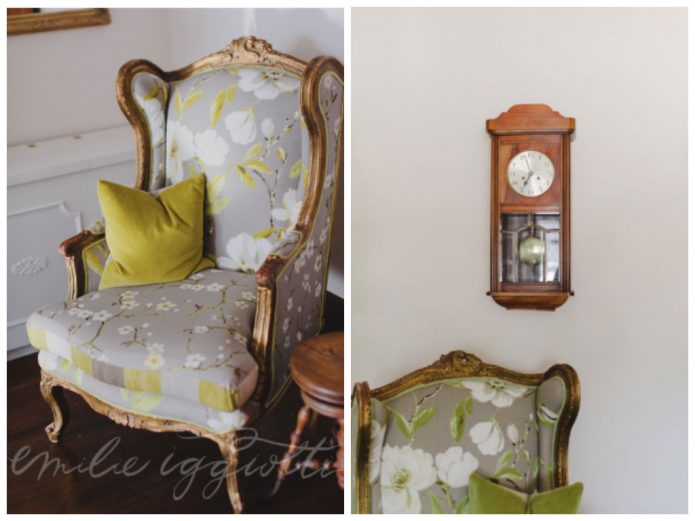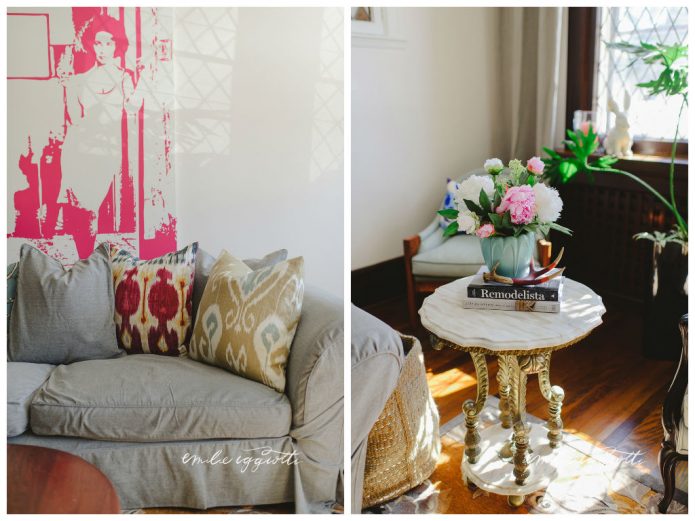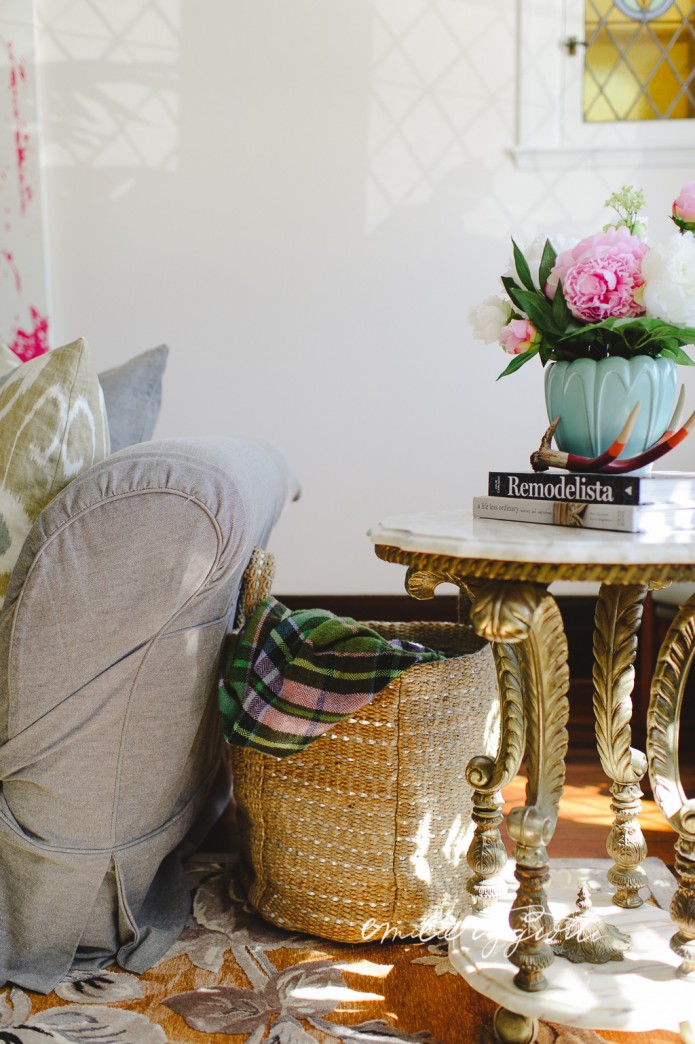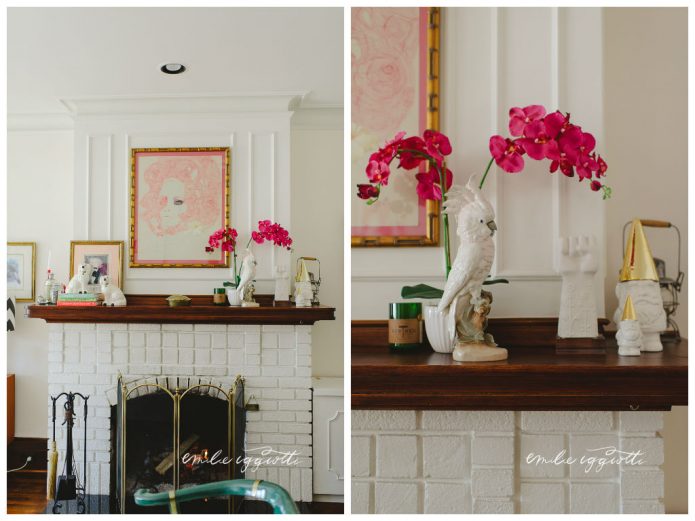 Shopping List:
Sofa "Montauk": Montauk
Pink & blue Ikat pillow cover: Pottery Barn
Beige & turquoise Ikat pillow covers: Playpurdys on Etsy
Blue bird pillow cover: Milk & Cookies on Etsy
Sisal & silver basket: HomeSense
Green & purple lambswool plaid throw: Avoca
Oversize Elizabeth Taylor pink decal on canvas: Agent Vinyle 
Martian Floor lamp: EQ3
Mid Century teak buffet: vintage find
Vintage botanical prints: Naturalist Collection on Etsy
Vintage Fitz & Floyd Hollywood Regency Chimpanzee bookends : Haystack on Etsy
Marble table lamps + lampshades: Estate sale (lamps) + Buk & Nola (lampshades)
Settee: Hudson Auction House, Grey Linen: CM textile
Ombre pink pillow: Bluebellgray 
Expression Pillow "Love": Indigo Chapters (on sale at 50%!!)
Patchwork Union Jack pillow: Chic at Home
Floral rug: HomeSense
Tulip base coffee table: vintage find
Teak coffee table: vintage find
Mid Century Ming Horseshoe chair in green: Estate Sale
Antique 18th century French chair: by boat from a French Château!
Cricket Fashion Illustration: Leigh Viner 
Vintage Staffordshire dogs: Etsy
Charlie my ceramic cockatoo: vintage find
Love hand: Jonathan Adler @ Ludovik
Gnome cookie jar with golden hat: Buk & Nola
Photo credit: Emilie Iggiotti
1