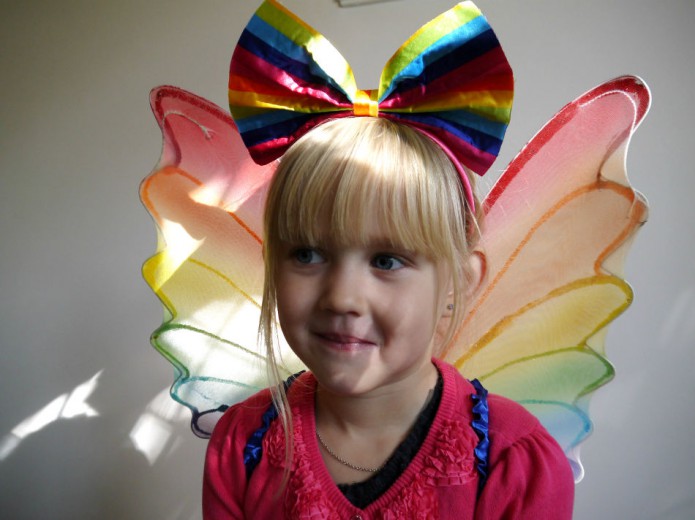 My daughter Madie turned 6 last weekend. She's all grown up and yet she is still a rainbows and unicorns believing little princess at heart. So, to celebrate her rite of passage, we went all out and gave her just that: A rainbow unicorn bash and check out this little face! #UniSweet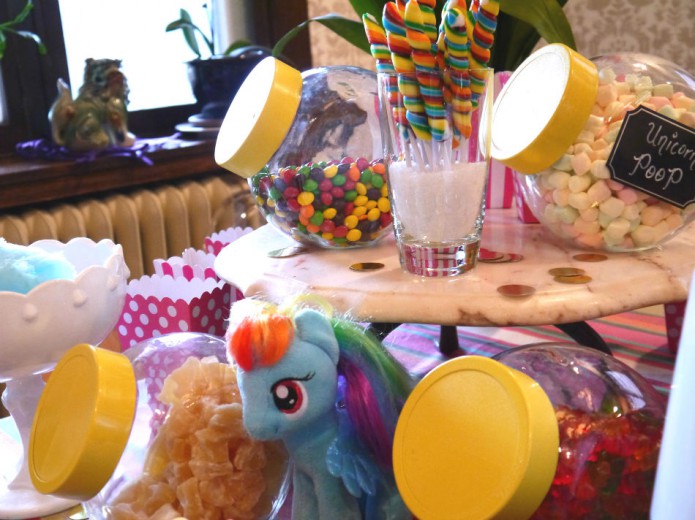 The afternoon delight was meant to be just that, an afternoon gathering with little sweets and nibbles. To create the sweet table, I bought candy jars at the Dollar store and spray painted in yellow the lids: 4$, check! Then I filled them with an assortment of rainbow coloured candies from Skittles (Taste the Rainbow right?) to gummies and I even found some rainbow hued Twizzlers and lollipops.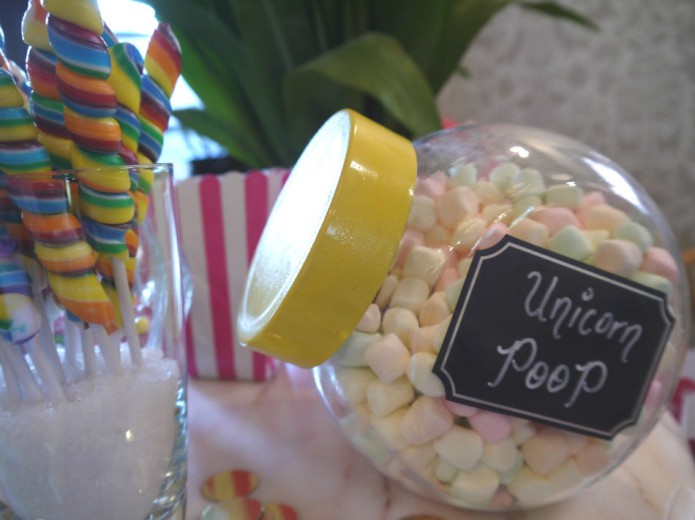 Ok the Unicorn Poop was a joke from me to me, I laughed just filling the jar with pastel coloured marshmallows. I got the chalkboard stickers at Michaels for less than 4$ for a pack of 4.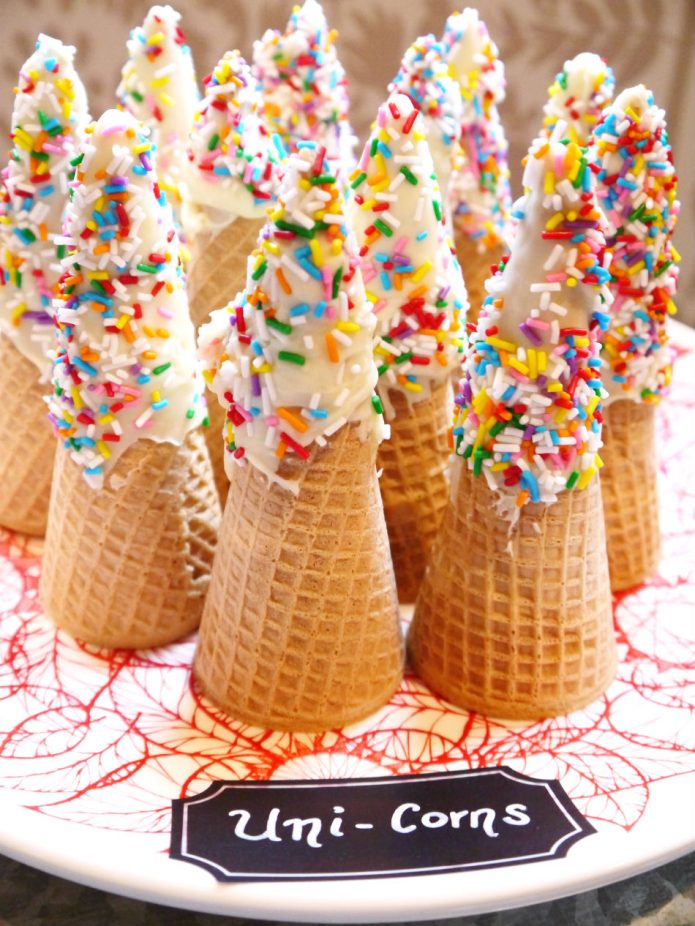 For the Unicorns I got some ice cream cones and Madie, my girlfriend Tala and I proceeded to dip them in white chocolate Chippits I melted, before sprinkling them. I love how they are not perfect, it makes it all so much more fun & kid-friendly.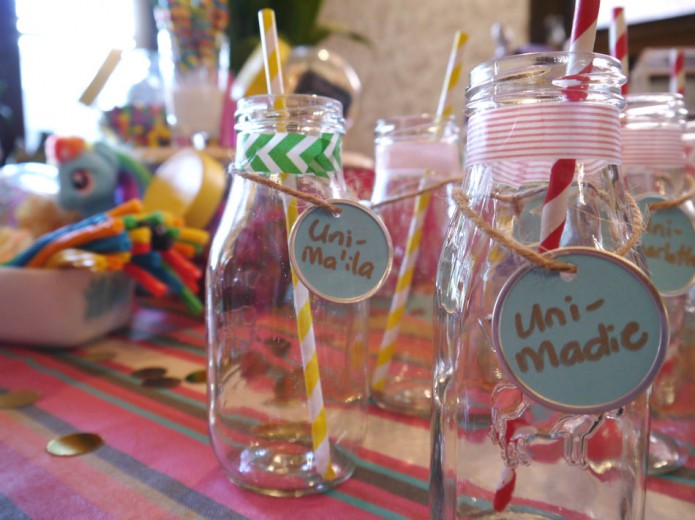 The milk bottles I got on liquidation at Michael's as well as the round tags. All the children got to have a Unicorn name, which made it simpler to keep the glasses and beverages in check.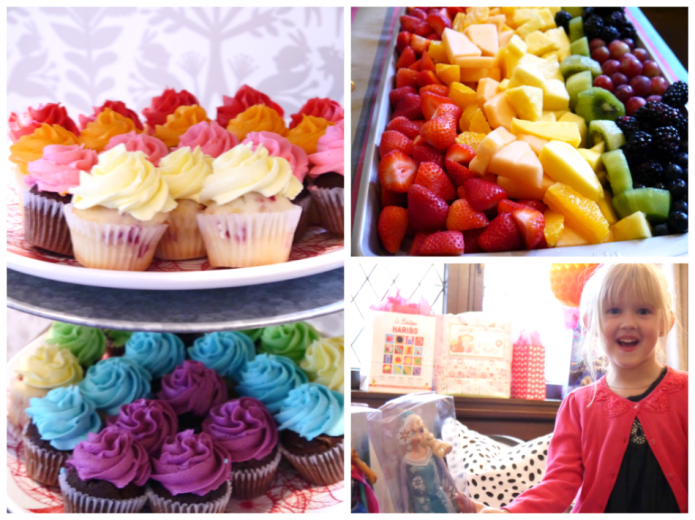 Now a cake, we needed a cake right? Instead I called Itsi Bitsi and ordered 35 mini cupcakes in the 7 colours of the rainbow in different flavours. Nom Nom Nom! The parents devoured them as fast as did the little ones.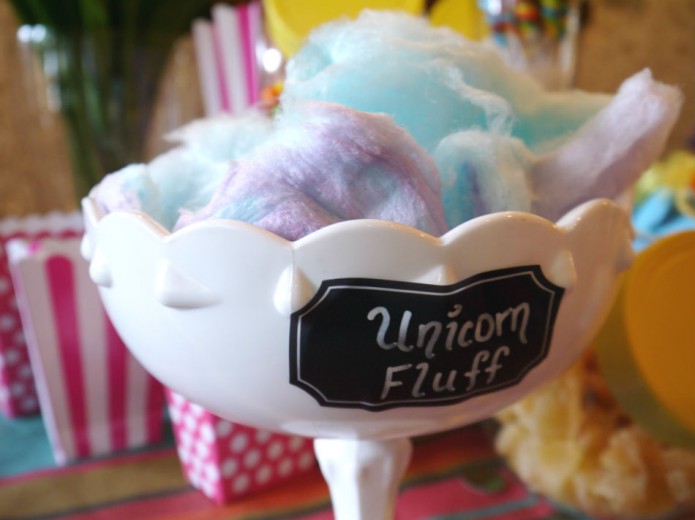 I used some of the vintage milk glass vases I have and put some cotton candy inside to make one-of-a-kind Unicorn Fluff = Mommy giggling at her own joke once more. :)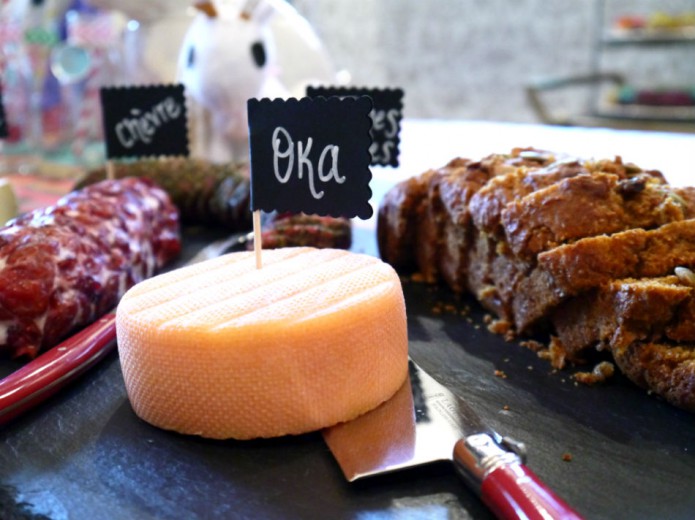 All in all, the table was colourful and pretty sweet but it's the fun the children had together that made my day… and the Anna & Elsa dolls that made Madie's. Oh well, maybe she'll look at this blogpost and appreciate the decor in a few years from now. #WishfulThinking
xoxo
v.
1