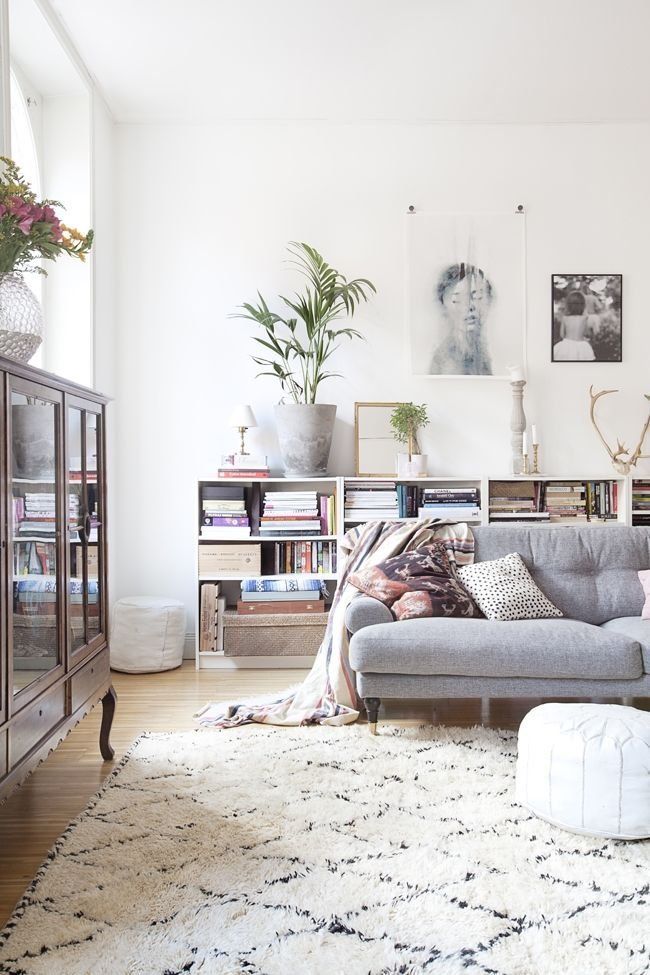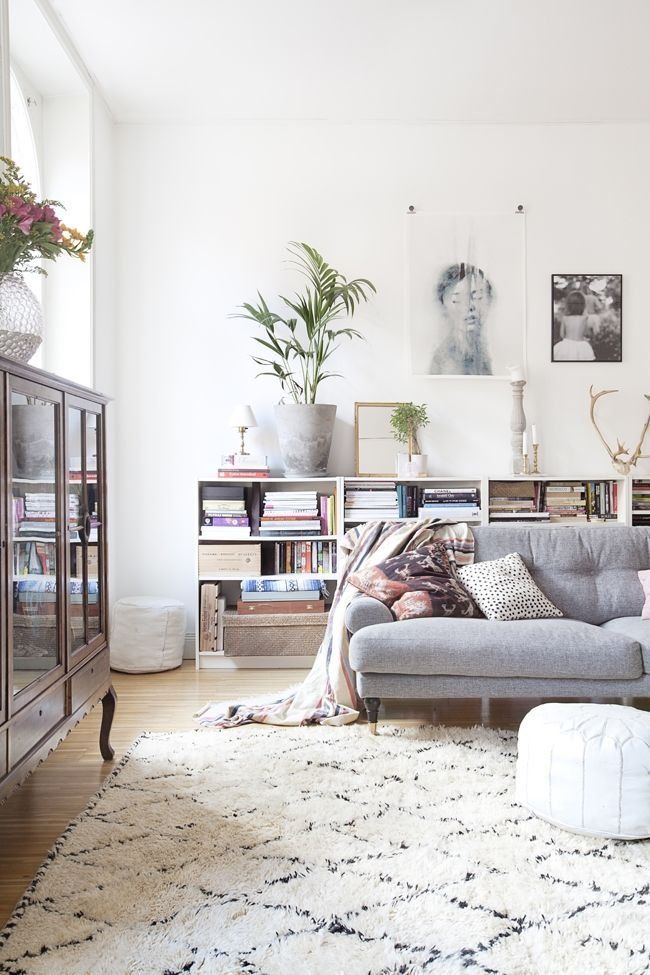 Morocco is rich in cultural design icons from clay tiles and baked pottery to weaved fabrics and Beni Ouarain rugs. Before I left Montréal, I made a mental list of all the things I'd like to hunt for in Morocco:
Kohl for my eyes
Henna tattoos for my hands
A hand-painted tajine
Argan oil for my hair and skin
Traditional babouches
Scarves
A linen fouta
A sarouel
Zemmour & Beni Ouarain rugs
&
A Moroccan wedding blanket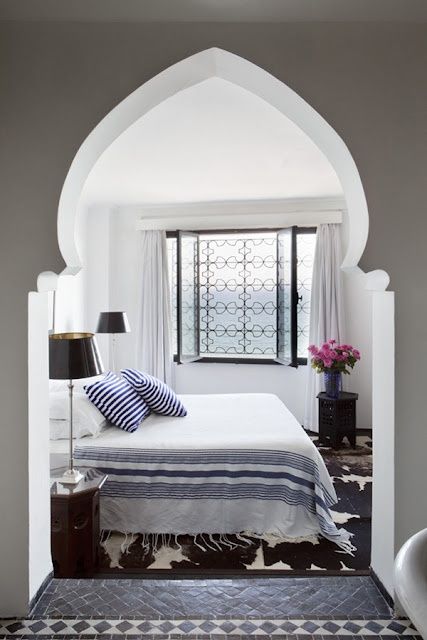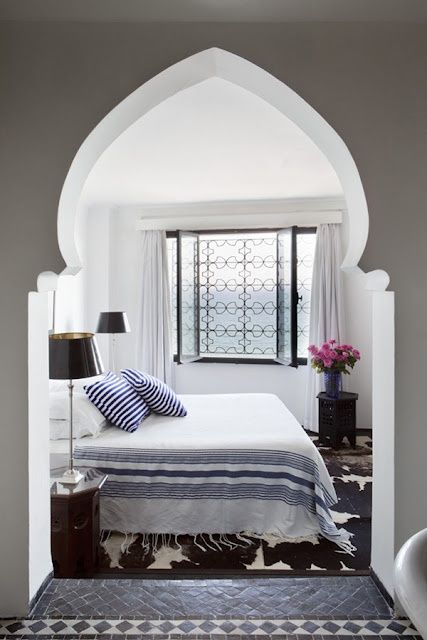 Although I found all these items, I ended up bringing back only the following:
First, I got gorgeous henna tattoos done on my hands as well as my 2 daughters little hands too for a mere 200 Dirham (26$ CDN).
Instead of the tajine, I purchased a large blue and white ceramic bowl. I realized that I would get more use out of it in the long run. If you are a fan of exotic cuisine, check out this great chicken tajine recipe with Chef Mourad Lahlou. Because I am crazy for all things striped and linen I went a little nuts over the locally made foutas. Expect to pay 120 dirham per foot for the large ones and 65 DHR for their linen scarves (or smaller hand towel) equivalent.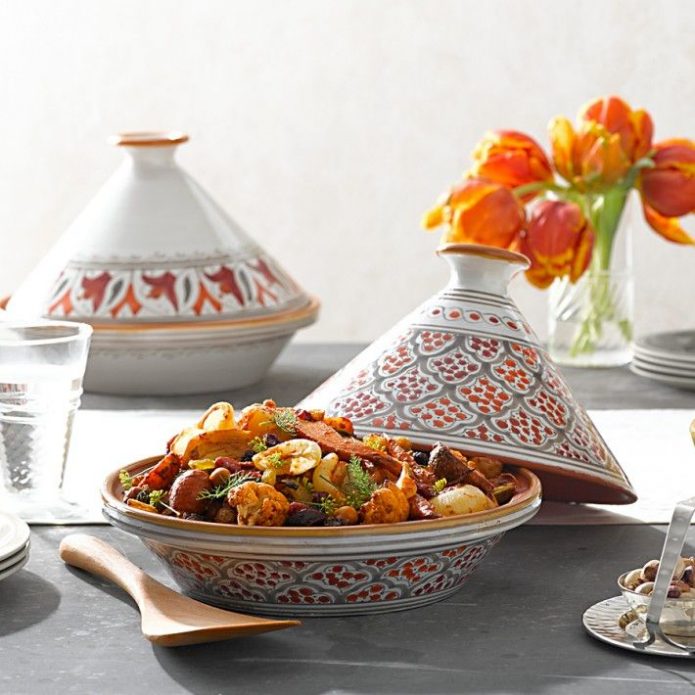 Along the main roads to large cities like Casablanca, Essaouira & Marrakesh, there are these cooperatives of women that farm argan oil and sell it to subsidize their activities and help women support themselves. I got a bottle of pure argan oil and another bottle mixed with rose essential oil – which is supposed to have anti wrinkle properties – (340 dirham for both).
At the souk I got 5 pairs of babouches, for myself, my girlfriends and even my little Madie! At 50 dirham a pair, it was a steal. I also got 3 pashmina scarves for 50 dirham a piece – although it is not the finest quality of pashmina I have ever seen, the patterns are fun and colourful.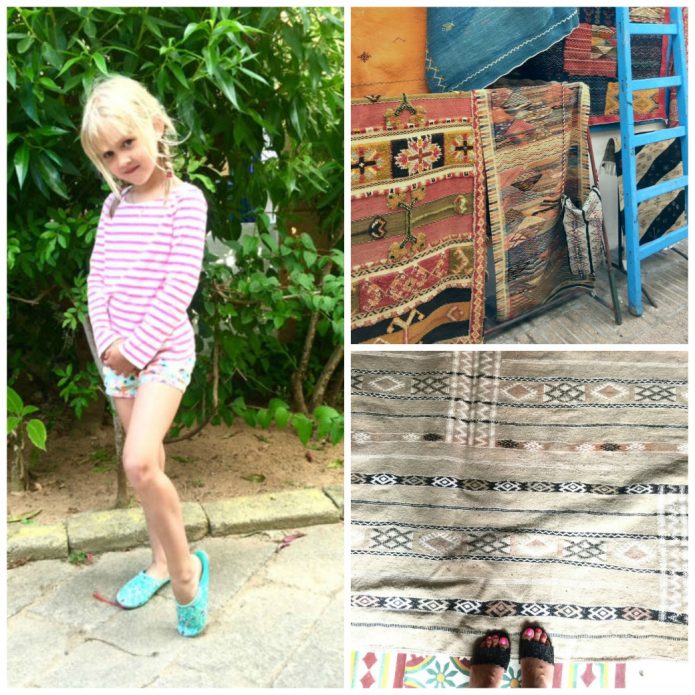 My largest, physically largest, purchase has clearly been the Moroccan wedding blanket. I have read the blogposts that said that it was very "2014", but you know what, I don't care in the least because seeing these blankets in their natural surroundings, hearing the story of how they were made is an experience in itself and it is an object that I will treasure forever. When I saw it in a rug store, I could hardly hide my excitement and the seller saw it. When I asked for the price, the man told me that it was 3000 dirham, final price. As hard as it was… I walked away, waited, and then sent our kind guide to inquire again. He bought it for me at 1500 dirham (195$ CDN). #Score & #HappyDance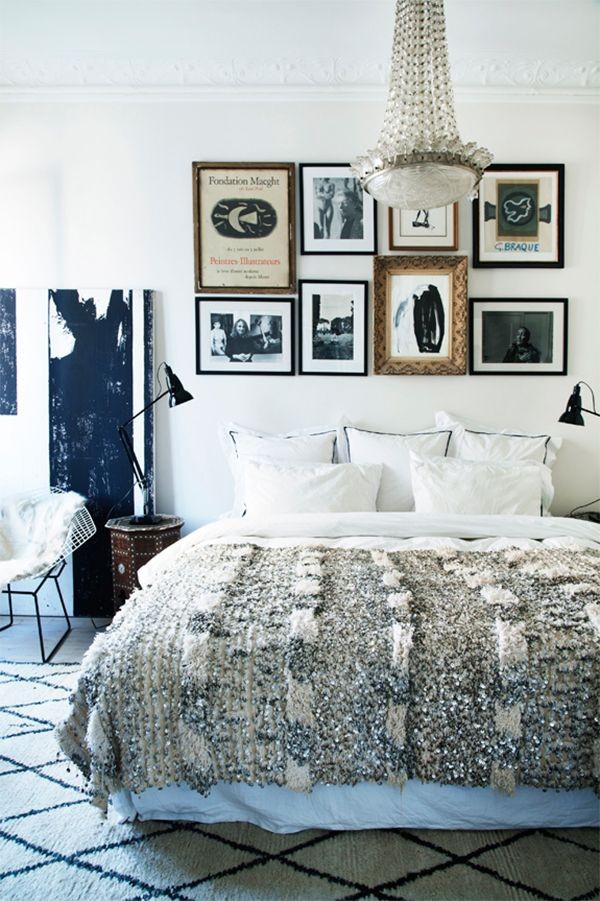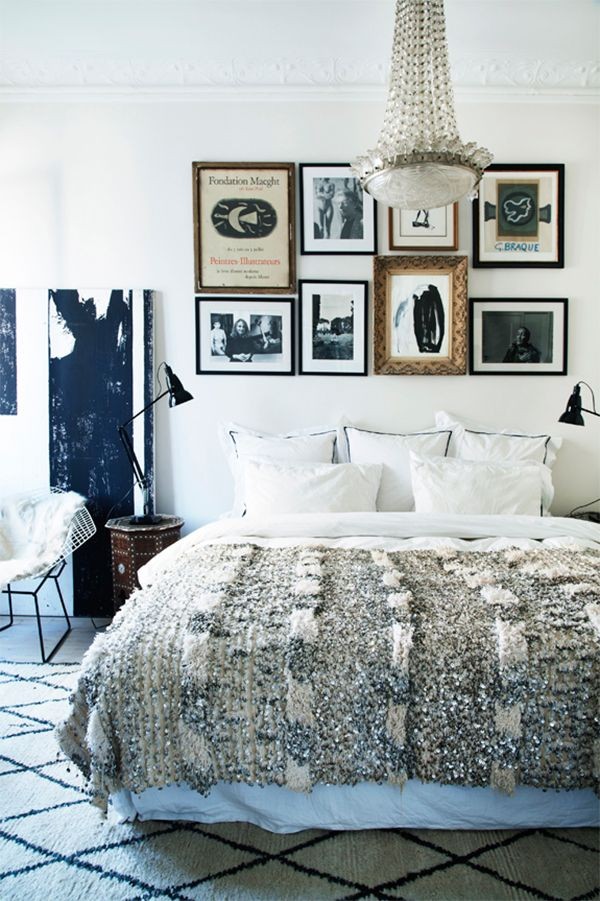 Word of wisdom: These blankets are not that easy to find. If you have a good guide or friends in the city, let them know ahead of time that you are looking for a traditional wedding blanket as they might help you scout one out for you. One last thing, be careful of imitations! Some of these blankets aren't made by hand and their quality has nothing to do with the real thing. Shop before you buy.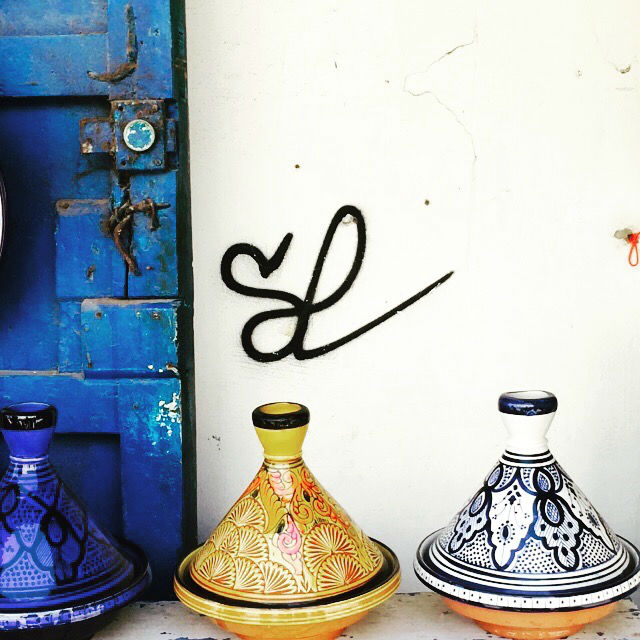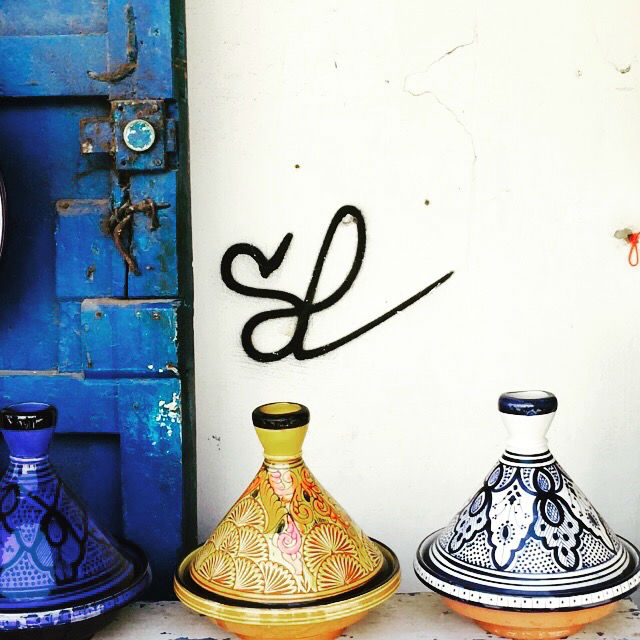 Here are my 5 tips for shopping the souks in Morocco:
Hire a guide
If you do not speak arabic, hire a trustworthy guide to accompany you. It will make your experience much more pleasant and you'll avoid getting lost in the meanders of the narrow coiling alleys bearing no street names.
Don't be afraid to negotiate
It is a custom here to negotiate the price of goods, from food to live chickens, to rugs and scarves. Almost like a well rehearsed dance, sellers and clients go back and forth, getting more animated with every exchange, to finally agree on a price they both deem to be fair. Prices are cheap to us who are used to pay hundreds of dollars for jeans or shoes, but despite the fact that we may find a price to be affordable, the seller will expect you to negotiate and might even be a little offended if you don't.
Be ready to walk away
Retailers are fully aware that, clad in our large brimmed Panama hats, with our cameras in one hand and broken arabic greetings, we are not Moroccan. Their prices reflect just that too. If you come to the souk with a guide, he will be able to help you in negotiating for items you want to acquire. But whether you come accompanied or not, sometimes you just have to walk away when you feel the negotiation isn't going anywhere and that the seller's price is too steep for the item you wish to purchase. That being said, you can walk away and come back again to see if, an hour later, the seller is more inclined to negotiate but more often than not, you will find another item – equally as nice –  a few kiosks later.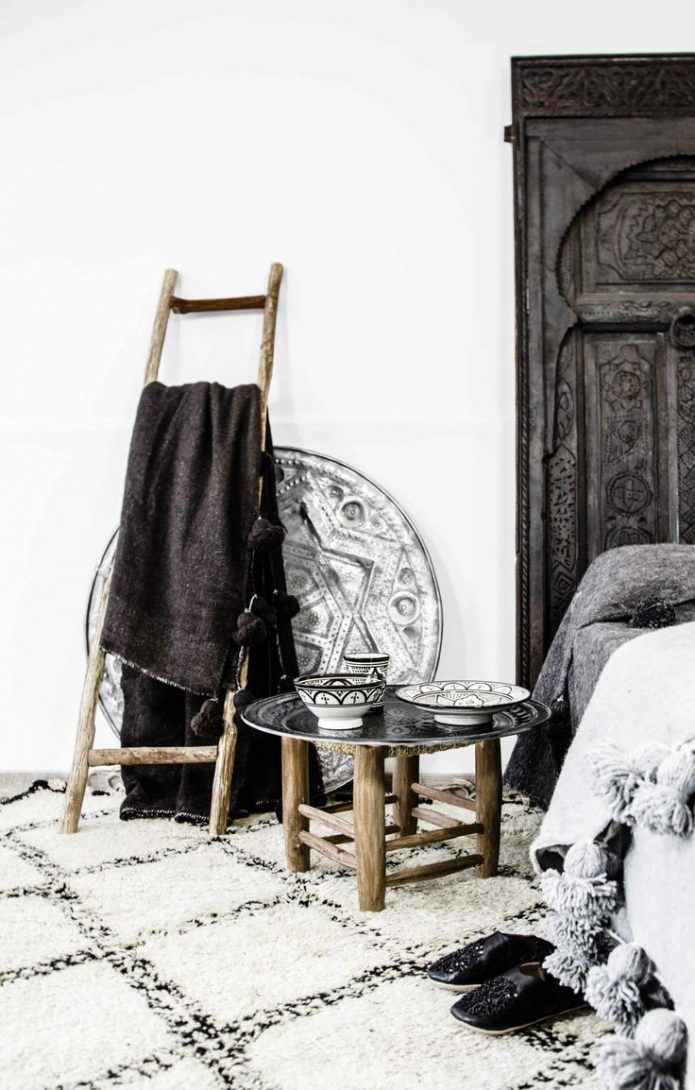 Come prepared
In July, Marrakesh gets weather in the high 40's Celsius (120's fahrenheit) while Essaouira's temperature goes in the upper 30's. It is crazy hot! Even the locals leave their bolstering city to move to more clement climates comes the summer. So come prepared: wear a hat, sunscreen, bring bottled water, and wear clothing that breathes while covering your shoulders and legs (both for the fact that you are in an arabic country and for the fact that these clothes will shield you against the sun).
Don't drink the fruit juices
This last point isn't about shopping per say, but it can definitely influence the quality of your experience. While roaming the souks, you will come across vendors selling freshly squeezed juices. All are fantastic in their own ways, but beware, most aren't served pure as they are diluted with tap water. Buy bottled water and juices, or drink a cup of their sweetened mint tea instead. Just trust me on this one. :)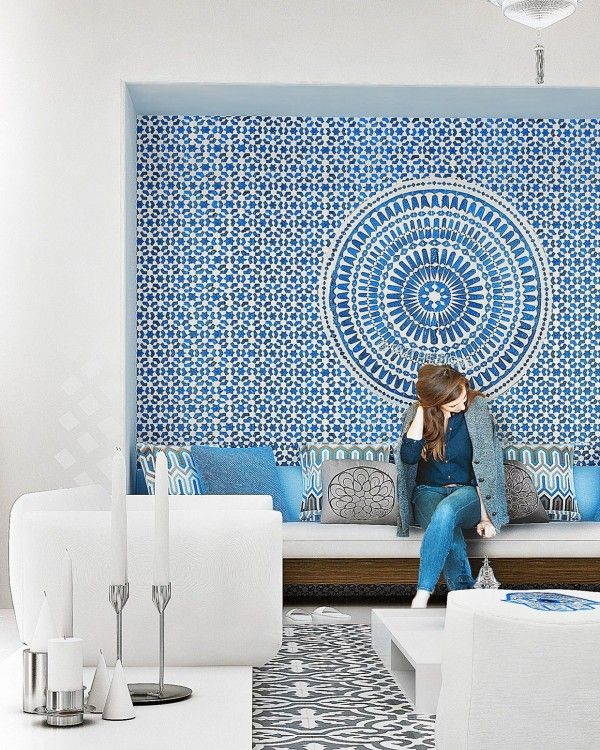 sources: 1. Apartment Therapy |  2. All Things Stylish | 3. Vanessa Sicotte | 4. William Sonoma | 5. A Touch of Luxe | 6. Vanessa Sicotte | 7. Zohi Interiors | 8. Mimar Interiors
6