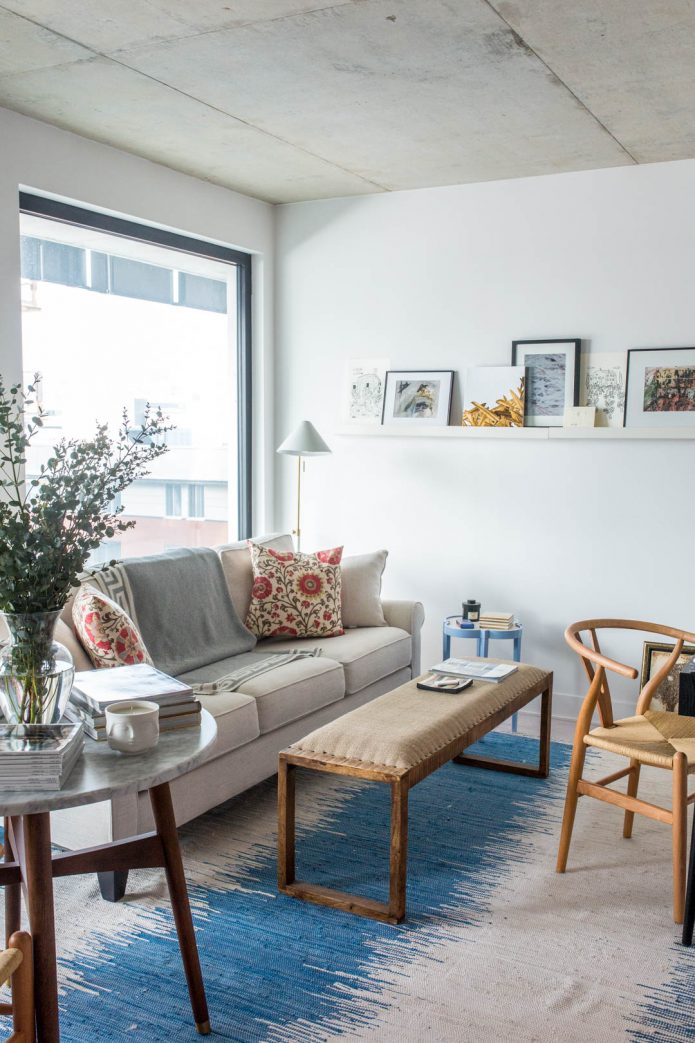 The day I called my friend Gab, from Savvy Home, to tell her I was writing a book she was in the process of moving, I mean literally. I knew I wanted some of her great sense of style into the book and she was sweet enough to make it all come together in time for us to shoot the condo barely a month after she had moved in. For that I am eternally grateful lovely.
So many pictures were amazing that I couldn't possibly include them all into the book. Here is the selection that didn't make it in, but yet that are show stoppers.
Note from the author: Not to worry, these photos are all exclusive to the blog, and so you'll still have to get a copy of the book to see the stunning shots that did make it in. I know, I am mean that way. :)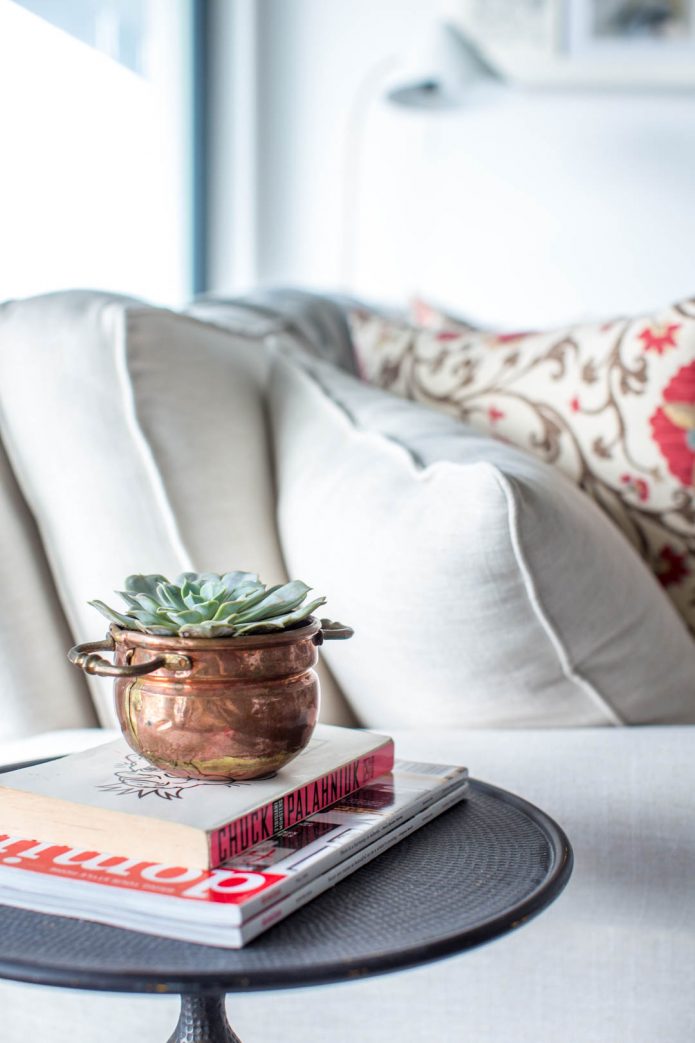 what is your quintessential Montréal experience?
Discovering new restaurants. There are so many openings every month, it's hard to keep up! Thankfully I have a couple of friends that track the openings down like hawks and give me all the scoops. Last week, I tried Le Fantôme in Griffintown—it has a really spooky backstory, perfect for Halloween month!
5 favourite Montreal  restaurant, cafés, bar, shop?
Jatoba, Lavanderia or Vin Papillon for food; Café Myriade in the basement of Club Monaco for a shopping coffee break; L'emerald (No Name Bar) for cocktails, Lambert & Fils (not really a shop but I'm obsessed with their lighting)!
What I love most about this apartment
The natural light. This apartment stood out to me among the myriad of Griffintown condos because it had floor to ceiling windows on the width of the space instead of the length. The layout makes the sunlight flood in during the afternoon and gives pretty spectacular light effects at sunset too!
I can't live with
Messiness or clutter. I'm not so much a clean freak as I am a neat freak. I'm constantly fluffing pillows, realigning perfume bottle or stacking paperwork on my desk. Clear space, clear mind.
The best piece of style advice I was offered
Lighting can make or break a room. Create a flattering mood by scattering different light sources around the room in a triangle effect. Use a mix of practical ceiling fixtures and flattering eye level lighting and always use dimmers! For an extra special effect, light candles in votives all around the room.
I would always spend money on
Quality soap products. It sounds boring, but washing my hands in AESOP's Resurrection Aromatique Hand Wash every day, or winding down buried underneath a mountain of L'Occitane bubble bath are some of the llittle luxuries in life I can't live without.
I would never part with
The vintage oil painting of a sailboat that was handed down to me by my grandmother.
my perfect day at home
My perfect day at home starts with not having to work or even open my computer. It would involve a long lazy morning, inviting girlfriends over for coffee, going up to the rooftop to soak up some sun by the pool (in the summer), and it would end with great friends, a home cooked meal and a good bottle of wine.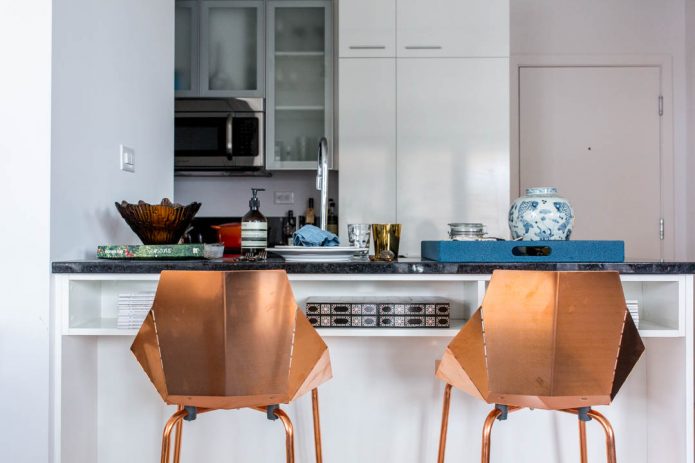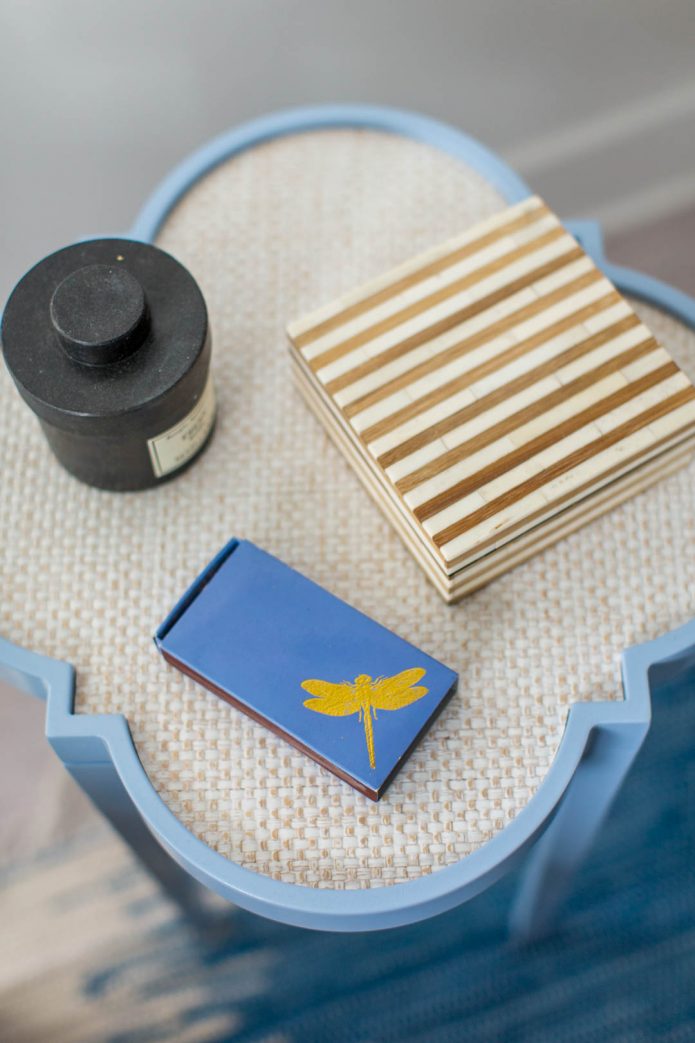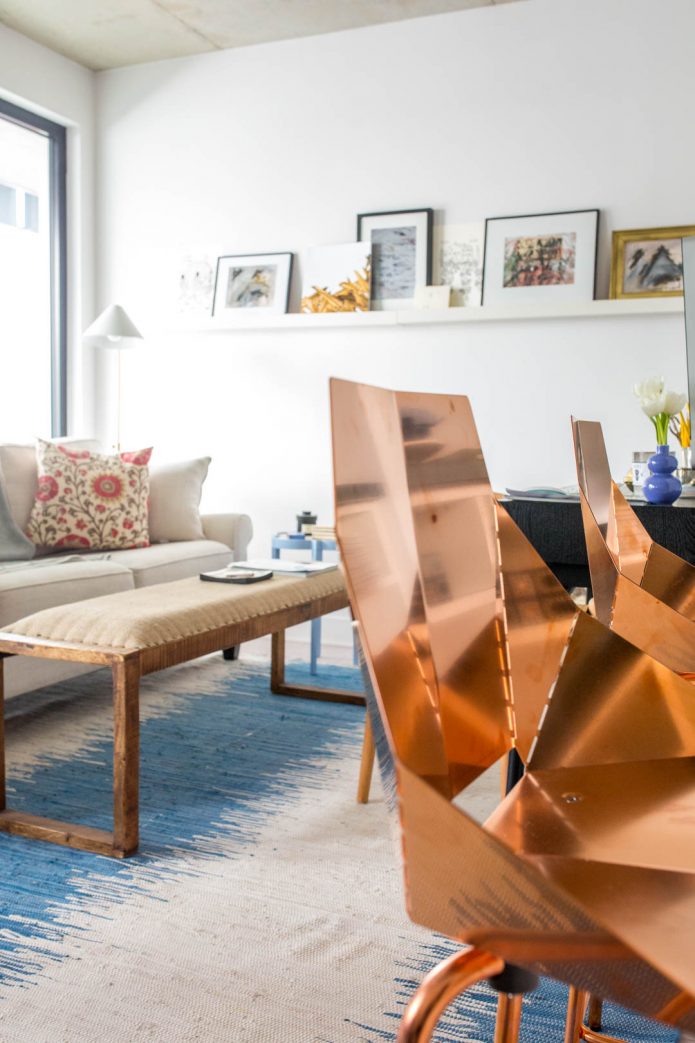 photos: Julia C. Vona 
1