'Tis that time of the year again, yup the clock is ticking, with less than 2 months before we hear the silver bells ring. I won't try to disguise the fact that I am giddy when it comes to the holidays. Of course it is for all the good reasons: family reunions, eggnog, my children in their festive jammies running down the stairs on Christmas morning, my grandma's tourtières, lazy mornings with a mug of tea, our Christmas tree, laughter, fun, and snowball fights. I probably sound like a nostalgic Coca Cola commercial, but it's actually true, I wait ten and a half months to then bask blissfully in those six short weeks of simple childhood fun.
That being said, I try to avoid the crazy mindless gift giving (like the Whos of Whoville)  and opt instead for thoughtful presents for my family, our traditional secret Santa, and my close friends.
Side bar: Hey did you know rocker Taylor Momsen – yes that's Jenny in Gossip Girl – played Cindy Lou Who? Anywhooo.
So I went perusing on Etsy and fell down a rabbit hole of endless treasure troves. Here is a roundup of my Etsy finds for everyone on your list.

Hostess gift
Organic bergamot soy candle by Québec's Plants & colors, 'cause they just smell SO good.
I love how versatile are the napkin rings from recycled leather by Bliss Craft & Brazen, they fit any style and occasion.
Sleek and modern, these maple candle holders are a great gift to carry with you if you're travelling and space is an issue.
So I am a huge fan of Shibori anything and these cotton tea towels are no exception.
Another cool Québec discovery are the wooden salad server utensils from Craft Collective.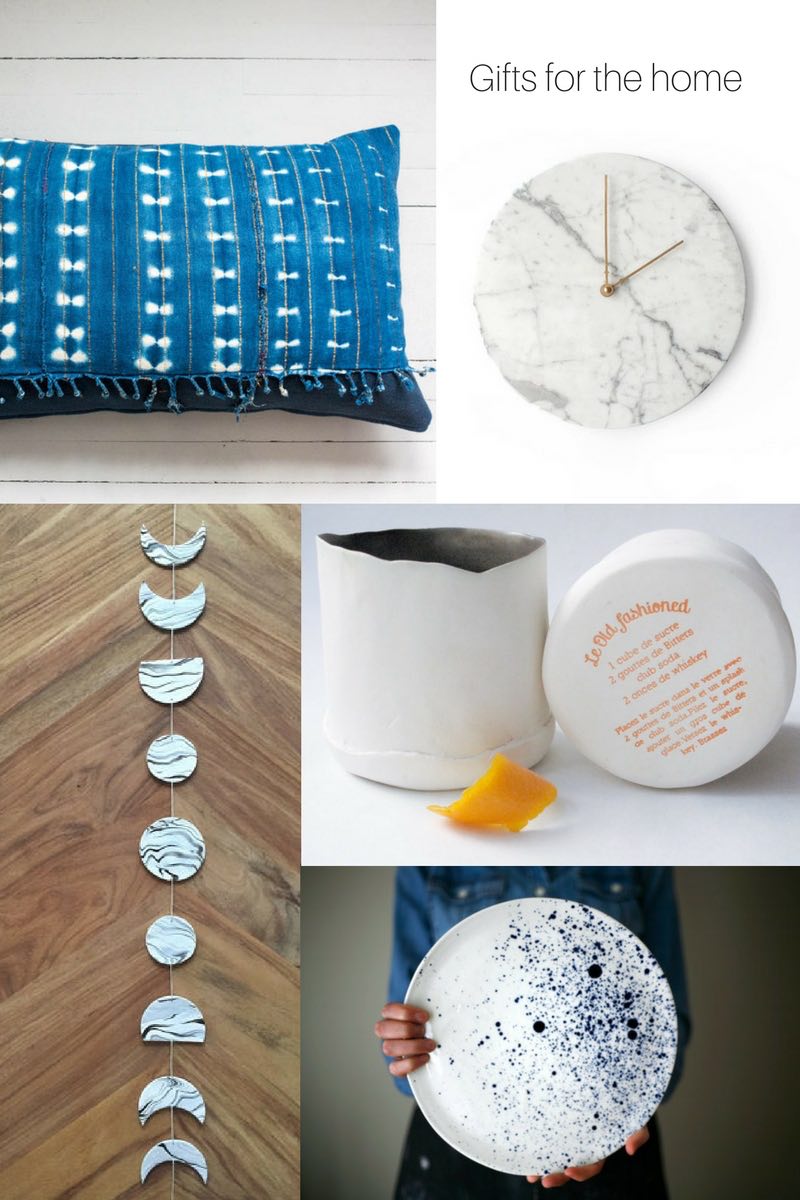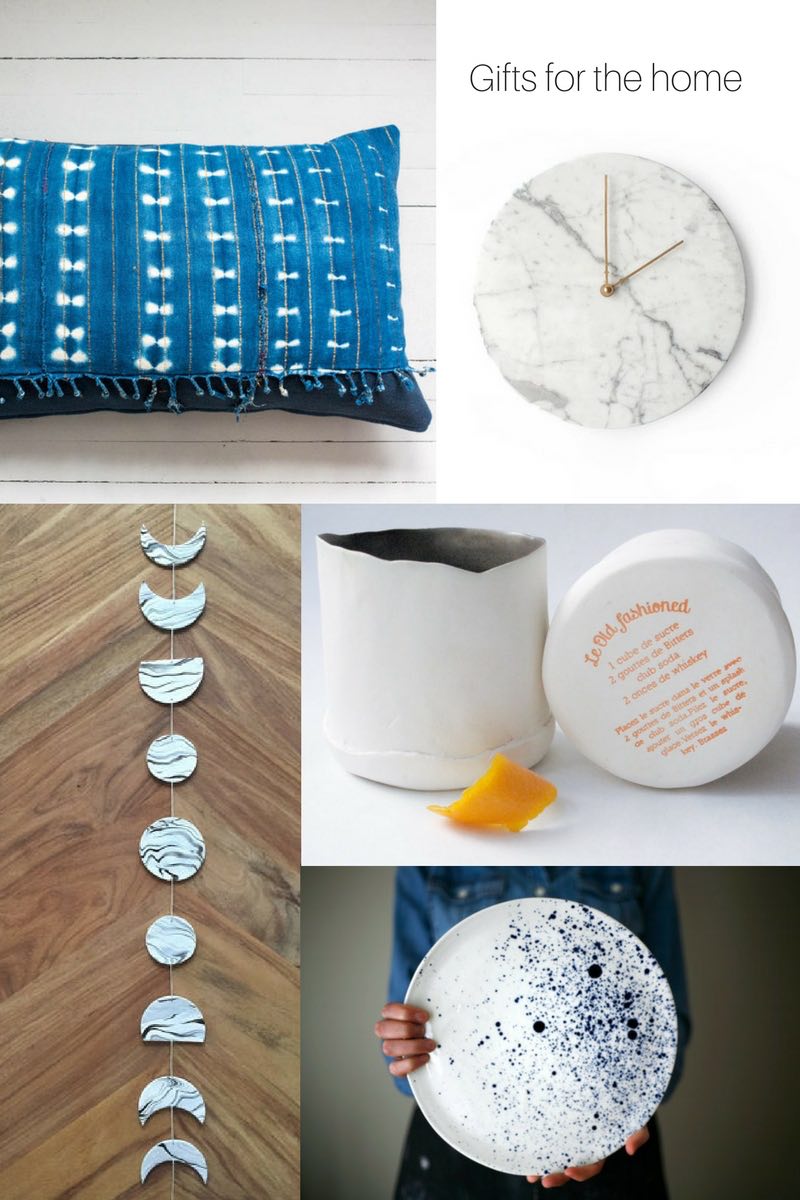 For the home
I am a big fan of local Art & Manufacture's work: the mugs, platters, bowls & large ceramic plate are all unique and exquisite.
On my Dad's side, we always have a secret Santa with as only rule that it needs to be a present that is gender neutral. These porcelain tumblers by Isabelle Huot Ceramic fit the bill perfectly.
Marble lovers rejoice, this marble wall clock by Québec's Obiekt is as gorgeous as it is practical. I saw it "for real" and it looks really good.
It's no secret that I am a fan of anything vintage and it applies to fabrics too. So on my travels, when I come across cool vintage fabrics, I snap them up and make cool pillow covers with them. This vintage indigo mud cloth pillow signed Vintage Love by D&D is an example.
How cool is this moon phase wall hanging? I could easily see it hanging in the living room, kitchen, bedroom or even in the dining room.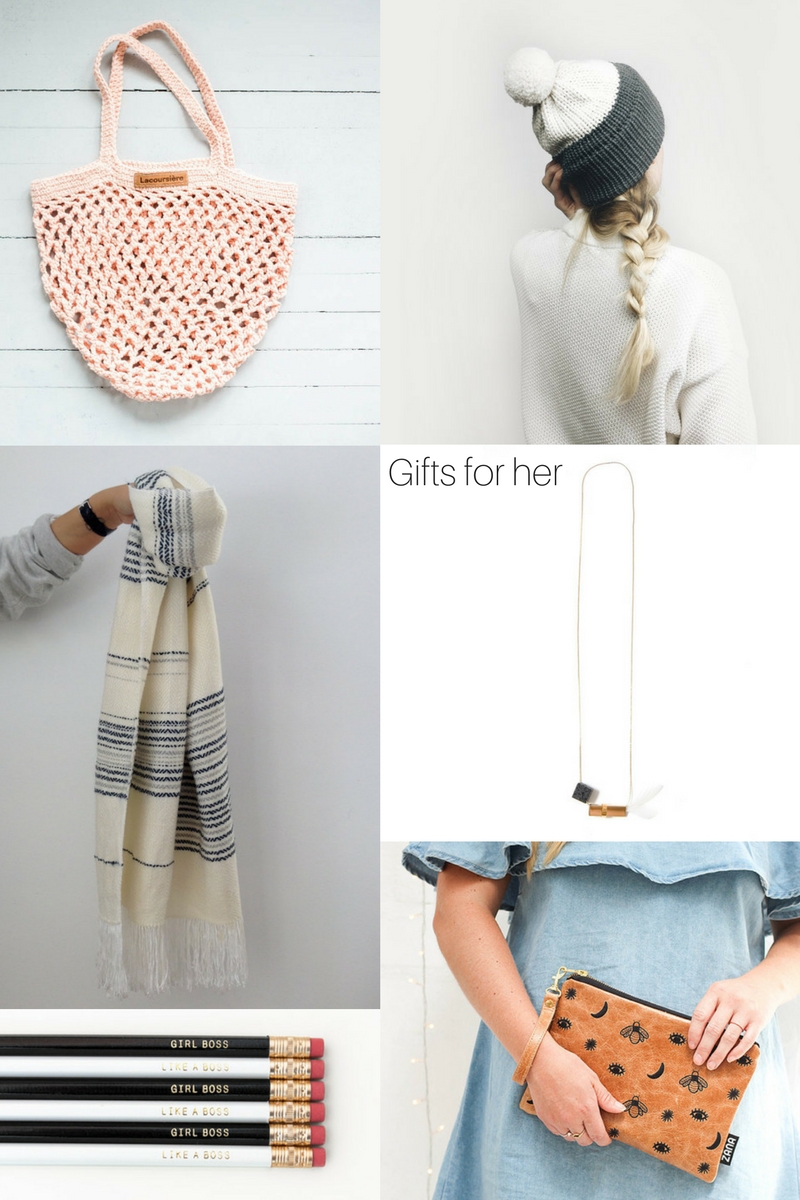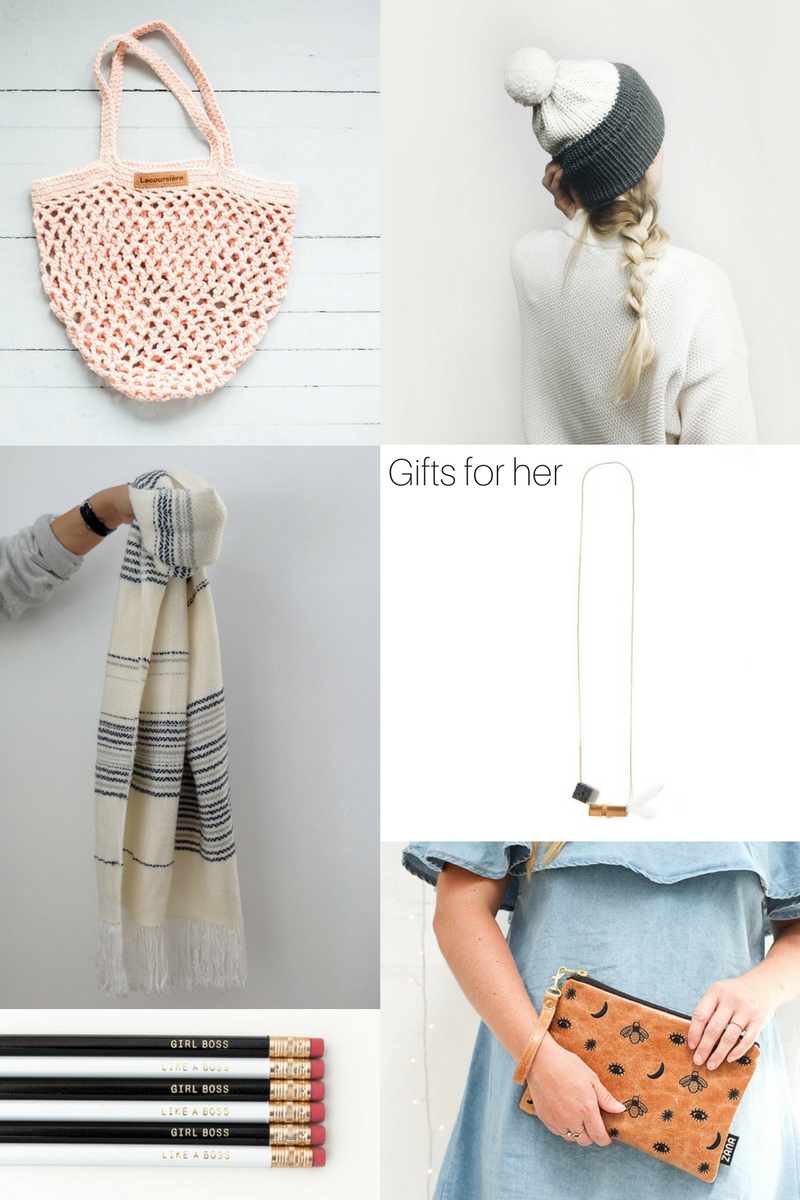 For the ladies
To keep my Mom warm, a handwoven scarf by Bliss Craft & Blazen.
To carry around fresh produce, a market tote by Lacoursière.
For my BFF, I am crazy for this leather clutch with bees. I am thinking this for her as we share almost everything and therefore I'll be able to borrow it. Smart cookie right here.
Montréal's own Noemiah makes the prettiest minimalist necklaces out there. I own a few and I never hesitate to offer them as presents to my friends.
Because we all have a #GirlBoss inside, these girl boss pencils make for a super cool stocking stuffer.
For my little sister, to keep her gorgeous mane in check, a slouchy beanie with a cool pompom.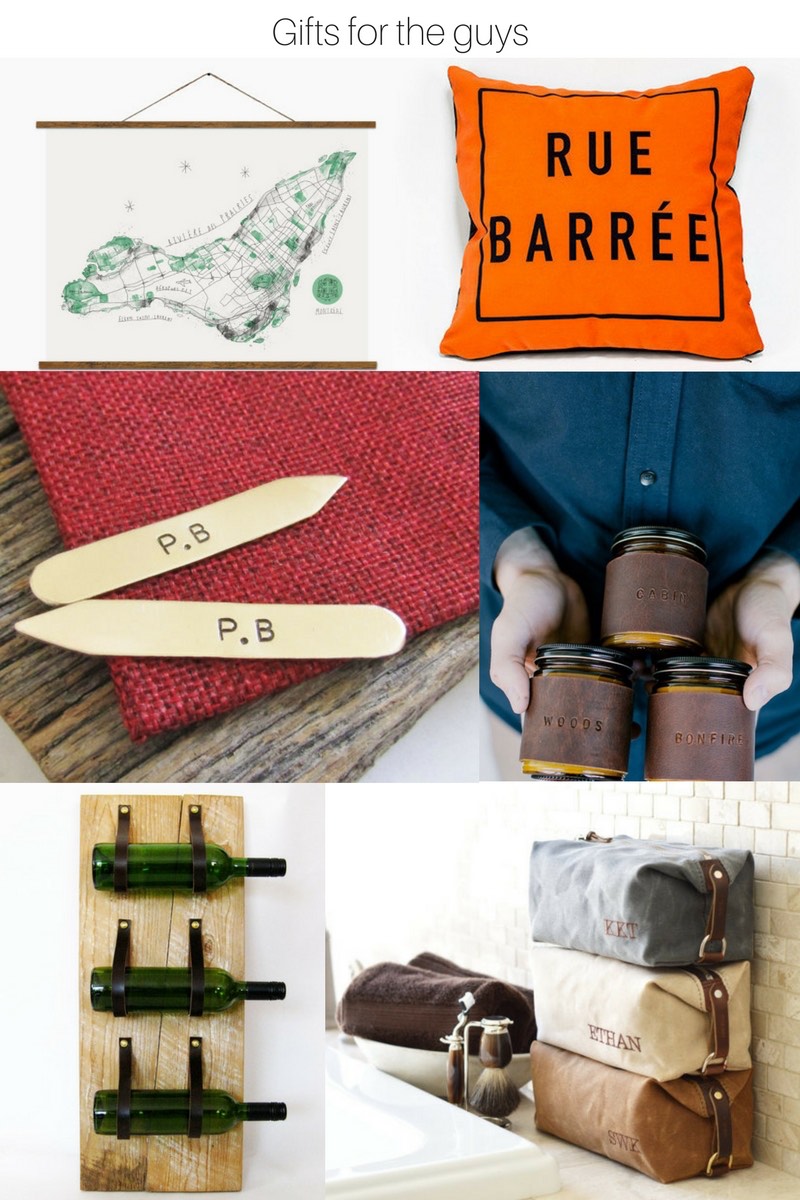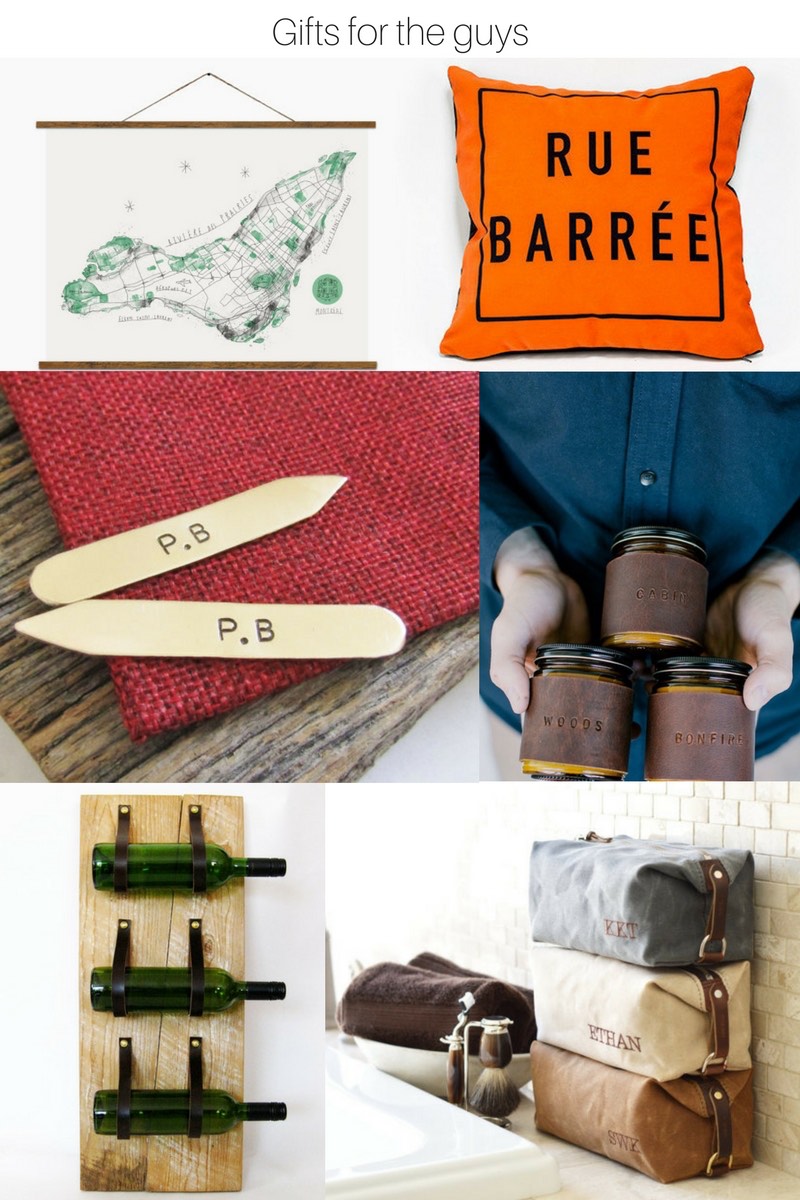 For the guys
Masculine and with an amazing scent, this woods candle is a perfect present for a sister's new beau.
For my tech freak brothers, a personalized docking station is a sure hit.
Sooooo, if you've visited our fair city in the near past, you'll have noticed that it is a complete gridlock of construction zones. This rue barrée pillow by Main & Local is cheeky and fun.
I love Baltic Club's work and this hand drawn Montréal city map is no exception. Maybe for my little brother.
For the travelling man, a personalized Toiletry bag is sure to please.
For my dress shirt wearing hubby, I love these monogramed collar stays. It's always so hard to find him cool stocking stuffers.
How cool is this wine rack with recycled leather straps?
Check out other gift ideas for the dudes in your life here.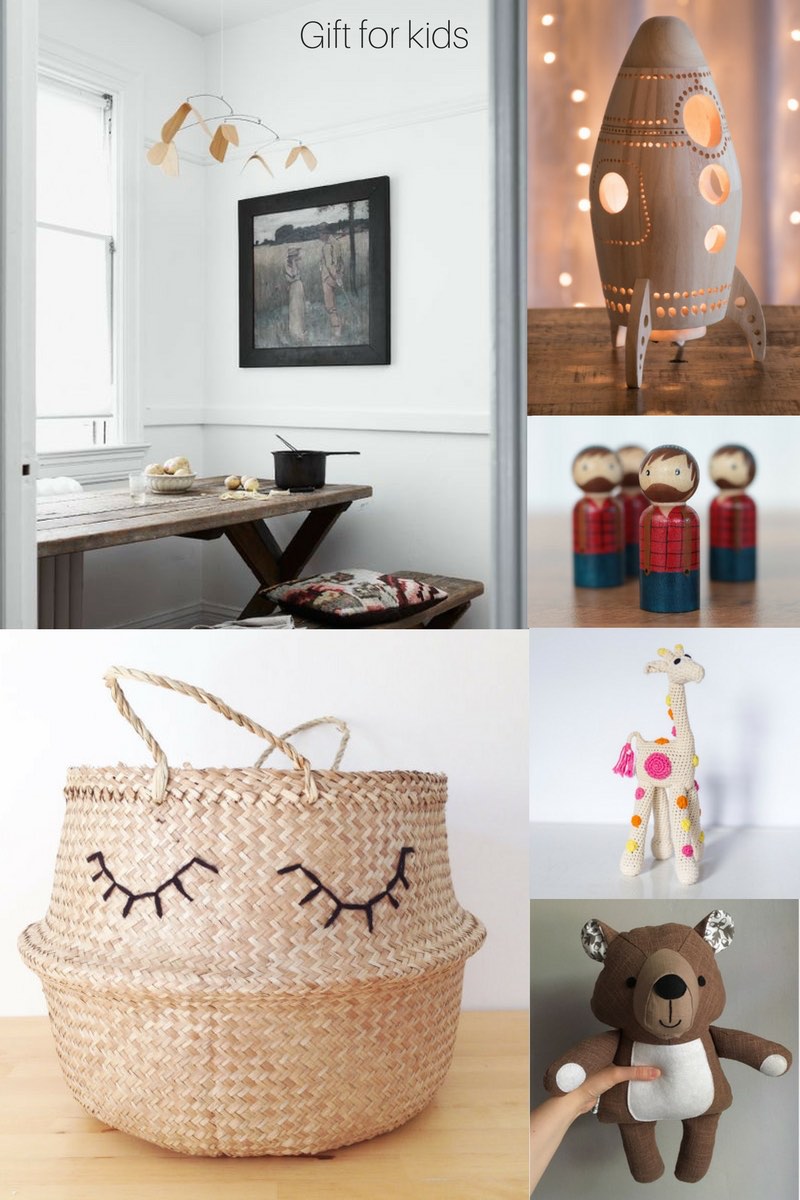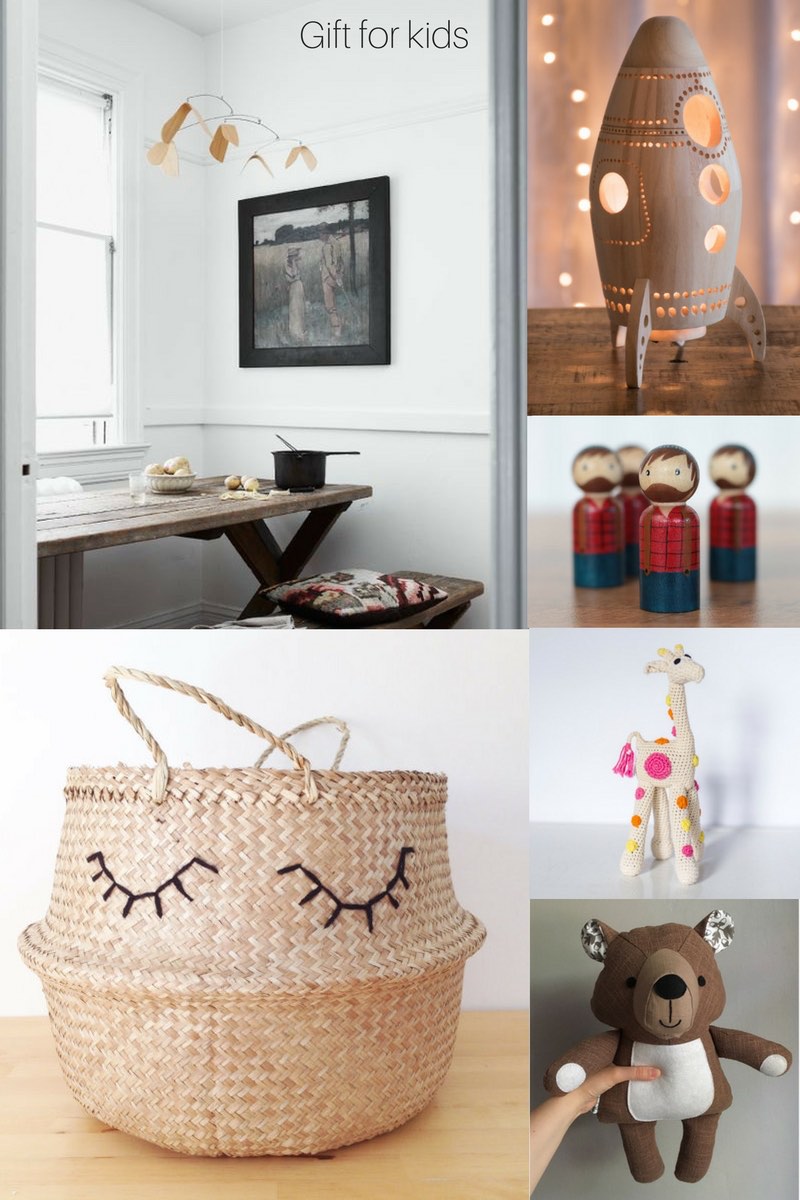 For the kids
Because I am now a 2 time Godmother of two gorgeous baby girls, a flock mobile is a lovely gift to hand above their crib.
Made by hand in Zambia, this girafe by Little Ndaba is colourful and thoughtful too.
For my 8 years old Madie Monkey a flamingo wall head to hang in her room.
My Teddy will LOVE these lumberjack peg dolls that I can easily hide in his stocking.
So if you do not yet know of Kim Gadbois' talent, let me introduce one of her creations to you. This Teddy bear doll from Pantoufle de Verre is just SO cute and it can be personalized with the child's name.
For all the space boys and girls out there this wooden rocket night light is the coolest gift.
For a toddler or even or a bigger kid's room, I am crushing over the mountain wall garland.
Because my Ma'ila has stuff on the floor everywhere (she is 12, going on 30), this sleepy eyes sea grass belly basket is a great gift to stash away some of her stuff.
photo: 1
0