Another room that is a work in progress is my office. Actually, it is more that my home office, it is where live the headquarters of Damask & Dentelle. Oh how I love this room! The light, the windows, the vibe in that room is so conducive to relaxation, I wonder how I can even get any work done. Kidding aside, I really do love this room.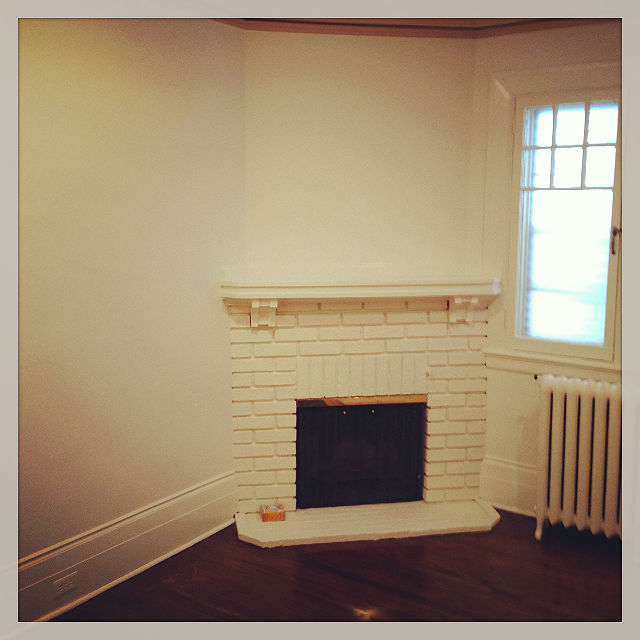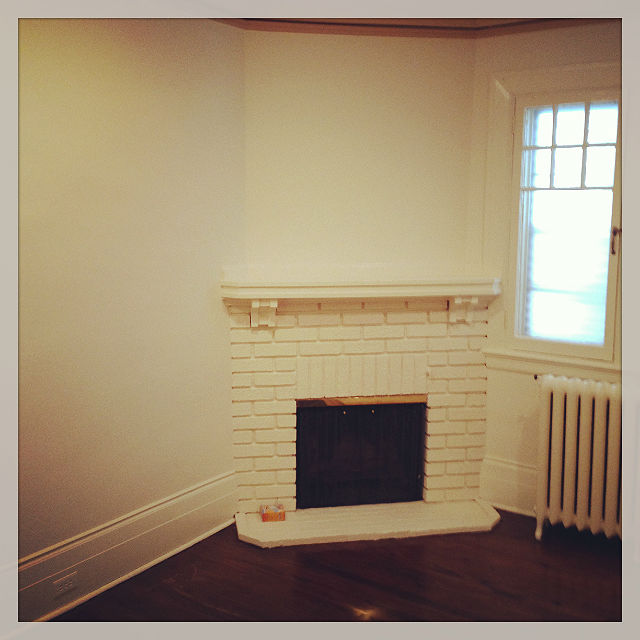 The first step in its minor overhaul was to paint the whole room in a bright greyish white. Instantly, the room seemed ten times larger.
Then, it was all about the pretty stuff. The tulip base table was in my breakfast nook at our other home and got repurposed here in the den, to host impromptu meetings and to sit my daughter to do her homework.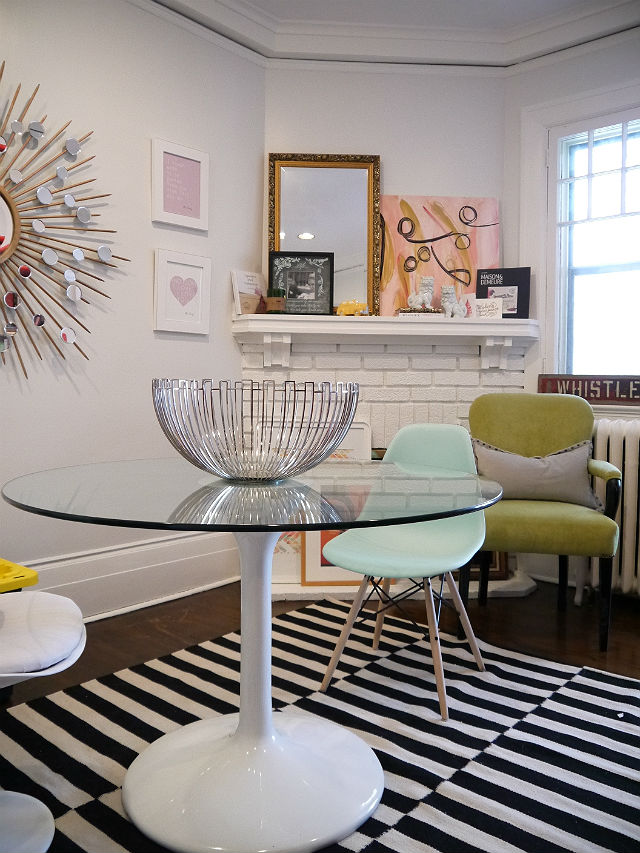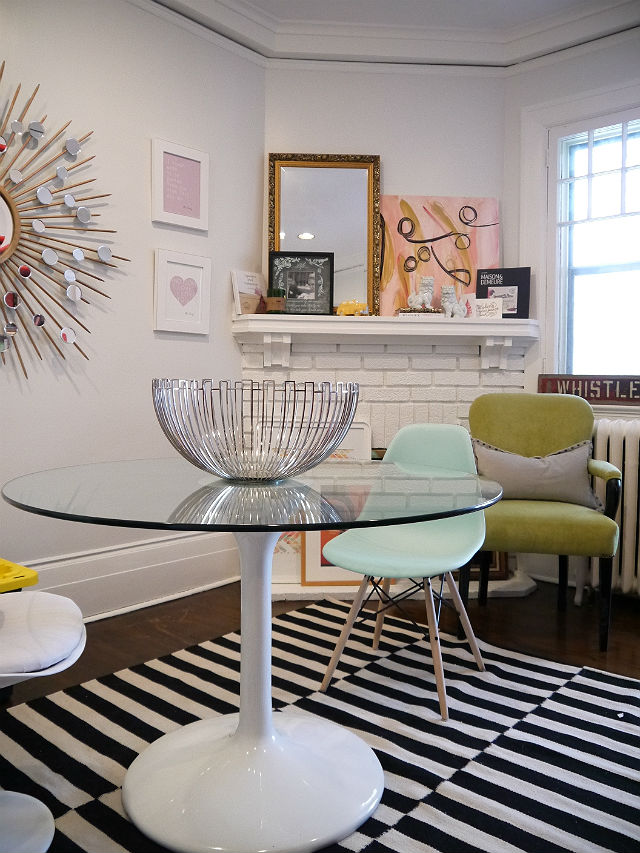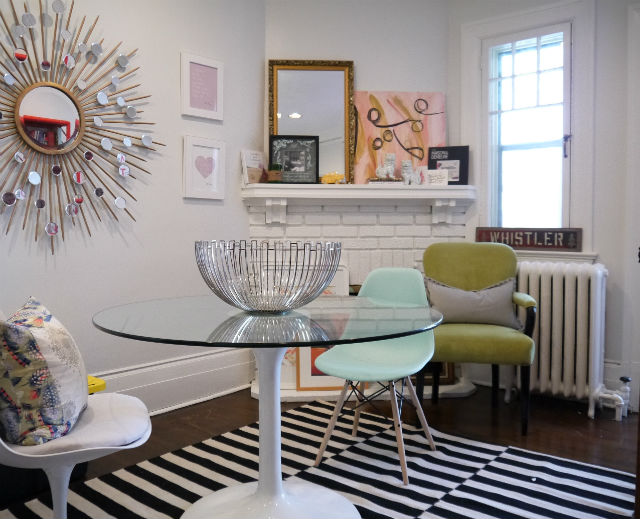 There is only one new purchase in the whole room and it is the Eames plastic moulded chair in buck egg blue. I have had this chair on my coveted list for so long, that I finally gave in and ordered it. It looks really new right now, but give it time and the dowel legs will take on a honey hue that will look even better.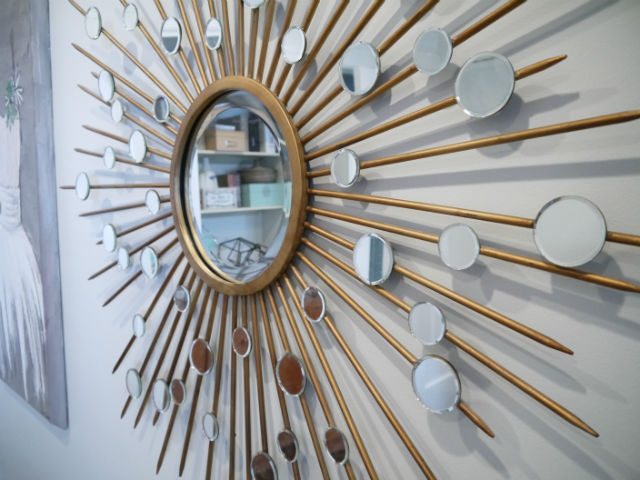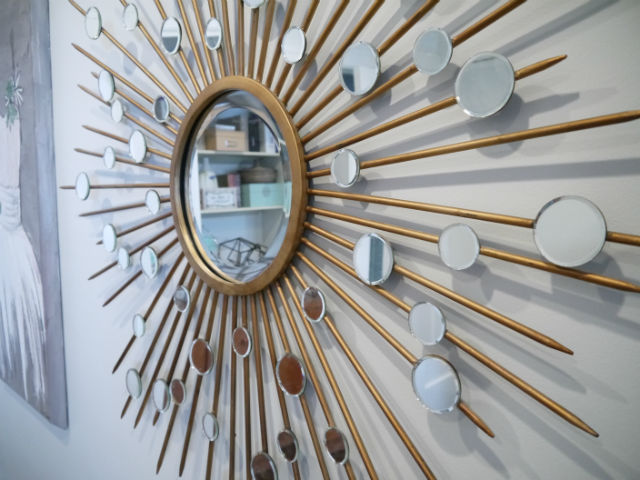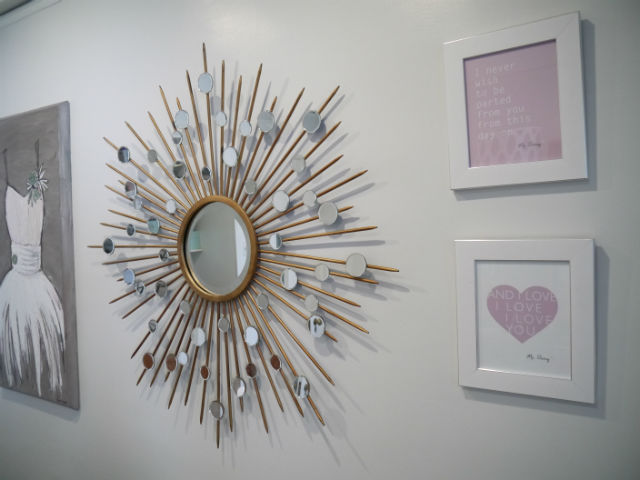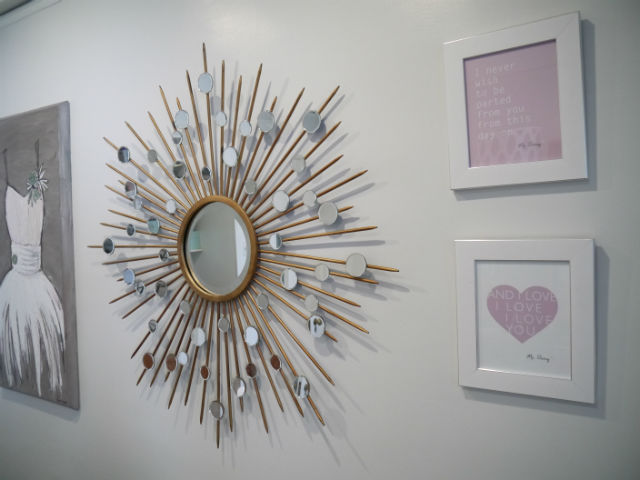 On the fireplace's mantle it is all fun FUN fun! Cute little foo dogs sitting pretty on books, a New York City cab hat I've carried from apartment to apartment since I was 19, and a cheeky wedding picture. I am not huge on displaying personal photos all over the public areas of the house, but these wedding pictures had to make it, I just love them so much.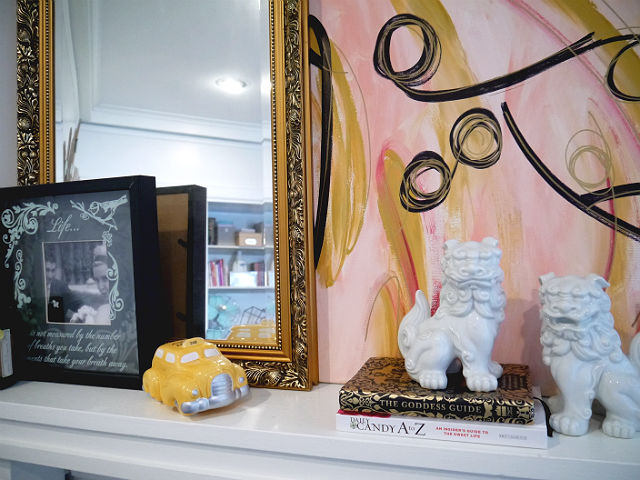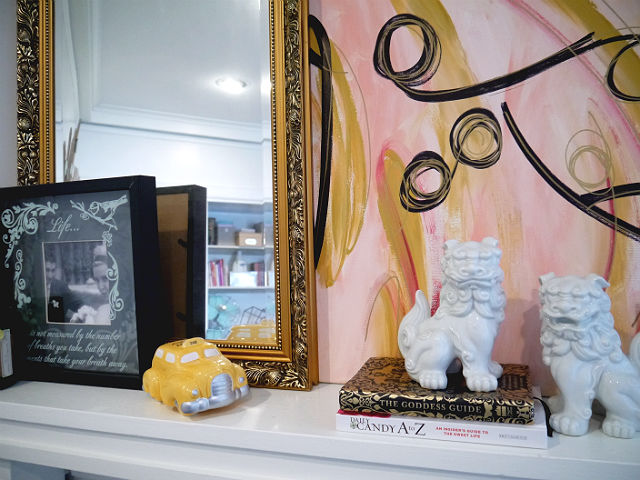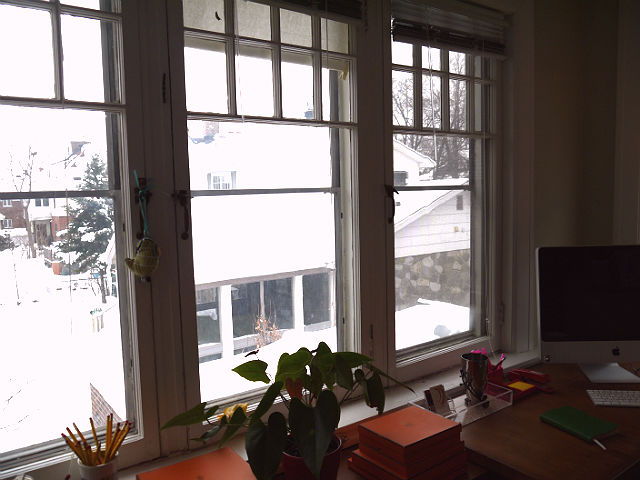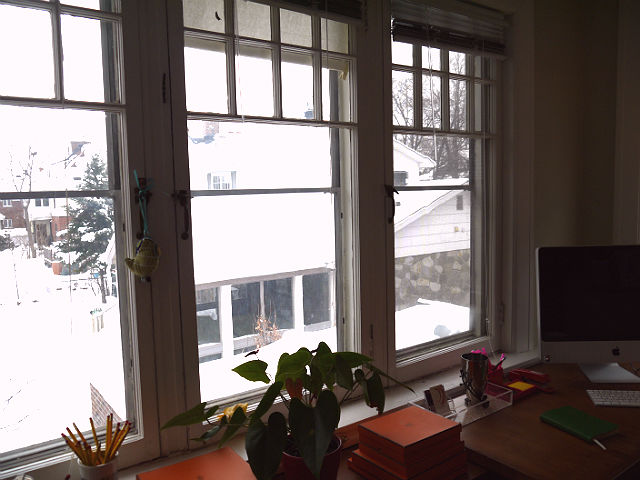 Then there was my desk chair. I found it a few years ago, outside, in my neighbour's trash. It look derelict (and a little smelly) in faded tweed. I put it in a garbage bag and left it on my balcony for a few days – nobody wants to bring home any bedbugs in their home because they felt the need to salvage a chair. After that it was straight to my upholsterer who stripped it entirely and then proceeded to give it a new life in white velvet with silver nails all along its back. It is so comfortable!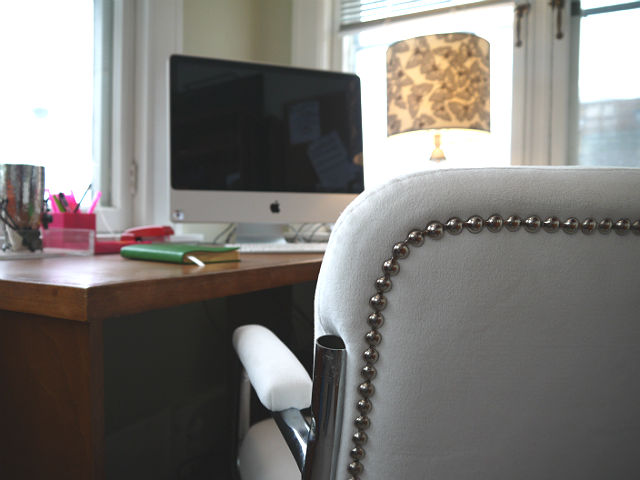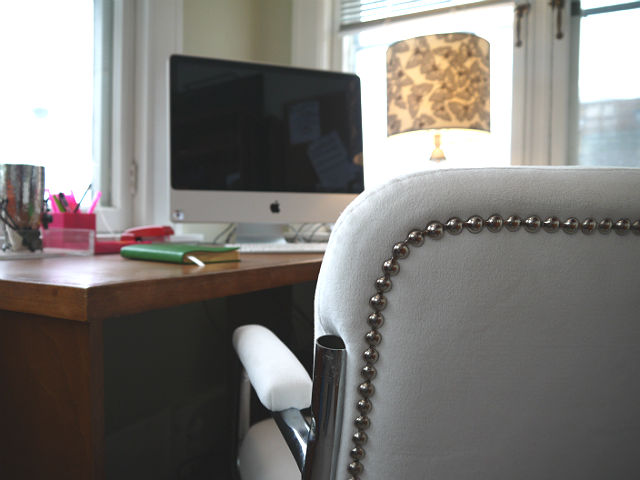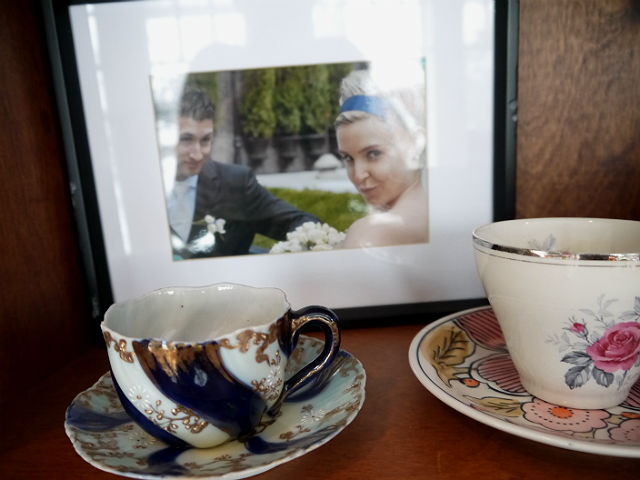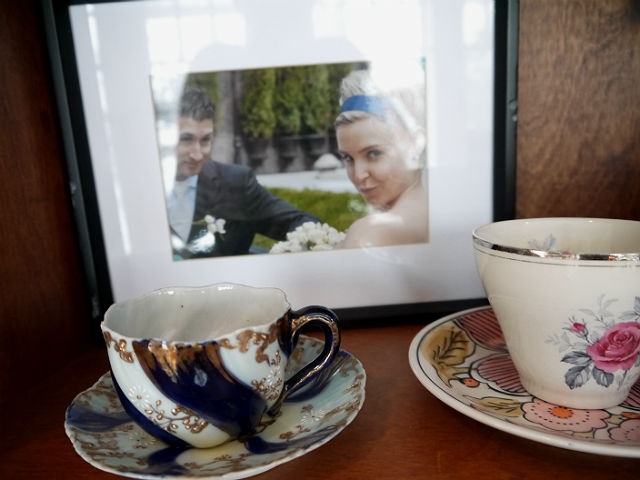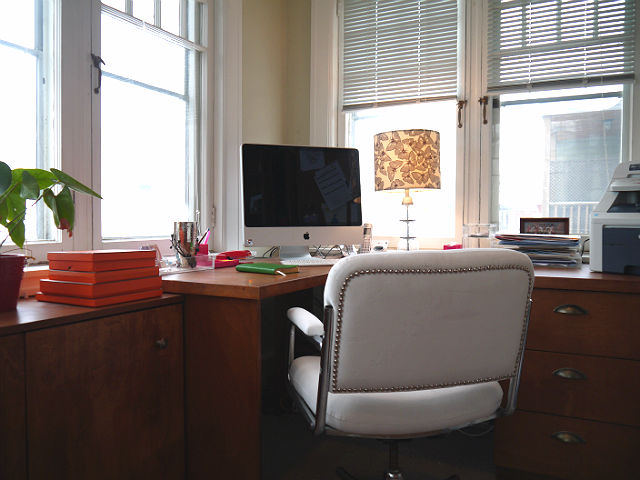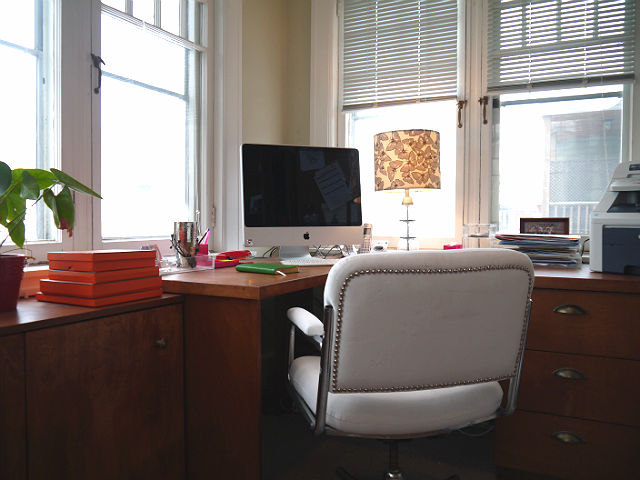 Where to find:
Geometric Wire Bowl: Ethan Allen
Bronze colour cubic sculpture: West Elm
Turquoise table fan: vintage find
Stockholm rug: Ikea
Teak dresser: Kijiji
Eames Molded Plastic Side Chair Dowel Base in : at EQ3
Tulip base table: Barami
vintage Foo dogs: Etsy
Pride & Prejudice Illustrations: UUPP on Etsy
Table lamp with butterflies lampshade: Buk & Nola
Vintage Tulip Chair: vintage find
vintage office swivel chair upholstered in white velvet: trash find (which I then had reupholstered of course!)
vintage teacups: Etsy
Starburst Mirror: Kiosque 300 at Marché aux Puces St-Michel
source: Vanessa Sicotte
0