When we first visited what was to become our aptly named "Forever House", we were less than excited by the kitchen. The "Fiesta Red" melamine countertop matching the walls and the honey maple cabinets matching the floor, oh boy! I know statistics say that people buy a house based on the kitchen and bathrooms, well we bought ours with renovations in mind!

We put all our chips in the house, which left us with little to no budget for undertaking major renovation projects… especially after we had the unfortunate news of having to change our gas furnace in the middle of the winter.

Dang these things are expensive!

So, just so you know, if you ever come and visit our house, chances are I'll take you down to visit the said furnace and maybe even sip a glass of Chardonnay beside it, just so I feel like I am amortizing the investment. Enough said.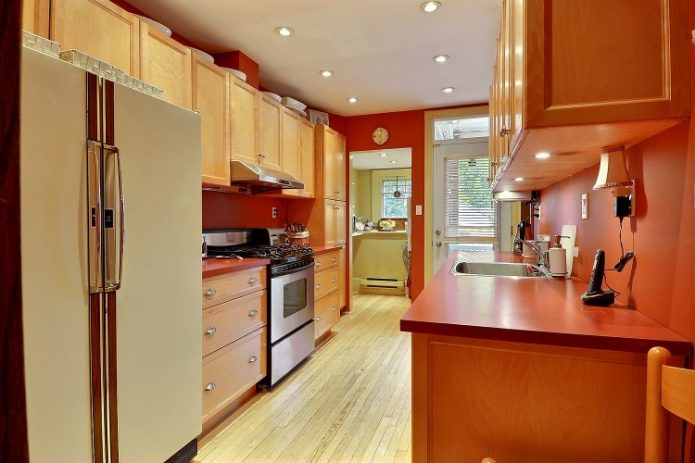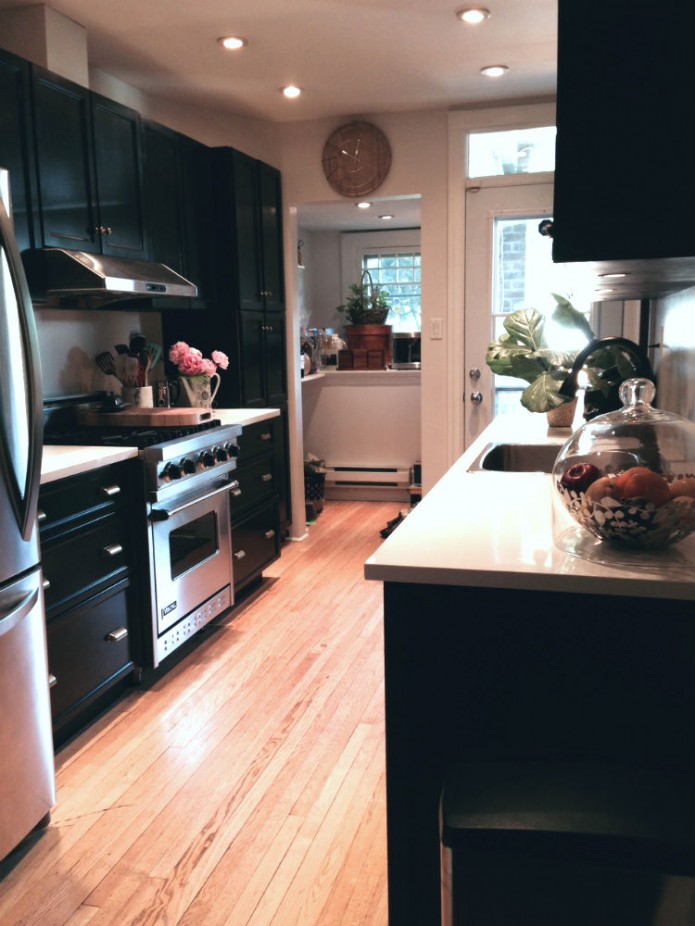 Back to the kitchen. So, budget being an issue – and the kitchen in its current state also being an issue – Jonathan and I decided to do it ourselves. The cabinets were made of maple, so salvaging them was a good idea. The footprint of the kitchen was pretty much optimized unless we tore down a wall between the kitchen and dining room, which we had no plan on doing – I don't really love my guests eating with my cooking mess in plain sight.

Braced with patience, zeal, and a whole lot of hope that it would look nice, we used 3 coats of black stain instead of paint to transform the cabinets so we could feel the wood grain underneath and then we sealed each cabinet door with water based satin floor lacquer for durability. For the pretty finishing touch, I chose brass knobs and pulls for all the cabinets, 53 in all, to give the kitchen a bit of nautical sophistication.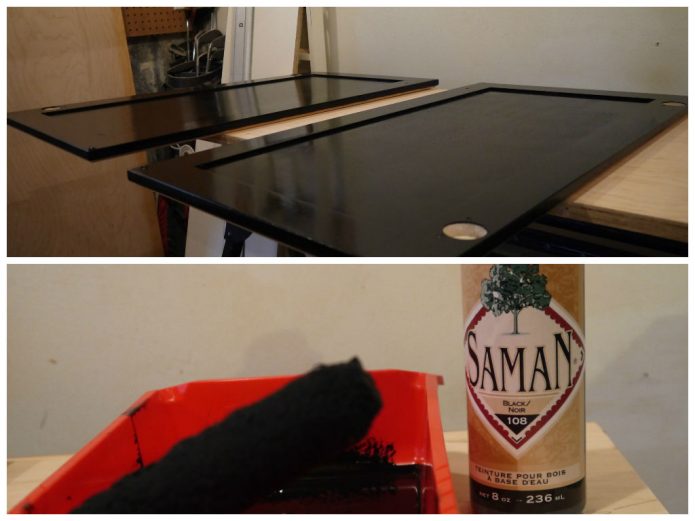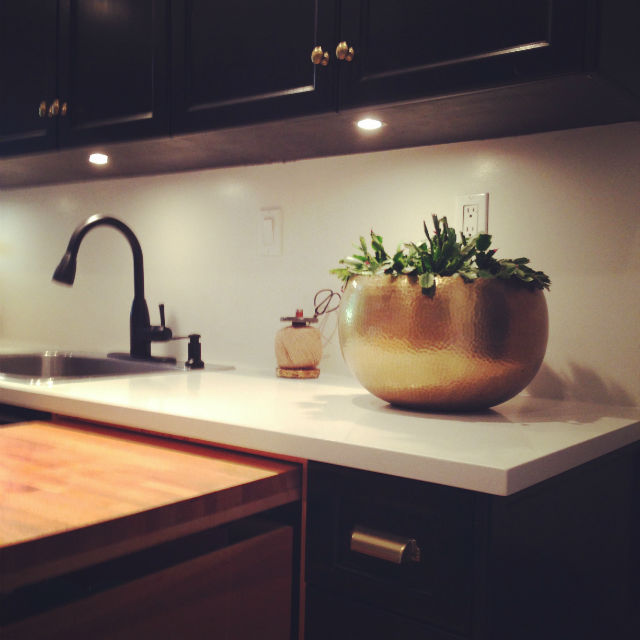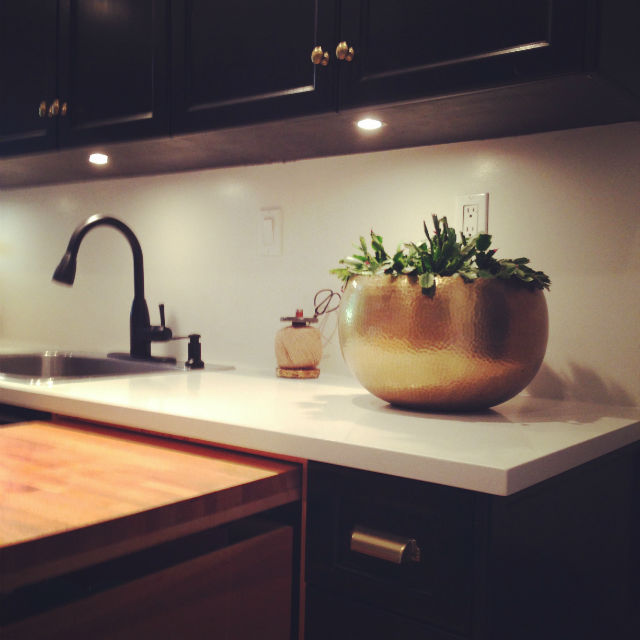 Because we have an under sink garburator (it was there and we kept it, no other valid reason for owning one since we are compost-crazy in this household), we decided to keep the top mount stainless sink and simply change the faucet for a black one, to match the cabinets.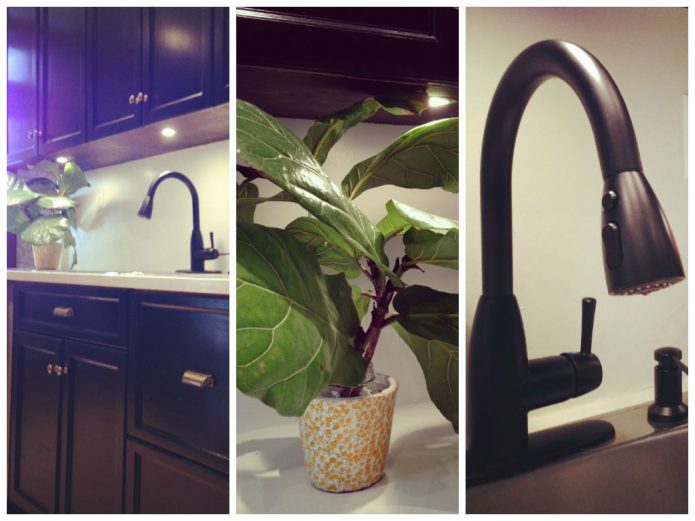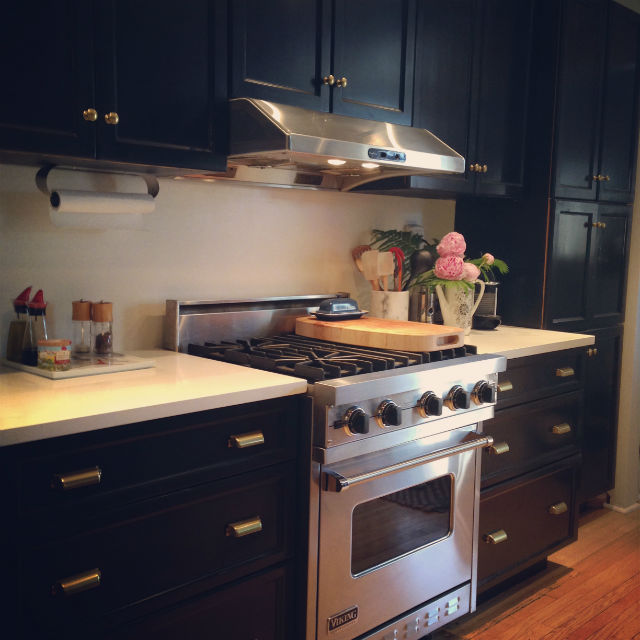 Finally, the "piece de résistance" arrived late last night, our white quartz countertop. I have to confess that my husband was skeptical about the colour choice of the countertop as he thought it would look to stark and modern in our 94 years old home. But the result is, hummmm how can I put it, SEXYYYYYYY!!!! This is some serious counter and it gave us a serious fright when it arrived last night.  
The man who came to measure the kitchen 3 weeks ago did not manage to get one measure right and all 3 pieces of our counter top were too deep. The sink portion was 1/4 inch to deep, so the men cut the gypse of the wall and pushed it in. On the gas range side, both pieces were 3" too deep!!! So, they went back out in the truck and were cut to size using a diamond blade.

I was about to cry I was so anxious!!!

It is because you REALLY do not want the counter to chip, because then they have to completely redo the process which would have meant another 3 weeks (plus holidays) of us preparing food in our upstairs bathroom!! Not an option!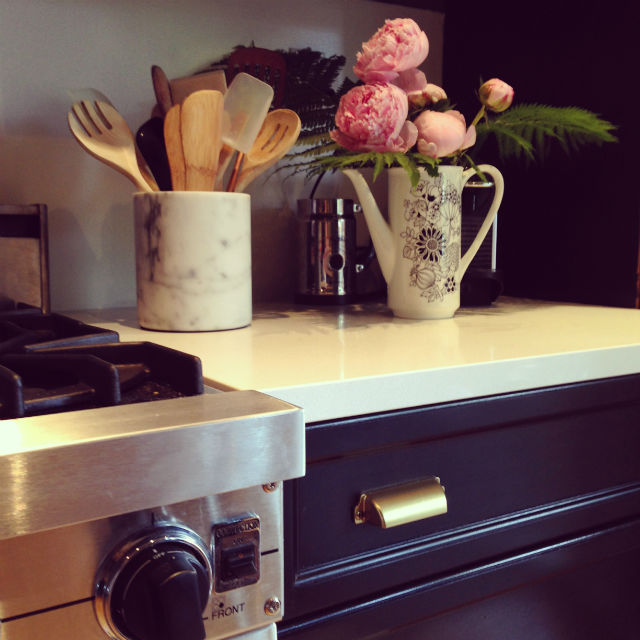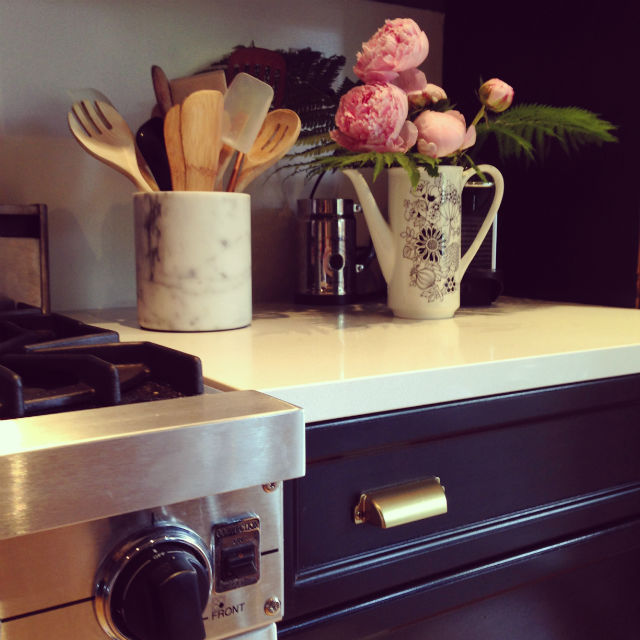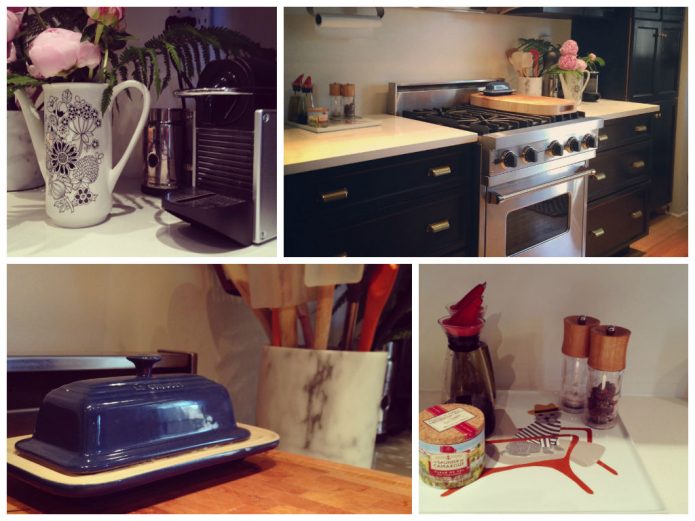 So there you have it, I was so excited to share with you our new and (much) improved kitchen – hence explaining the pictures of so-so quality – but we are still a little way from being done. Here are the items left to be completed.
What's Left:
– Buy and install backsplash tiles

– Find carpet runner

– clean up & organize the Butler's pantry

– cover the stainless fridge and dishwasher with "Wrap My Kitchen" in Carbon Black

– Make great pictures of the final kitchen and share them with you all!

Shopping List:
Saman Stain n Black: Home Depot

Awning Cup Pull: Martha Stewart Living

Brass Goblet knob: Martha Stewart Living

Black Water Based Stain: Saman Water Based Wood Floor Varnish: Saman Fairbury

Single-Handle Matte Black Faucet: American Standard

French Kitchen Marble Utensils Crock: Crate & Barrel 

Claudia Pearson Dog Tray: West Elm  Oil &

Vinegar Bottles: Trudeau

Gas Range: Viking 

Pixie Coffee Machine: Nespresso

Antiqued Brass Bowl: Ethan Allen

Rustic Plant Pot in Poppy Yellow Medium: Virginia Johnson

xox
v.  

photos: Vanessa Sicotte
0