We, collectively, have an undying love for gallery walls. And it's not hard to understand why. Trending for a while now, they are doing so much for a room in terms of its visual impact. They are an amazing way to infuse colour and patterns as well as allow art lovers to group their collections so they can have more on the walls. It's also a great way to fill a large span of empty space on a wall as it will make the eye dance around the room. Most importantly though, gallery walls constitute one of the best opportunities to show our individual personalities and what we love. Gallery walls are a must! 
That being said, if you feel that you have seen so many of them that you've been holding off from joining on the parade, for fear of appearing too "of-the-moment-trend", let me be the first to invite you to rethink the gallery wall with 6 tips to nail your own. For my part, I was delighted to be able to make my selection of frames from the new collection of Decors Véronneau paintings. All canvases are exclusive and available in limited quantities so that you are sure not to find them at your neighbour's. And the models all have this little je-ne-sais-quoi that has everything to please.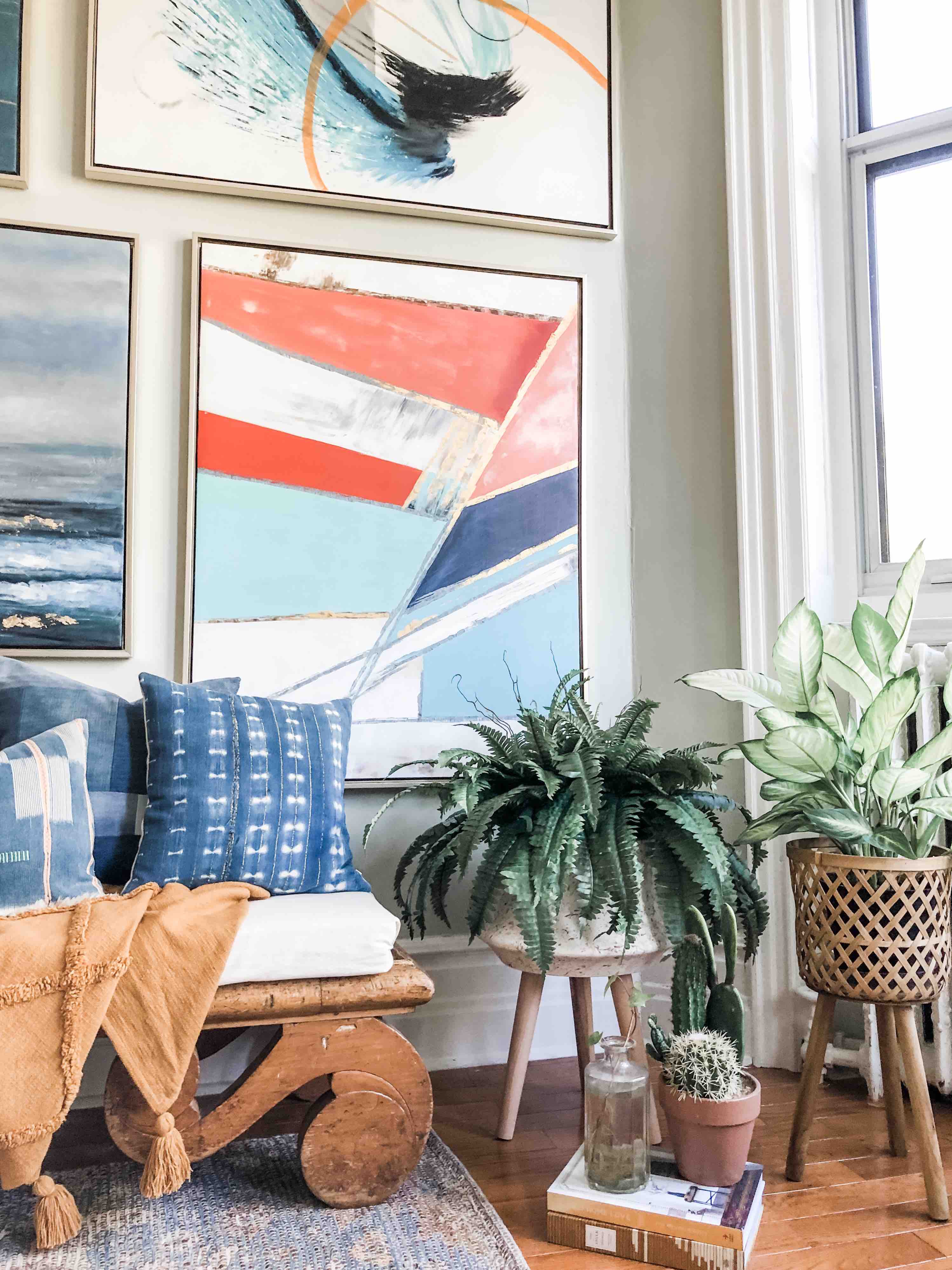 COLOUR
Colour plays a key role in almost every aspect of a room's decor. Therefore, when creating your gallery wall, take a moment to think about the colour palette which will likely be the element that will link all your elements together. I built the wall's composition around an abstract canvas in fifty shades of blue with small golden touches. This starting point allowed me to add other figurative or abstract paintings playing with hues of blues and pinks, which led me to integrate hints of coral and orange. Although the paintings do not adhere strictly to the blue palette, the colour story is clear and harmonious.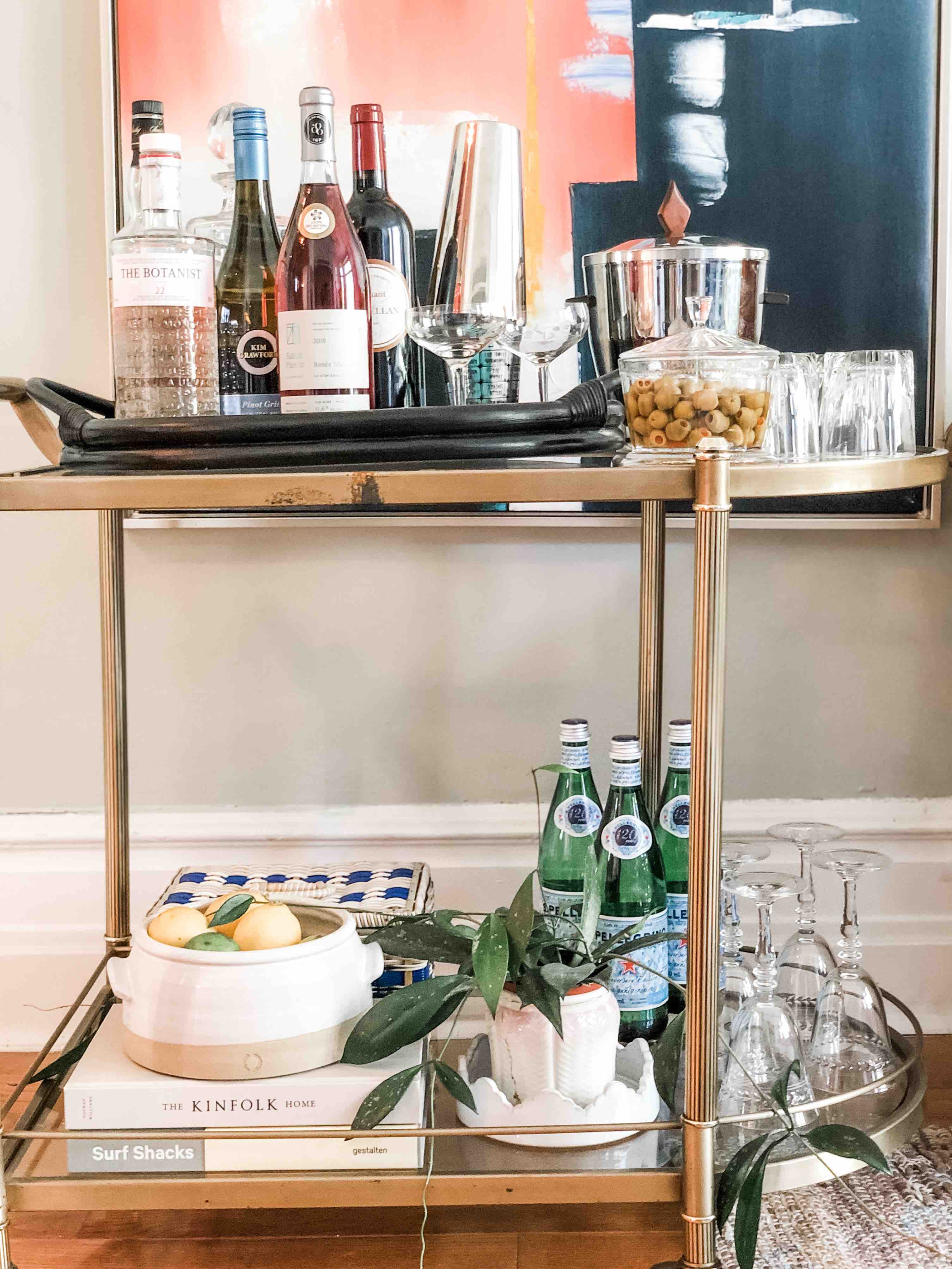 FRAMES
When it comes to choosing frames, there are several approaches that work well, including the eclectic approach where you work with various types of frames that are linked together by the theme or colours of the images they contain. You can also opt for uniformity with frames that allow you to be more daring with their content, removing visual overload. This is what I chose to do by hanging 6 different paintings from the new Decors Véronneau wall art collection. They all have the same thin champagne modern frame which is versatile and fits all interiors.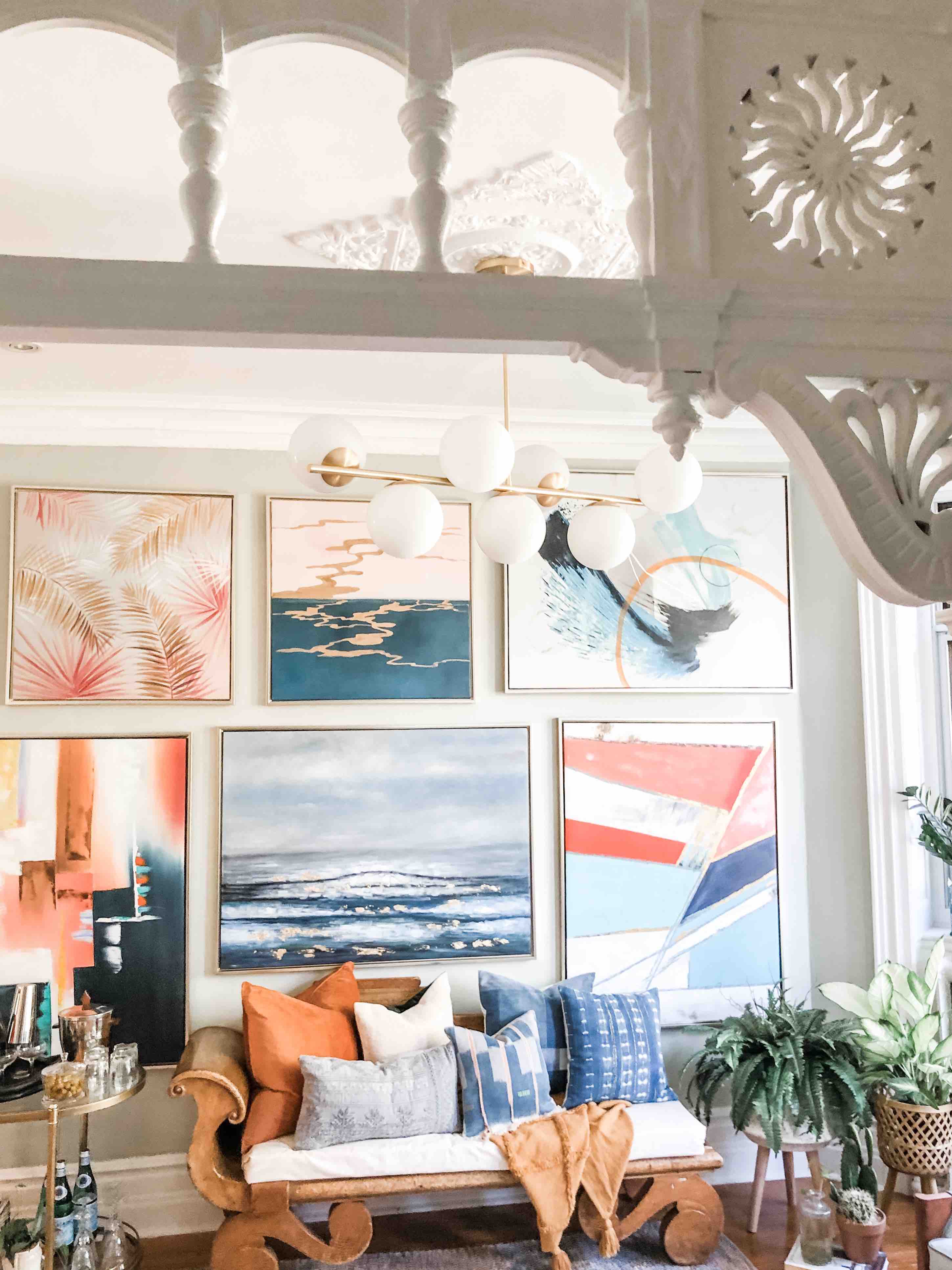 THEMES
In my opinion, displays with a strong theme look more harmonious than those who do not. But what qualify as a theme and what is too much of a good thing? Simply put, it's an assemblage of works of art that represent a unique subject, a special atmosphere, a common medium, an era, a style, a colour, and so on. A theme is ultimately the creative intent you give to your wall.
Some examples of themes:
nautical
Architectural drawings
Popular quotes and posters
Children's drawings
Small objects and kitsch art of the '60s
Black and white
Go with a theme that is more abstract in its delivery than literal, for a look that feels curated but not to "theme-y". For my part, I have chosen the theme of abstract and botanical art printed on canvas and then enhanced by hand for a more textural result. I mixed botanical-inspired representations with modern abstract pieces to create an effect that focuses on colour and is reminiscent of summer by the sea.
Each frame, of various formats, has found its place on this wall although they could also be suited for an entrance hall or corridor, a living room, a dining room and so on.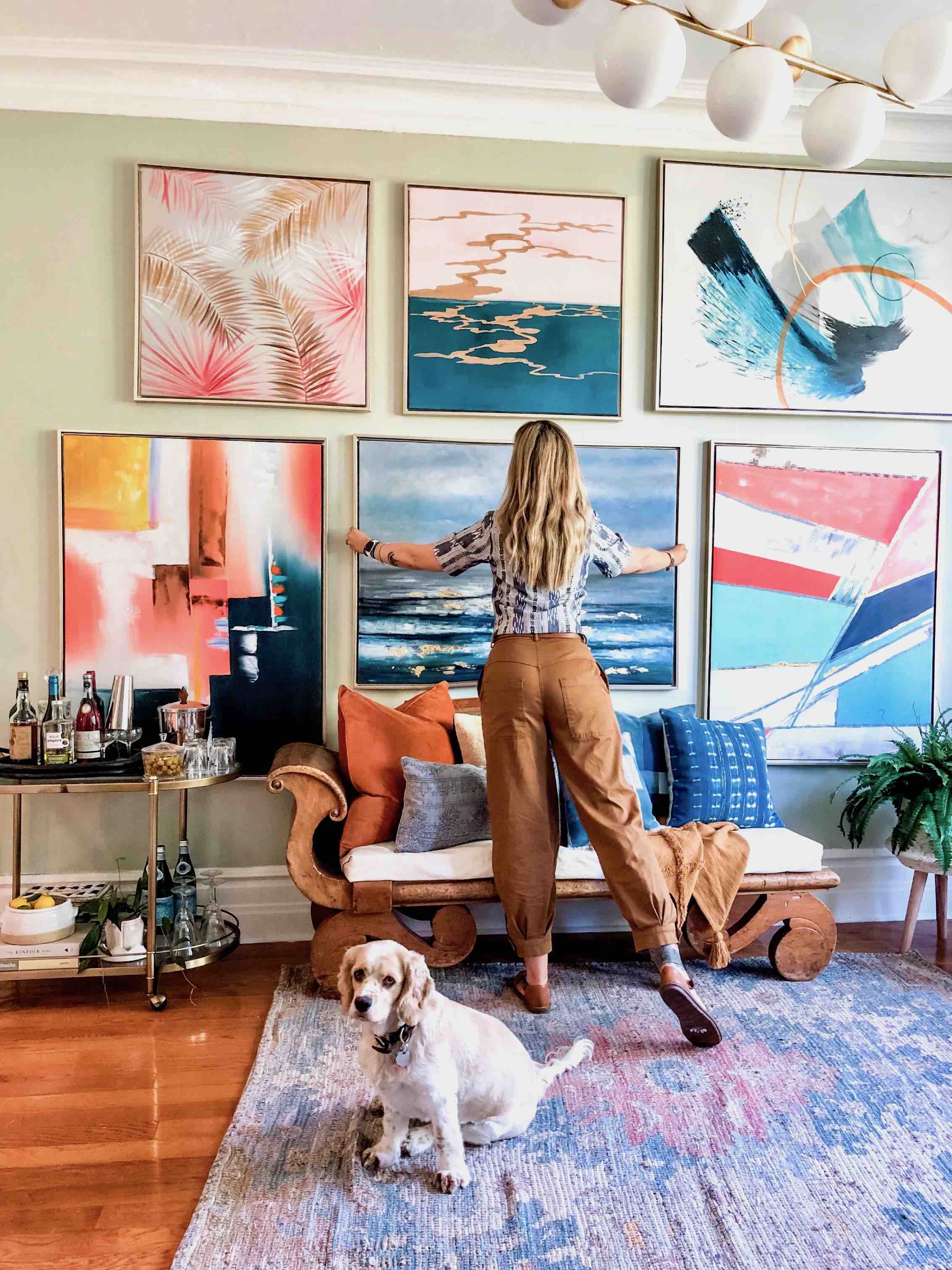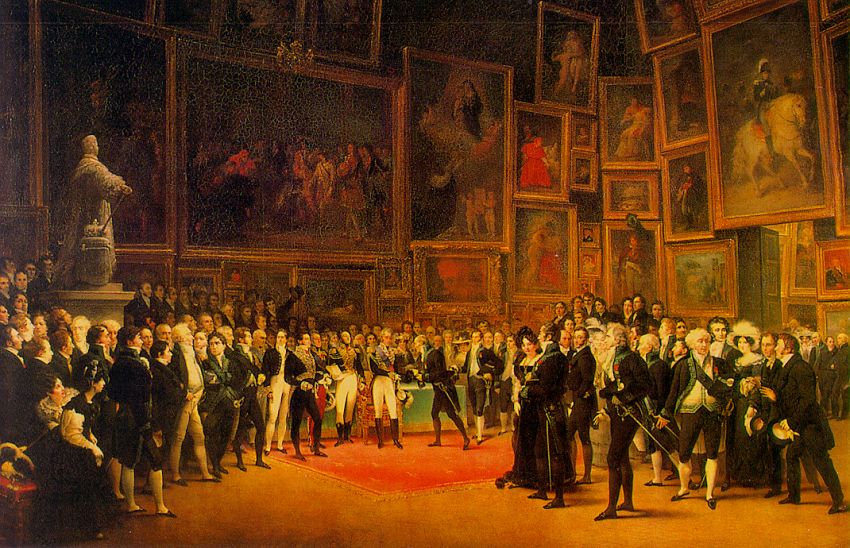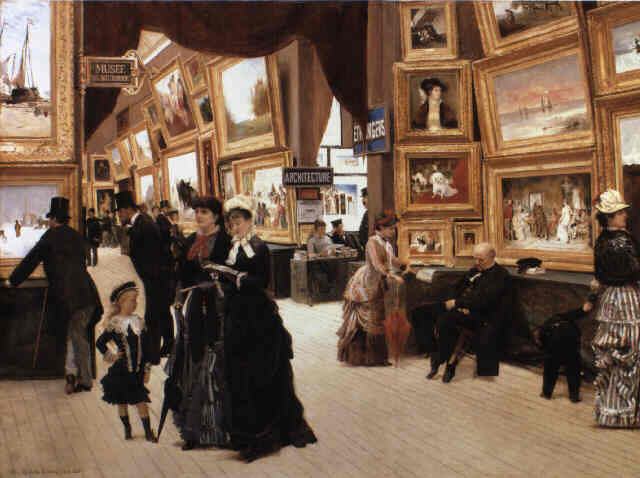 HANGING
The hanging of works of art has, since the 18th century, been a real subject. The Parisian Salons, presented annually a selection of the art made by artists from the Academies. This mundane event was very popular and the location of each piece played an important role in how it was viewed and received by the public and the critics. Let's just say that to be skyed was not the most enviable of place to see your art be hung. Times have changed and today we can give free rein to our creativity when it comes to hang our art collection on the wall. Some people will choose to create a central vignette, at eye level, while others will install their collection in two or three superimposed lines, perfectly symmetrical. For my part, I was inspired by the Parisian salons and hung the pieces all the way to the ceiling in order to give a full sensory experience filled with colour and patterns.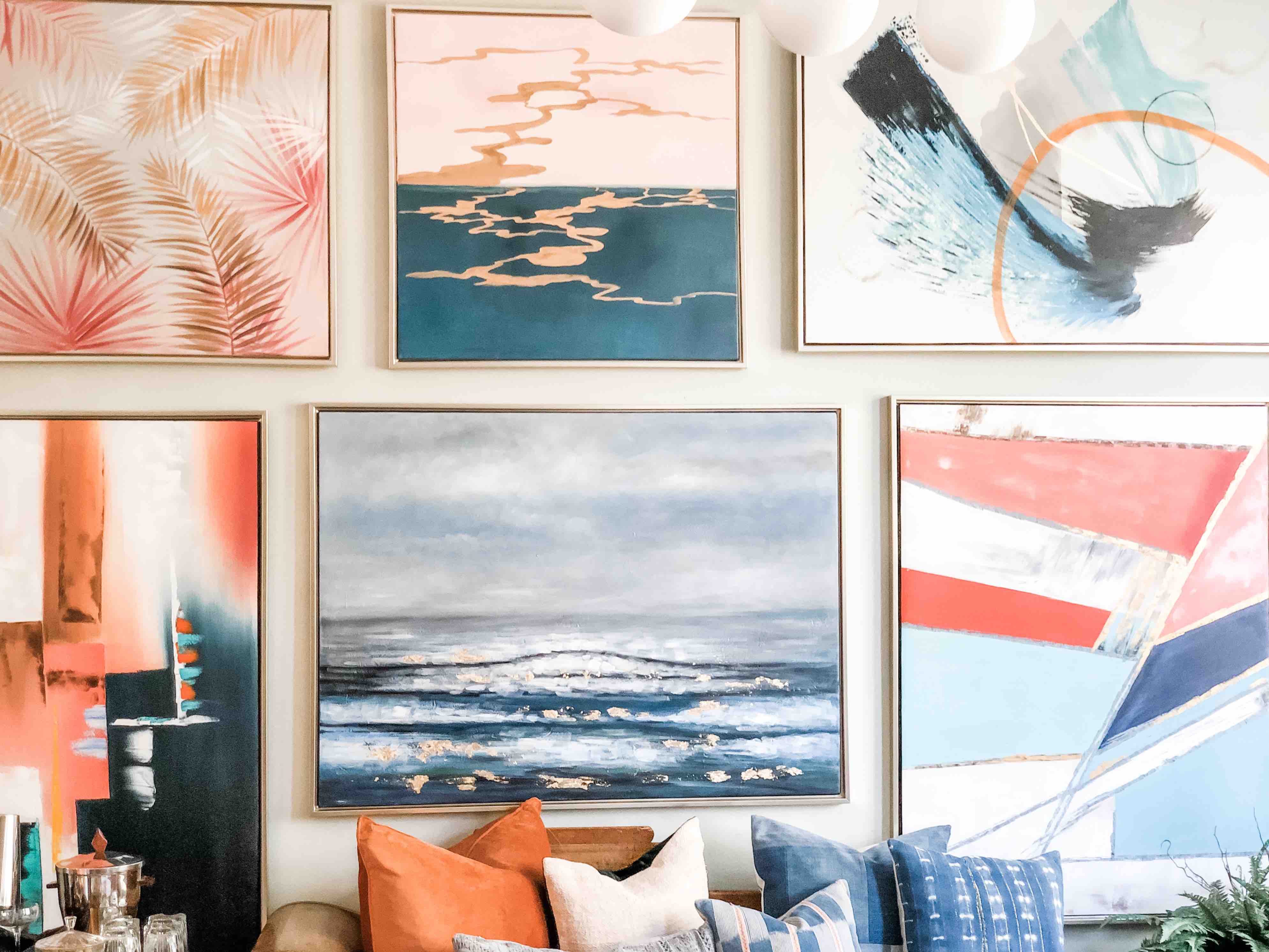 SIZE
Do you know how to saying "size matters"? Well, it couldn't be more true than when you create a gallery wall. The size of the works that will be grouped together will play greatly on the final visual effect of the entire gallery. You can work with a number of very small pieces, grouped together in a tight way, or with very paintings casually spaced for a different but equally successful effect. I admit to having a weakness for large format paintings.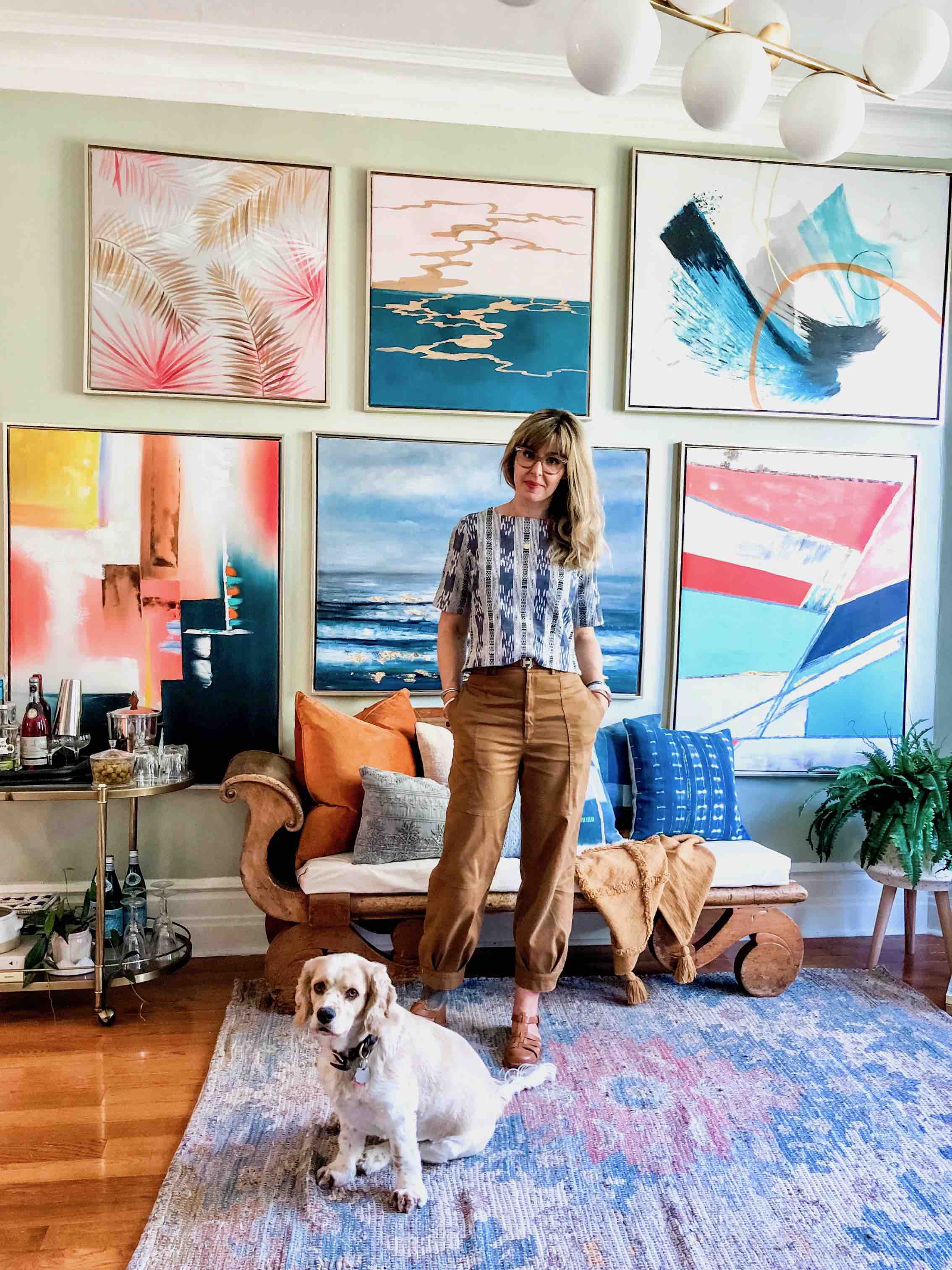 FINAL TOUCHES
Like any creative project, gallery walls run the risk of being chaotic if they are not anchored with a strong creative intent, a clear vision and a sense of editing. On the other hand, playing it too safe can leave us with something visually blah and uninteresting. This is what I call the final touch. Once all the frames and objects have been installed, take a step back to see clearly the overall look of the wall and add or remove a piece where needed. Curating is your friend.
One last trick: when your gallery wall is complete, take a picture with your phone. Seeing the result of our work in pictures sometimes gives us a perspective that we have not seen up close.
If you are looking for unique wall art at reasonable prices, visit Décors Véronneau in-stores or online.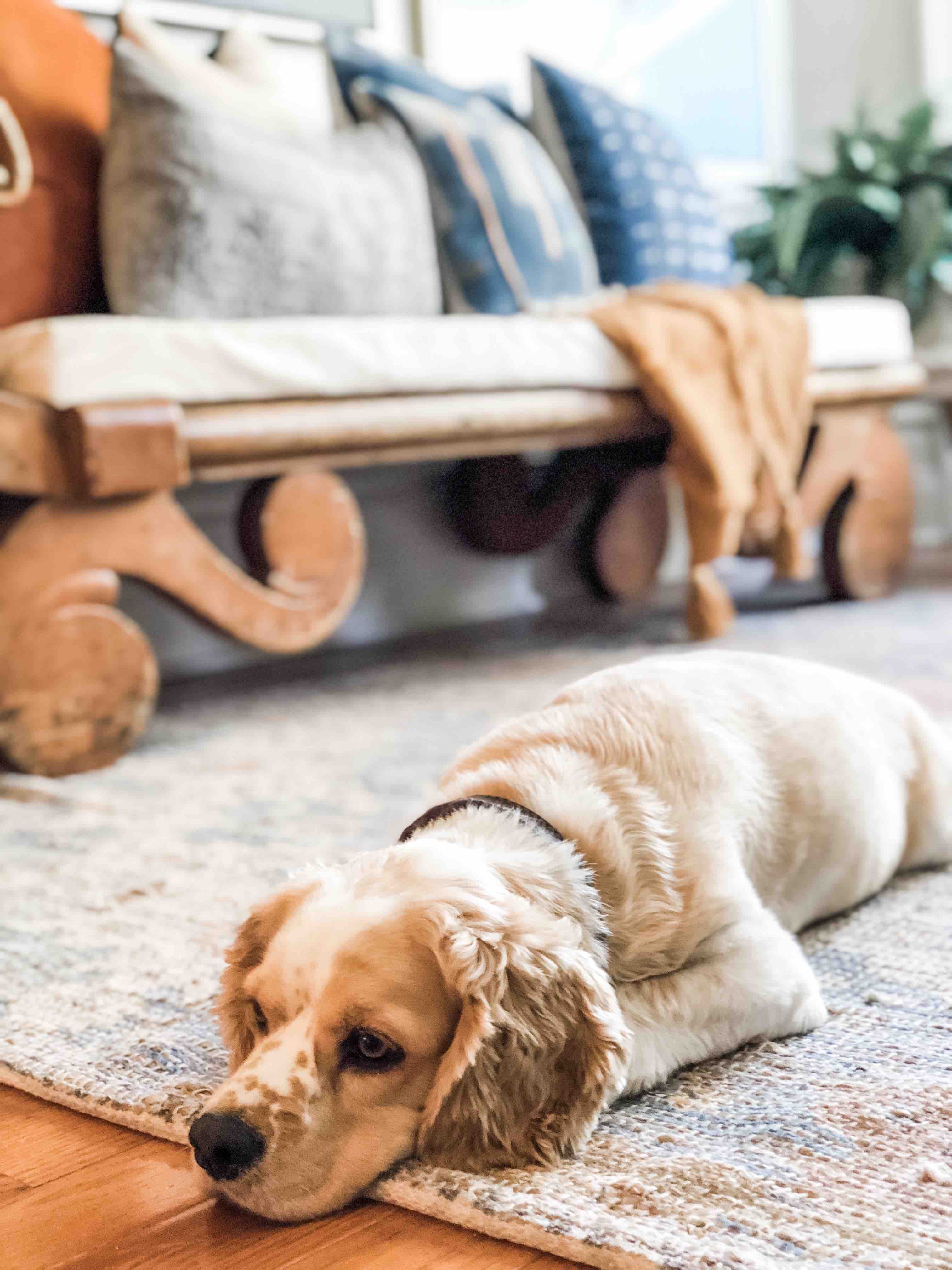 Sources: Parisian salons | styling & photos: Vanessa Sicotte
This post is sponsored, all of the creative content and tips are my own. 
9