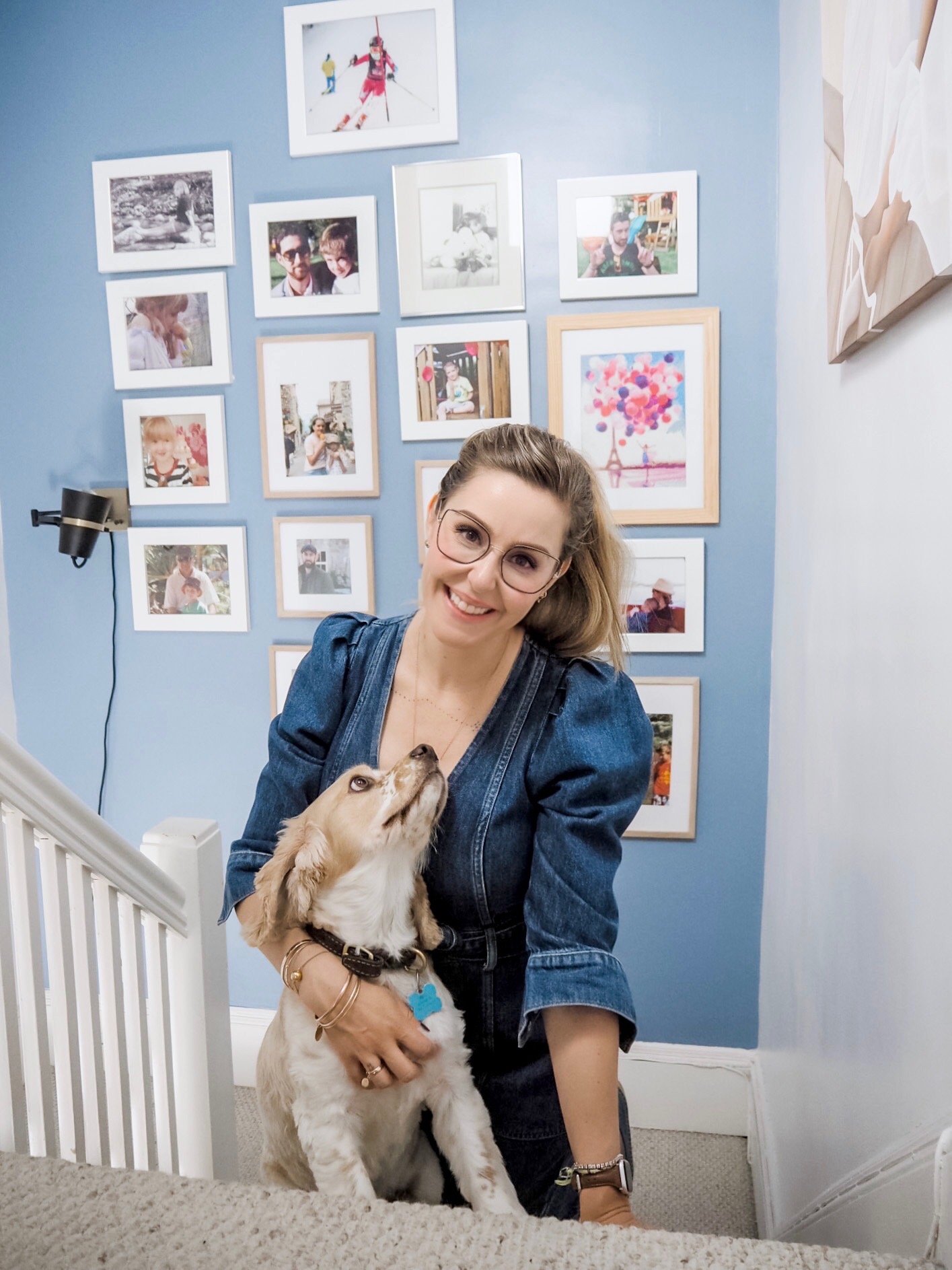 Our dollhouse of a forever house is overall pretty narrow, but very high. The main floor houses the kitchen, dining and living rooms, on the first floor are our bedroom, main bathroom, Teddy's room and my walk-in closet, and on the second floor are the two girls' bedrooms with a little shared bathroom. That last floor, all the way up in the eaves of the century-old home, is accessible by a narrow staircase that offers an impressive 14' tall wall. I see a 14' tall wall and I immediately think: gallery wall, don't you? Well, it is that wall, and surrounding staircase, that I desired to refresh while showcasing one of the colours from the new BEHR® Colour Trends 2021 Palette.
The Challenges
 The challenge of this transition room is its sheer height and odd corners. We had the whole house painted professionally when we first moved in and honestly, I never bothered to repaint since (that was seven years ago). So I was afraid of the ladder work the project would involve.
The second challenge is the fact that the space features no window and so the paint type & colour choice are instrumental in order to give the room light, interest and to showcase our very own wall of fame of ever-expanding family photos.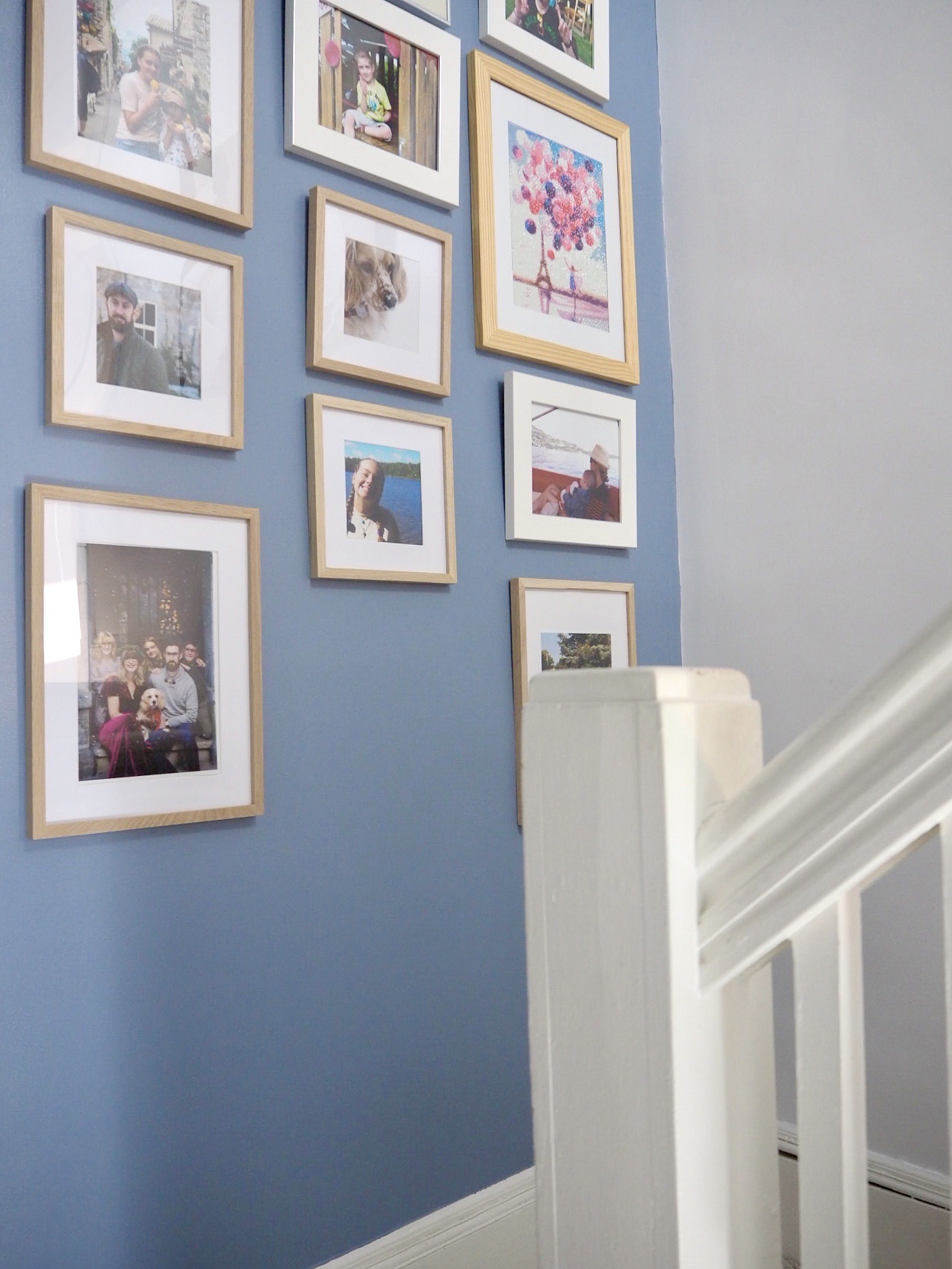 The Solutions
To resolve these I first equipped myself with a multi-position ladder, to tackle the stairs, as well as an extendable painting pole for the soaring ceiling.  
Then came the selection of the paint and its colour. BEHR Paint proposes an assortment of interior, exterior, paints to fulfill different needs and projects. I chose the BEHR PREMIUM PLUS® Interior Paint, in a satin finish, for a few reasons which include: 
Its low odour: which is a must in a room that is void of natural ventilation or windows.

The fact that it is a Paint & Primer: to save me the extra step of having to prime separately.

Its durability: an important factor to consider when painting a high traffic area with lots of little hands touching its wall surface.

And because the paint is UL GREENGUARD® GOLD Certified for low chemical emissions. This last point is for me the most important as it is not only better for my family's health, but also for the planet.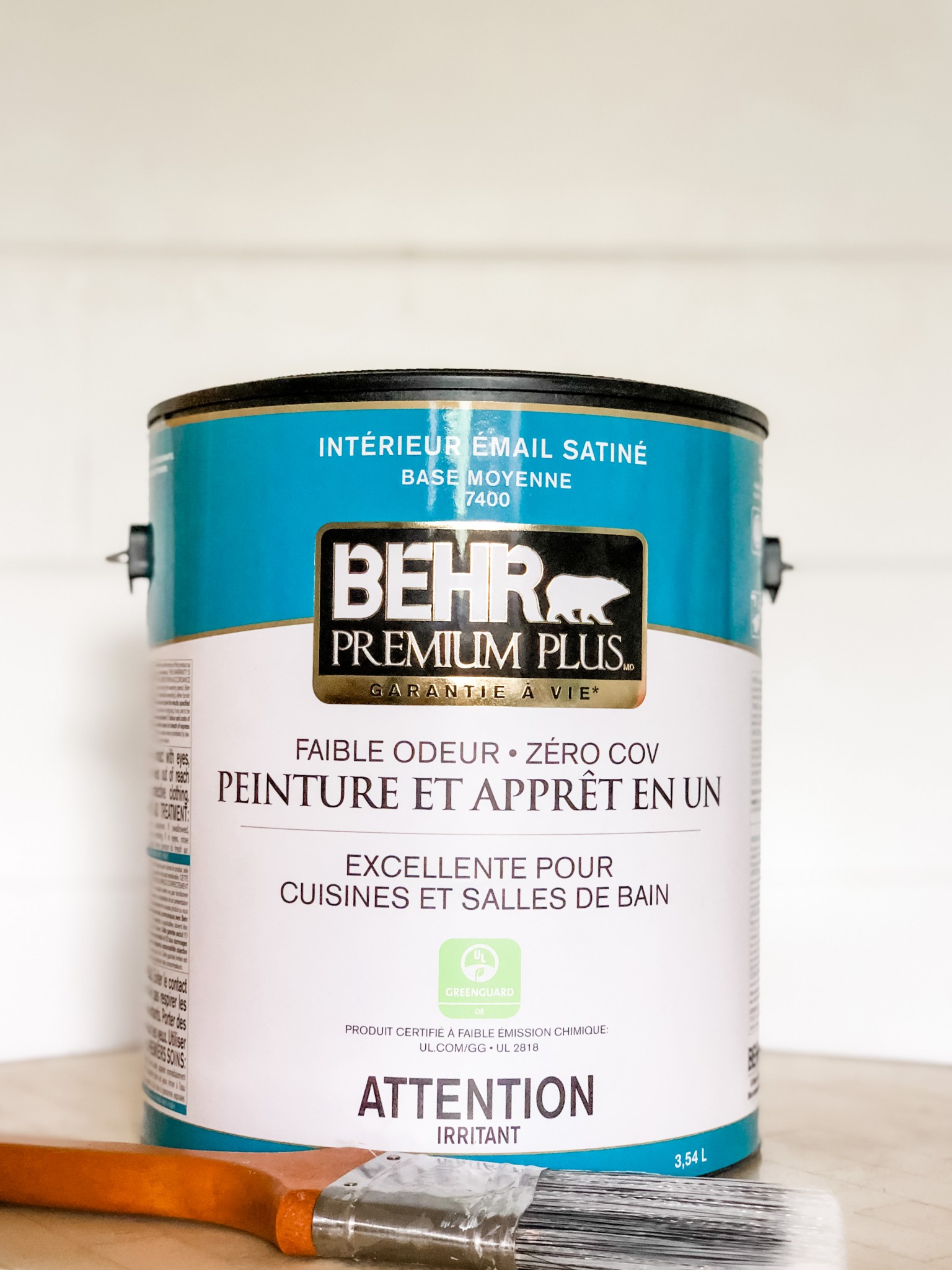 The Colours
Now, on to my favourite part, the colour choices!! For 2021, BEHR® Paint created a new Colour Trends Palette consisting of 21 colours and they are all gorgeous. With names such as Wishful Green (M410-2), Saffron Strands (PPU6-02), Seaside Villa (S190-1), and Jean Jacket Blue (S510-4), I took a while to select my feature colour. In the end, I reverted back to my forever favourite palette of blue and selected Jean Jacket Blue from the palette! I also used crisp Ultra Pure White (PR-W15) to frame and emphasize my feature wall and the Jean Jacket Blue ceiling. You know my unwavering love for all things blue, and this transitional space is the perfect opportunity for me to feature my favourite colour while creating the focal point I need for this gallery wall to work. The best part about the BEHR® Colour Trends 2021 Palette, other than the colours themselves, is that it was curated to help create a sense of elevated comfort and positivity, which is exactly what I hope for in our home.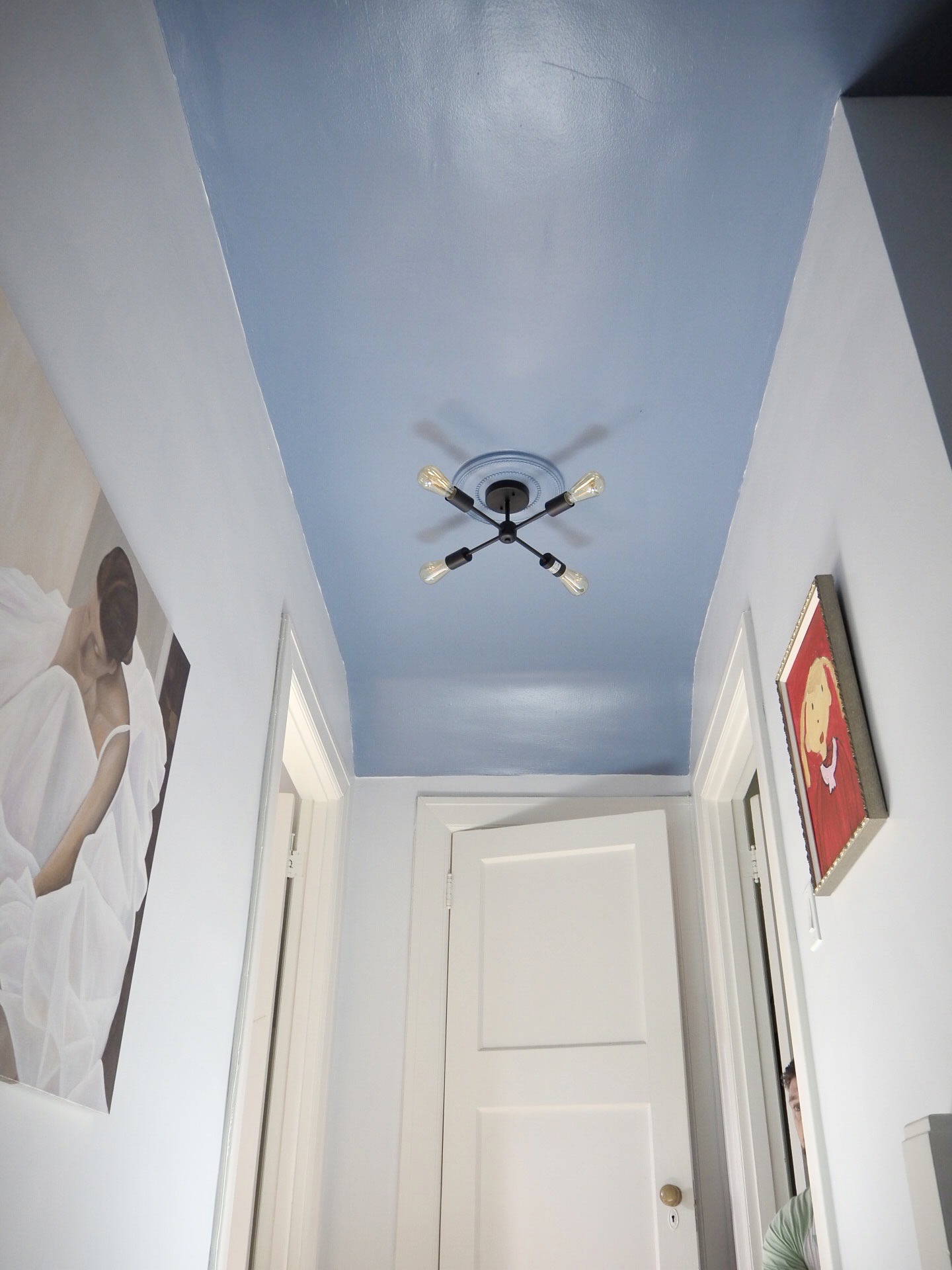 Because the paint contains its own integrated primer, I proceeded to paint directly onto the previous colour. As you might know, I have painted my fair share of walls and furniture in my life and have been put through the wringer by certain paints that have terrible coverage. Not this time! I was SO pleased by the fact that the first coat covered the wall evenly and seamlessly in both the white and blue. After the prescribed wait time, I applied a second coat for the finishing touches and to make sure I had not missed any spots. 
The Gallery Wall
Whether it is trending or not, I happen to love a good gallery wall. The perfect platform to tell an impactful visual story, the gallery wall offers a unique opportunity to build something interesting and unique. Hence the wall of fame. Ours grew over the years, with yearly additions of our moments immortalized in paper form and framed for posterity. The problem is that by adding pictures to the collage, I ended up losing its initial unity and visual impact. So, I used this BEHR® Colour Trends 2021 Palette project as an opportunity to reframe some of the pictures, retire others and replace them with more recent moments.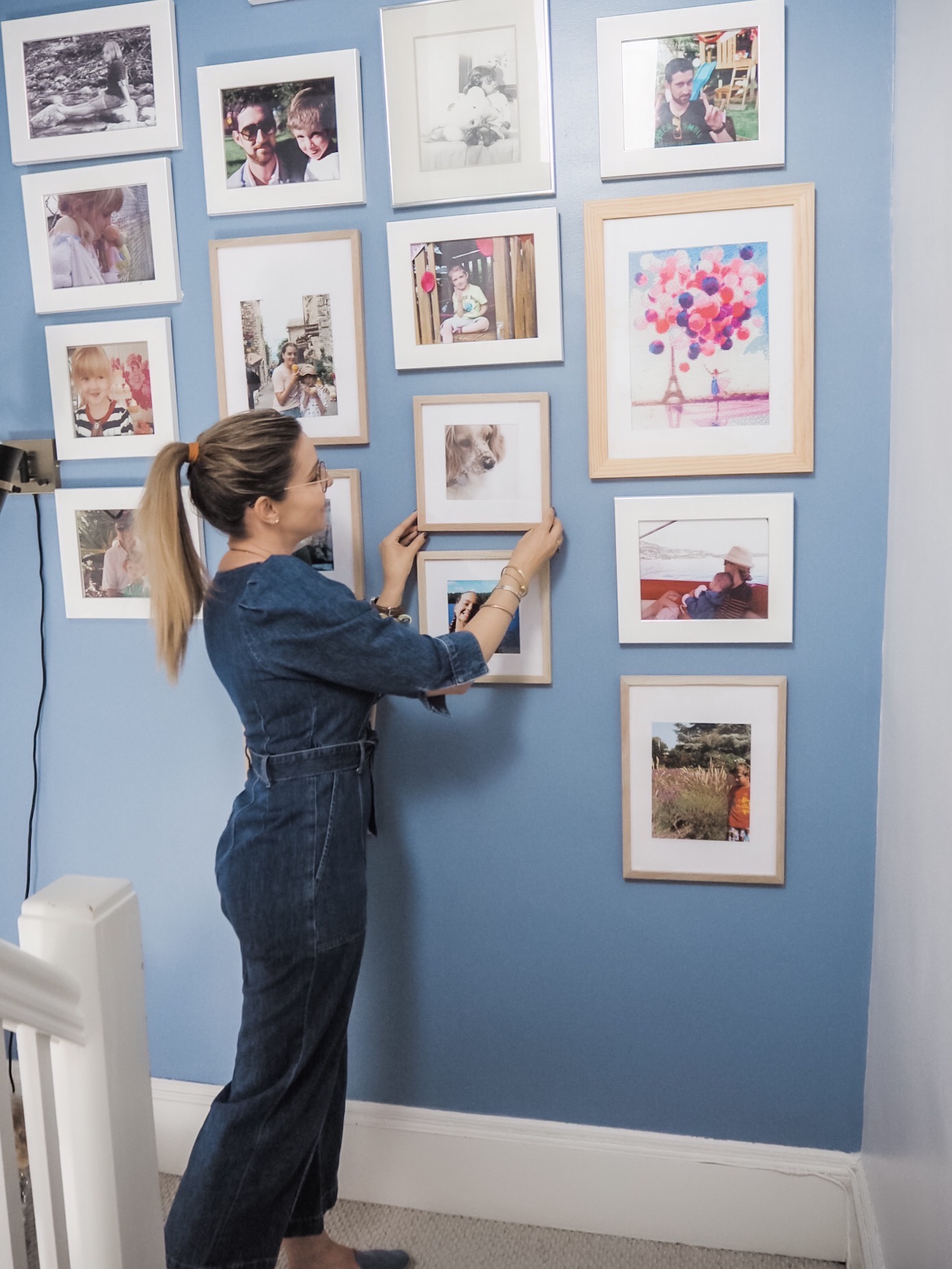 After I had left the paint to dry a good 48h, I proceeded to trace each frame onto a roll of brown paper before cutting the templates and attaching them to the wall with painter's tape. This process might appear to be time-consuming but I promise it is well worth the effort. It will allow you to map out how to set up all the frames and to give them the impact each deserves without overpowering the ensemble.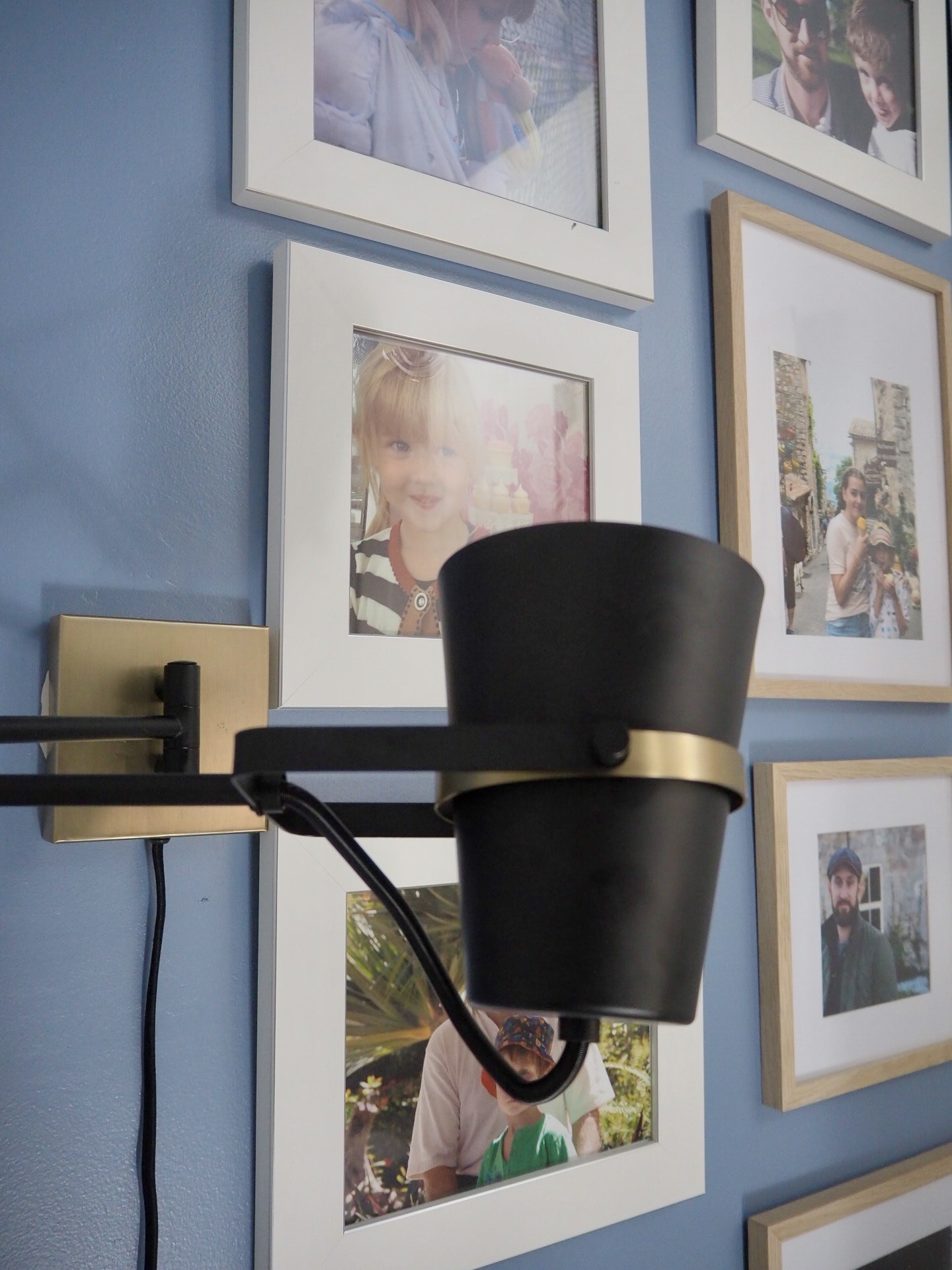 Finally, I added a plug-in wall sconce from The Home Depot for the obvious added light but also to give the eye a break from all the frames and maximize the area's overall interest. Now, our wall of fame is ready for the next seven years of its life! 
While many people think 'home improvement' when they think of The Home Depot, they may not realize that The Home Depot has so much more to offer – including interior furniture, wall décor, housewares, and more!
To create your own makeover project with the new BEHR® Colour Trends 2021 Palette, like mine that featured Jean Jacket Blue (S510-4), head on over to The Home Depot or visit Behr.ca.  
Giveaway
Because sharing is caring (my kids say that all the time and I think it is adorable!), I am happy to be giving away a 100$ gift card to The Home Depot to purchase your own BEHR Paint colours and get started on the paint project of your choice. 
To participate it is simple: head on over to Instagram, follow damask_dentelle and leave a comment of what room you would like to makeover with which colour from the BEHR® Colour Trends 2021 Palette.
This giveaway is open to Canadian residents and the winner will be announced on September 11th on Instagram. 
This post is sponsored by BEHR® Paint. The transformation and blogpost are mine.
14