There is a disaster zone and then… there is A disaster zone. In the underbelly of the Apartment by Damask & Dentelle, lies the biggest mess of all messes, my storage-staging-office room. This tiny room, about 6.5′ by 10′ long, is the place where all of my shop's products, all the accessories for my staging and photoshoots and ideally a small desk area should fit. An ambitious proposition to say the least and one that has never materialized. Here's why.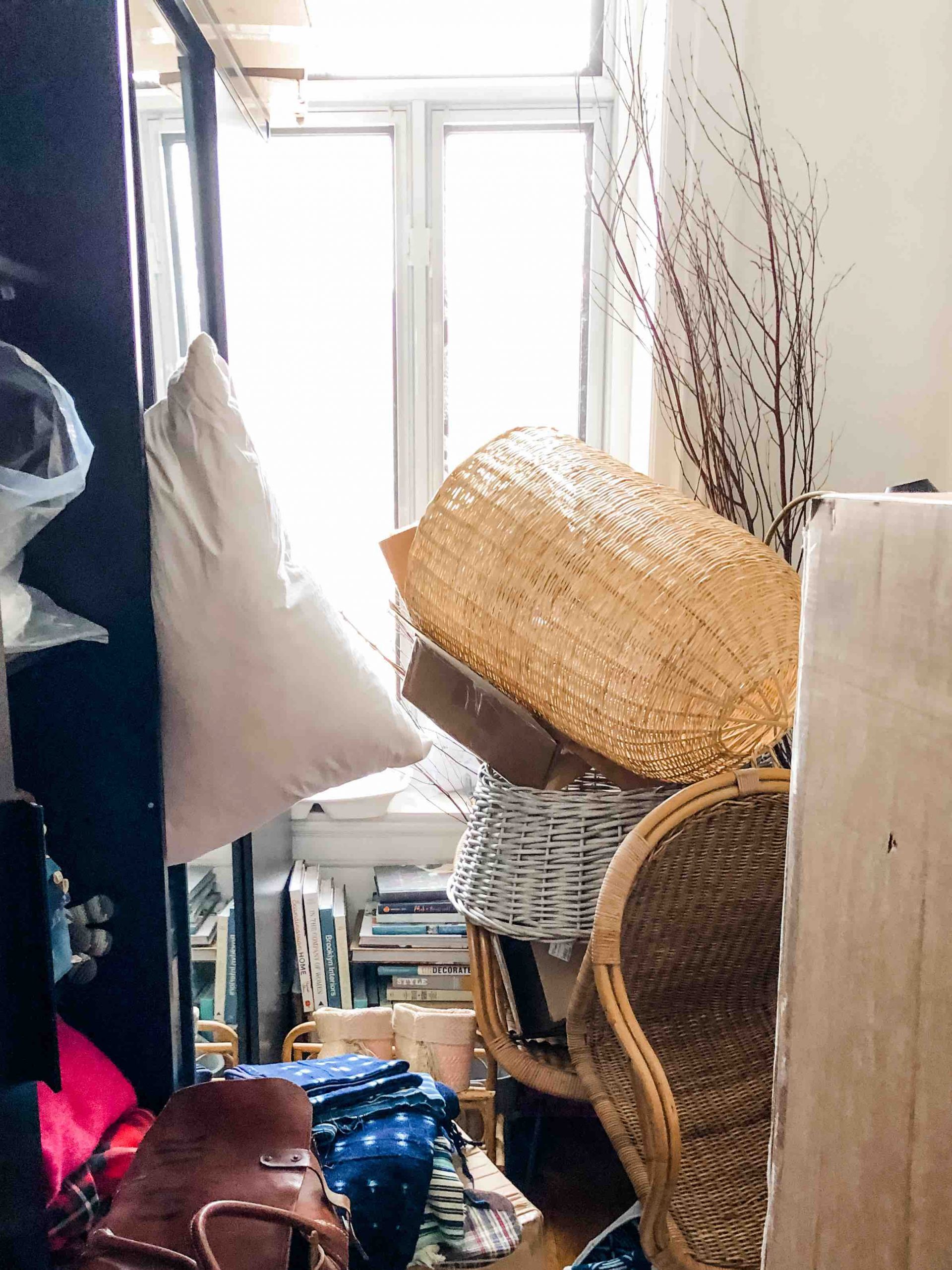 The large black armoires, filled with the shop's products, left me little space for the rest which resulted in me just pilling things wherever I could. I am not finding excuses for the mess that ensued – OK maybe I am a little – I just wish to put the situation in context.
Overwhelmed by the mere sight of this room, I kind of gave up on it, until Tinka came to the Apartment, saw the space and said that we could tackle it together. Let me introduce you to the fairy godmother that is Tinka Markham Piper. Founder of Solve My Space, Tinka is a chaos counsellor: part organizer, part designer and part life coach. With her clients, she tackles projects big and small in order to declutter, organize and decorate any room in desperate need of a little (or a lot) of TLC. Now, because of our current "social distancing" predicament, we could not do the project physically together and so we found a workaround where Tinka sent me her advice and tips by email, and I executed them.
Tinka's Top Insights
 A quick reality check: decluttering takes time. It took you time to accumulate what you own so remember it's not going to be a lightning speed process to go through it all.  Yes, it will take time but you can absolutely do it! Go at your own pace – the most important part is making progress, little by little.
Start with small projects to feel a sense of accomplishment and to motivate you to keep ongoing. Good contenders for initial projects include a junk drawer, a sock drawer or a pile on a table or counter. Start with the small projects to avoid the overwhelm and paralysis that can happen with too much decision-making.   The key is to see that you can make progress!
Find ways to make decluttering a joyful process (yes, this is possible!). Music, podcasts, breaks for a coffee/tea. #yesplease

The Prep Work
Before embarking on such a project Tinka advised me to ask myself these questions:
What is currently not working in the space?
For me, it is clearly a question of not even being able to walk three feet into the room before being barraged by stuff everywhere. The anxiety that builds up from this is also an aspect I am looking to address and reduce.
What are your main concerns about the decluttering process? Why has it been difficult to tackle this project?
Everyone will have a different answer to this, but for me, the main concerns revolve around efficiency. It really isn't good business practice to look for stuff all the time. Imagine how much more streamlined and productive my activities will be after this! But the task seemed so daunting that I never mustered up the courage to actually get it done. Anddddddd here we are.
What is your definition of "success" once this project is over? How do you want the room to feel?
I would feel I have achieved a successful transformation if I could go into that room, find all my necessary accessories easily and maybe even find the space to include a little desk area on which to write a thank you note or package a small box for shipment. I can dream, right?
These questions answered and a clear objective in mind, it is time to get down and dirty. First things first, assemble the supplies.
Tinka's supplies list
recycling bags
black trash bags (for trash + donations)
empty boxes or bins (for sorting + donations)
post-it notes
sharpies
cleaning supplies
timer (on your phone)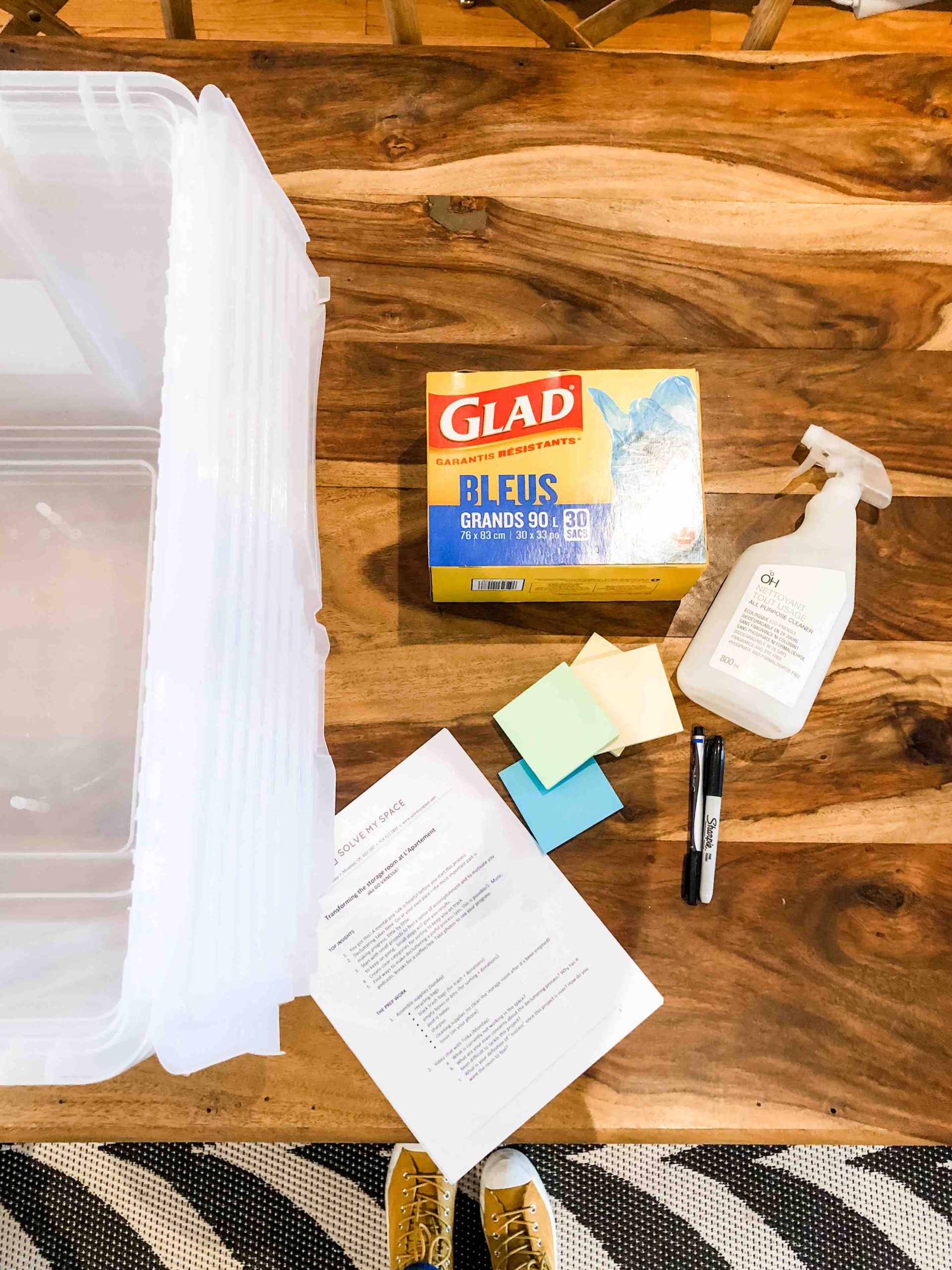 Create categories
It's helpful to create clear zones in advance to help with your sorting process.  Imagine that you are creating an assembly line to make the process easier for you.
You will use the post-it notes (and bins + bags) to create different zones. You'll need to give yourself some space and surfaces (a table, a bed, a clean floor) to do the sorting.
Here are the main categories:
Recycle
Trash
Donate
Fix/Mend
Sell
Lost + Found (missing items or pieces that need to be returned to other places)
Maybe box (for the things I am not sure I still need but that I am not quite ready to part ways with just yet)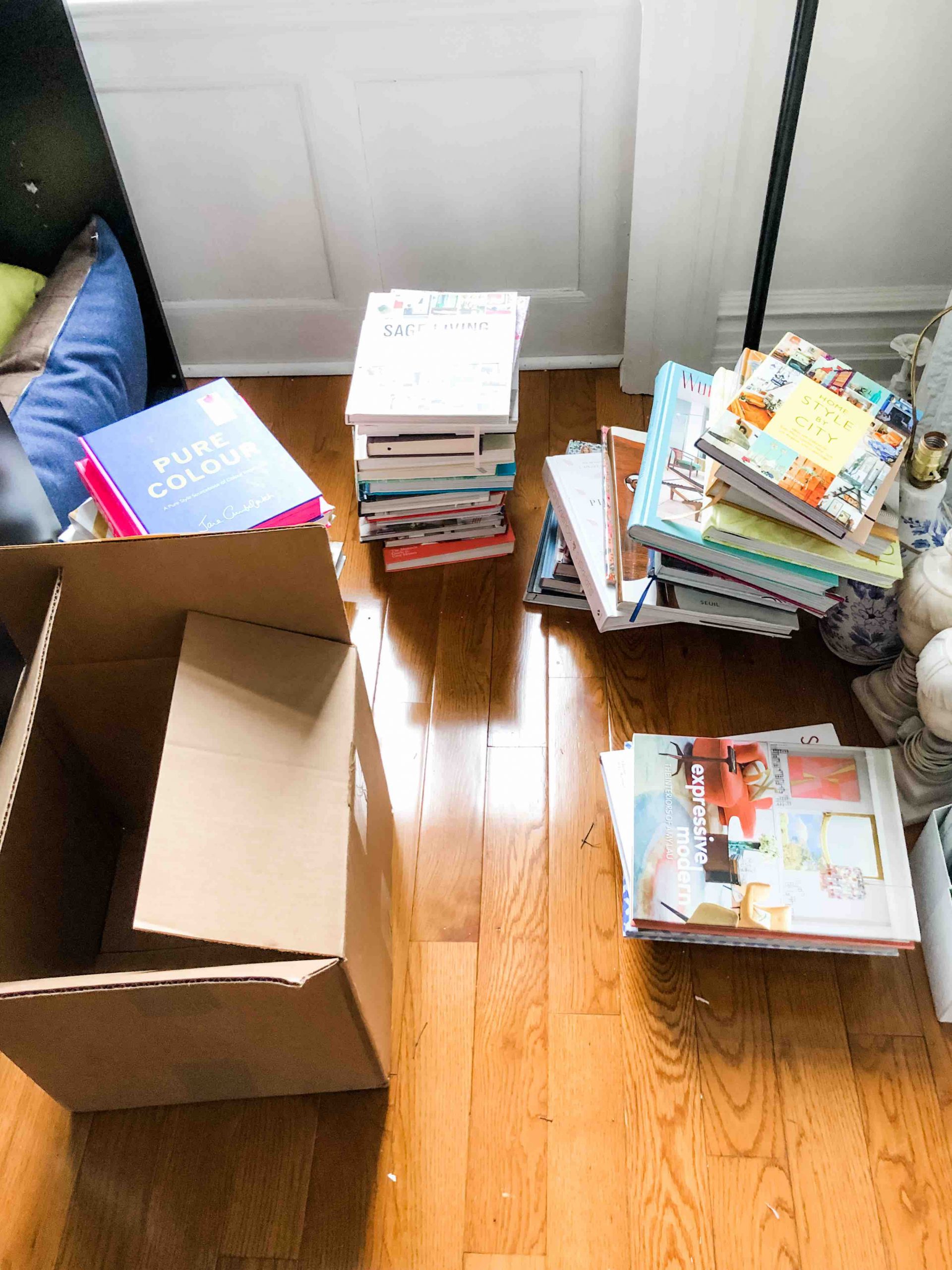 Getting started
Photos: Take a before photo so you can feel even more a sense of accomplishment when you finish.
Use a timer. Set it for 15 minutes. You can do anything for 15 minutes! A timer helps you focus all of your energy on the decluttering.  You'll see how quickly the process goes and how you start to feel as you experience the changes.
Create your "zones" for sorting and now the fun starts!
Empty out all the items. It is going to get quite messy and feel overwhelming at times BUT you have to empty it all out as a first step.
Think systematically in the emptying process. You can start in one corner and then move around the room in a clockwise or counterclockwise manner. Or if you can see all the items, you can do a "treasure hunt" and look for one specific category (as long as they are visible).
Sort through your pile, one item at a time and make quick decisions. Pick an item and make your decision: remove, relocate or leave it.  Items do not go back into the initial pile, otherwise, you will keep sorting and resorting. There are many helpful questions to help you make decisions, but the key is to be as ruthless as possible.  One of my favourite quotes is "When in doubt, go without."

Tinka's top 5 questions for decision-making
Would I buy this item today at full price?
Would I keep this item if I moved?
Have I used this in the last year?
Will I use it in the year ahead?
Would this item be useful/helpful to someone else?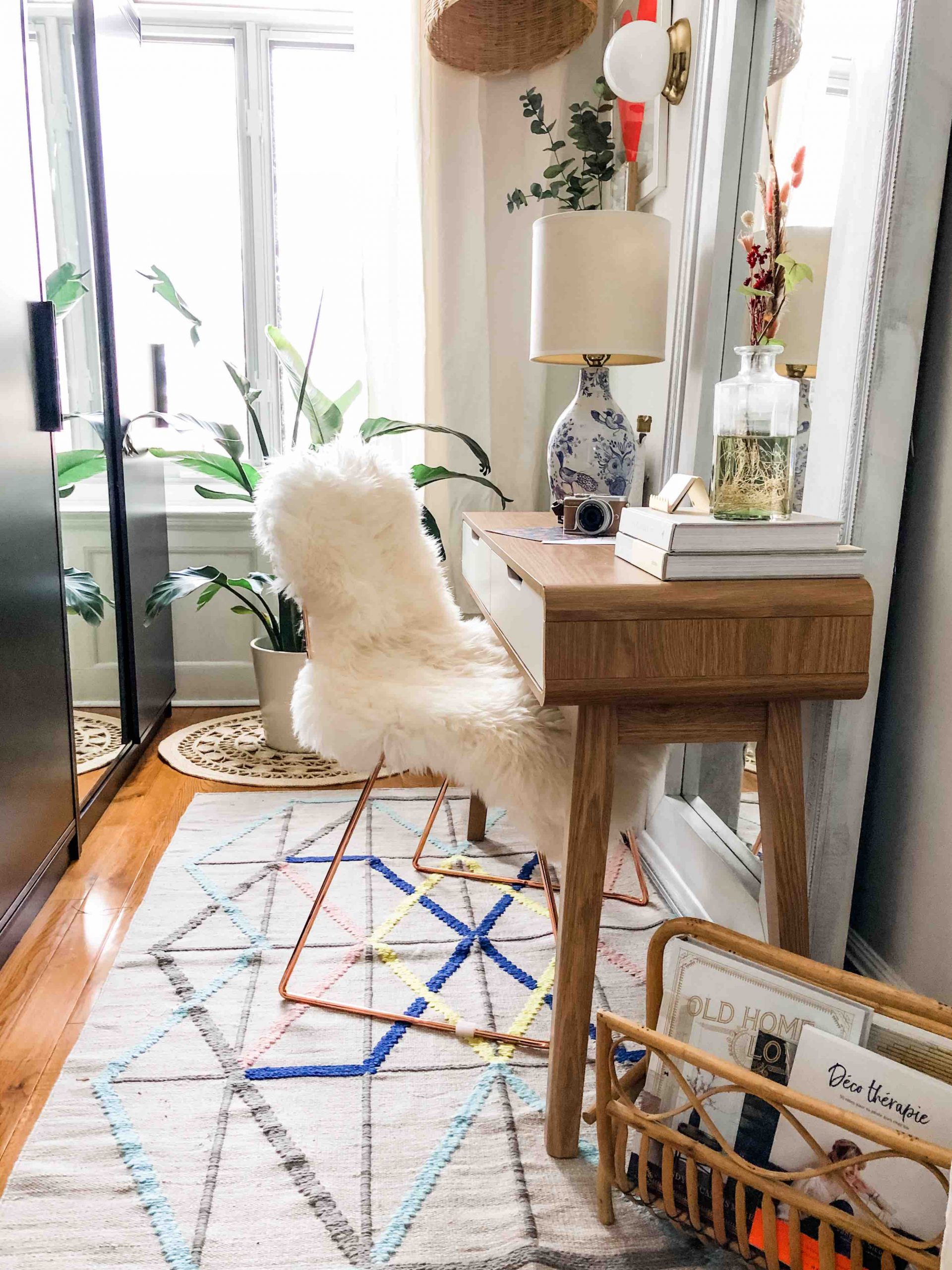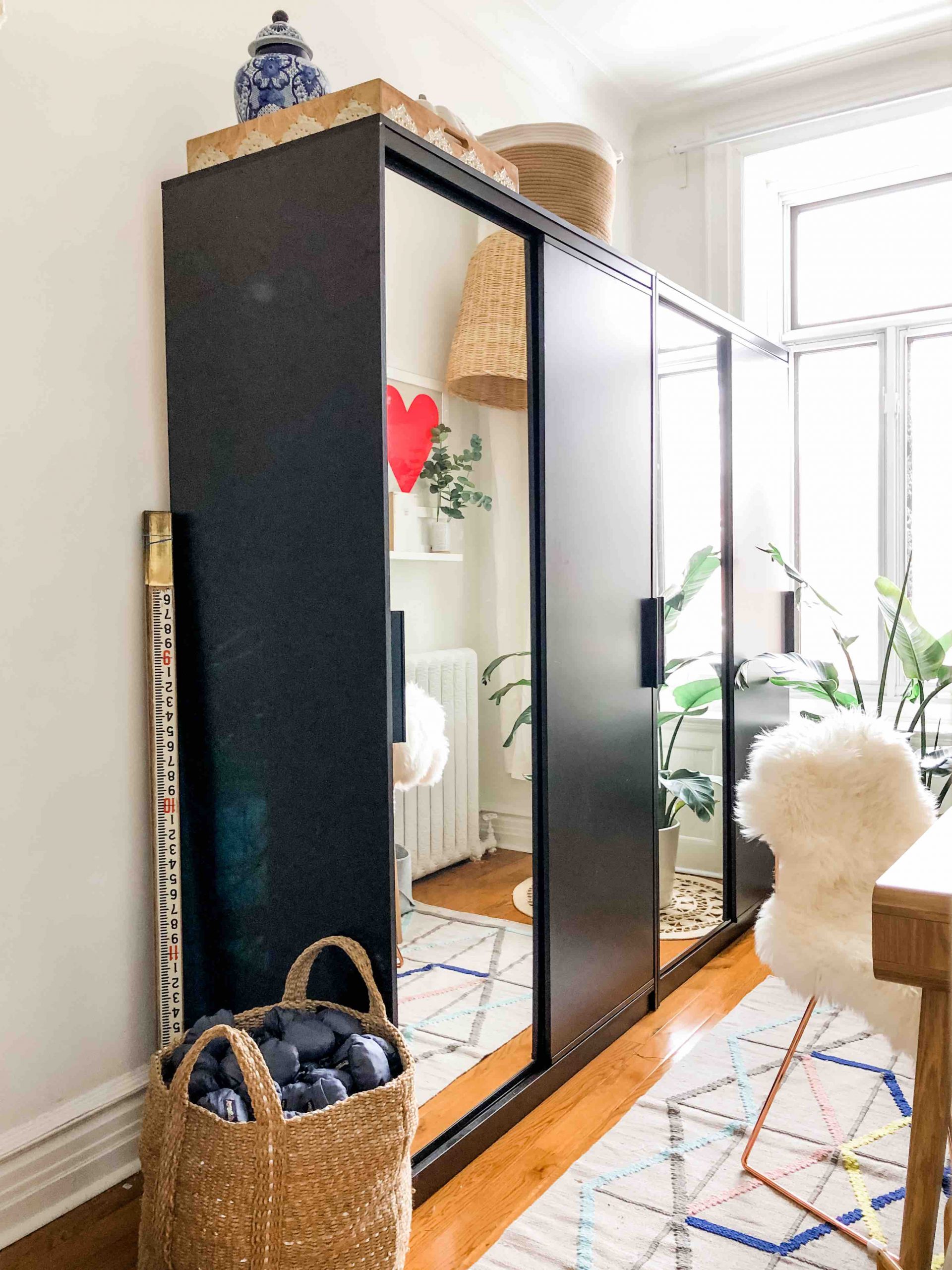 THE REVEAL: Putting it all back together
After the space, however big or small (it could be a drawer) has been completely emptied, it's time to give it a good clean. When a room is empty, except for the large pieces of furniture that will stay in place, cleaning it is sort of a no brainer: vacuum, wipe down, mop and so on, it is time to let go of any dust bunnies have accumulated in the nook and crannies.
Now I could feel my own decorative instinct kick in as the room presented its full potential to me. A tiny desk here, a chair there,  a new wall sconce, maybe a rug. Because we obviously cannot just go out and buy anything at the present time, I shopped the Apartment for anything that I had that could be repurposed and put to good use. As I said before, part of the use of this small room is to house all my staging accessories, so I am lucky to have found most of the things I just listed.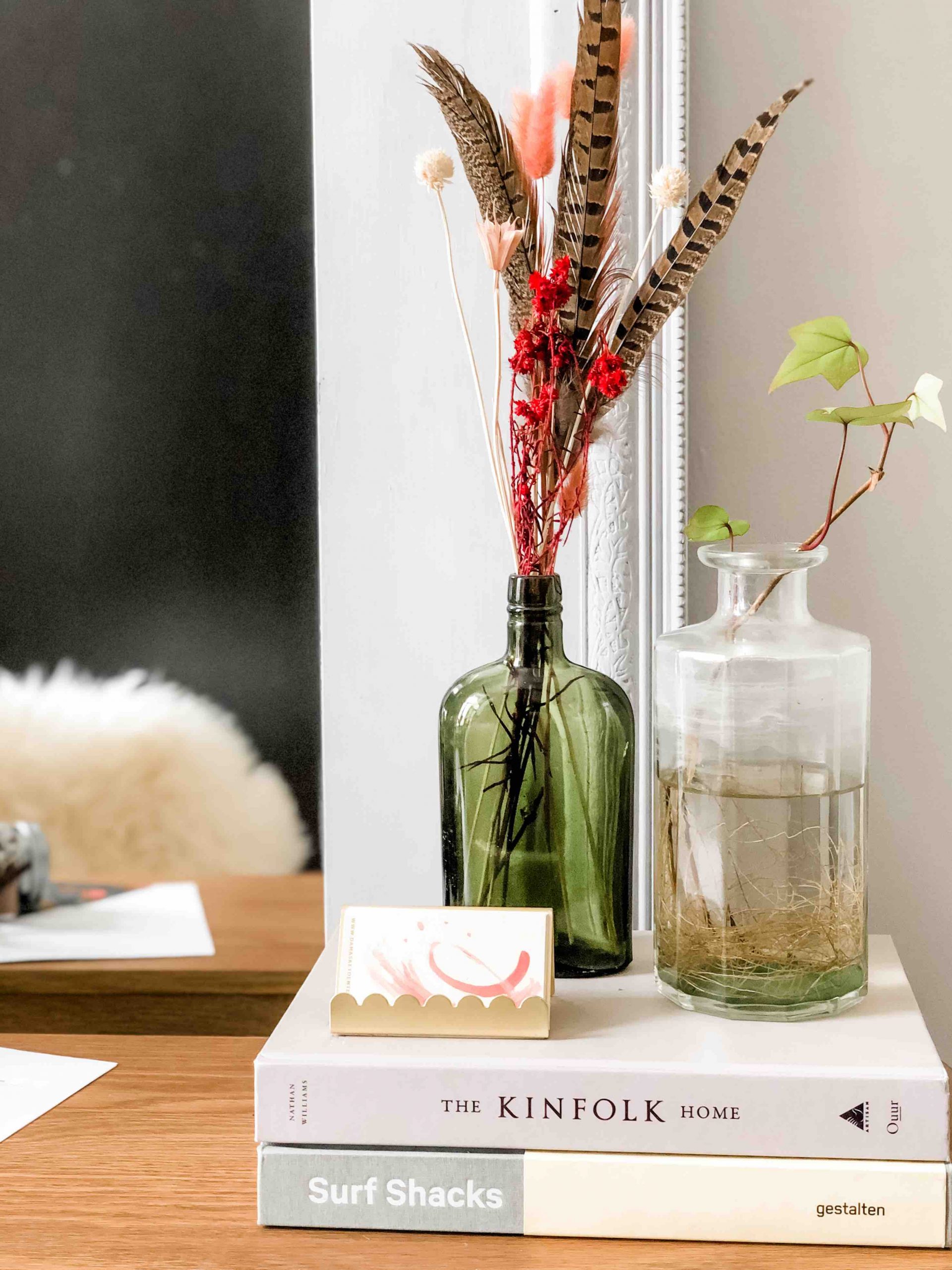 Because a desk was physically out of the question if I hoped to be able to walk around it, I stole the console table that sat in the dining room with a chair that I used for a shoot last year and which was currently unused. The rug was also too big but now fits perfectly once folded onto itself.
As for the wall sconce, I completely forgot that I had bought one when I first opened the Apartment and never got around to installing it. Time passed, stuff accumulated and sconce was forgotten. Ishhhhh. Well, its now up and the simple round globe with a brass accent band is super cute.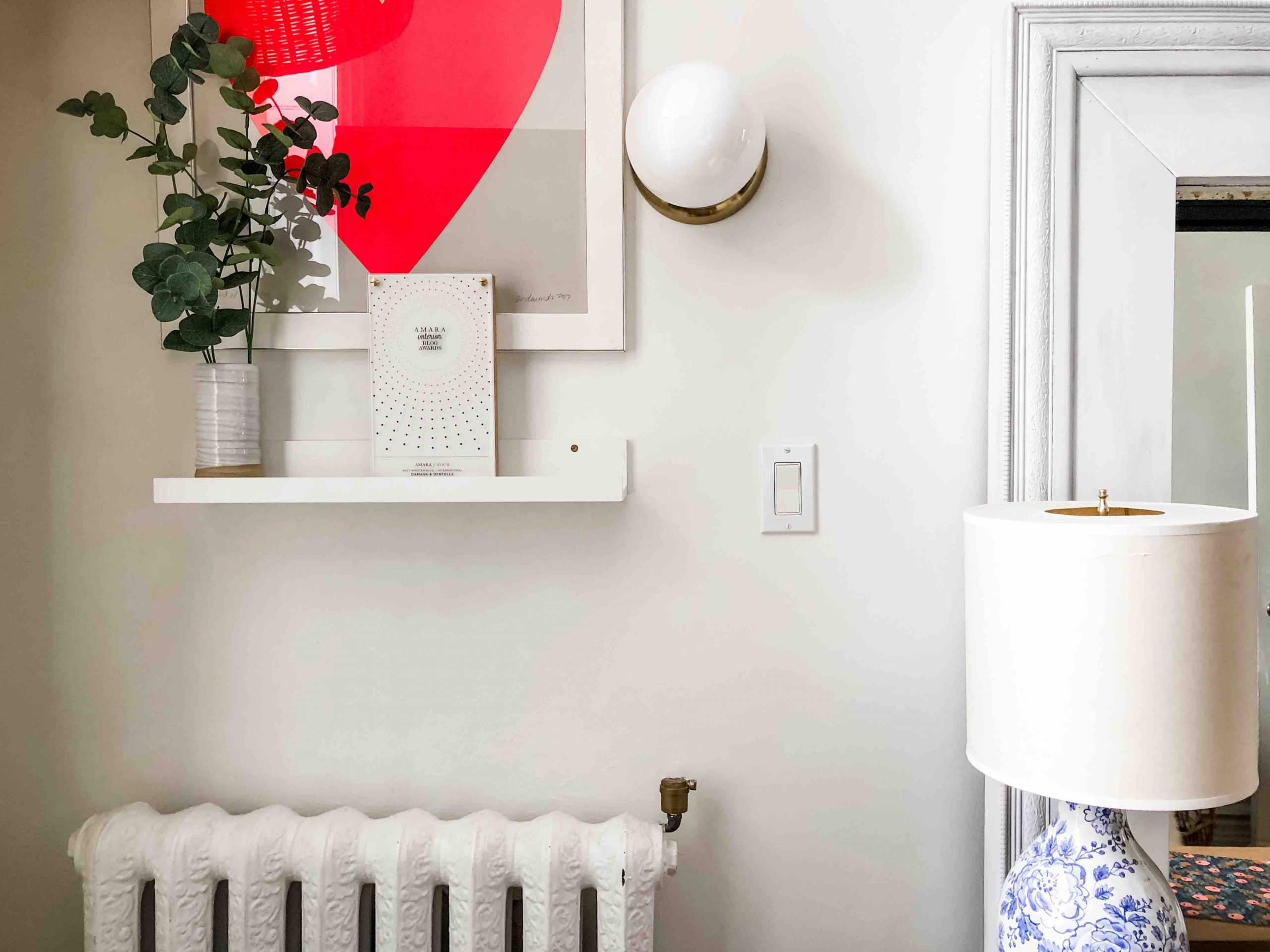 As for my shipping closet, well it is gloriously practical! I am not a huge fan of the shelving unit currently in place (especially its flimsy cardboard backing), but the goal of the exercise is to not spend a dime for the transformation and so, I will make due. In terms of storage proper, I found a tiny rattan basket at home which I used, both lid and basket, to corral all my shopping accessories: labels, tape, pens, scissors and so on.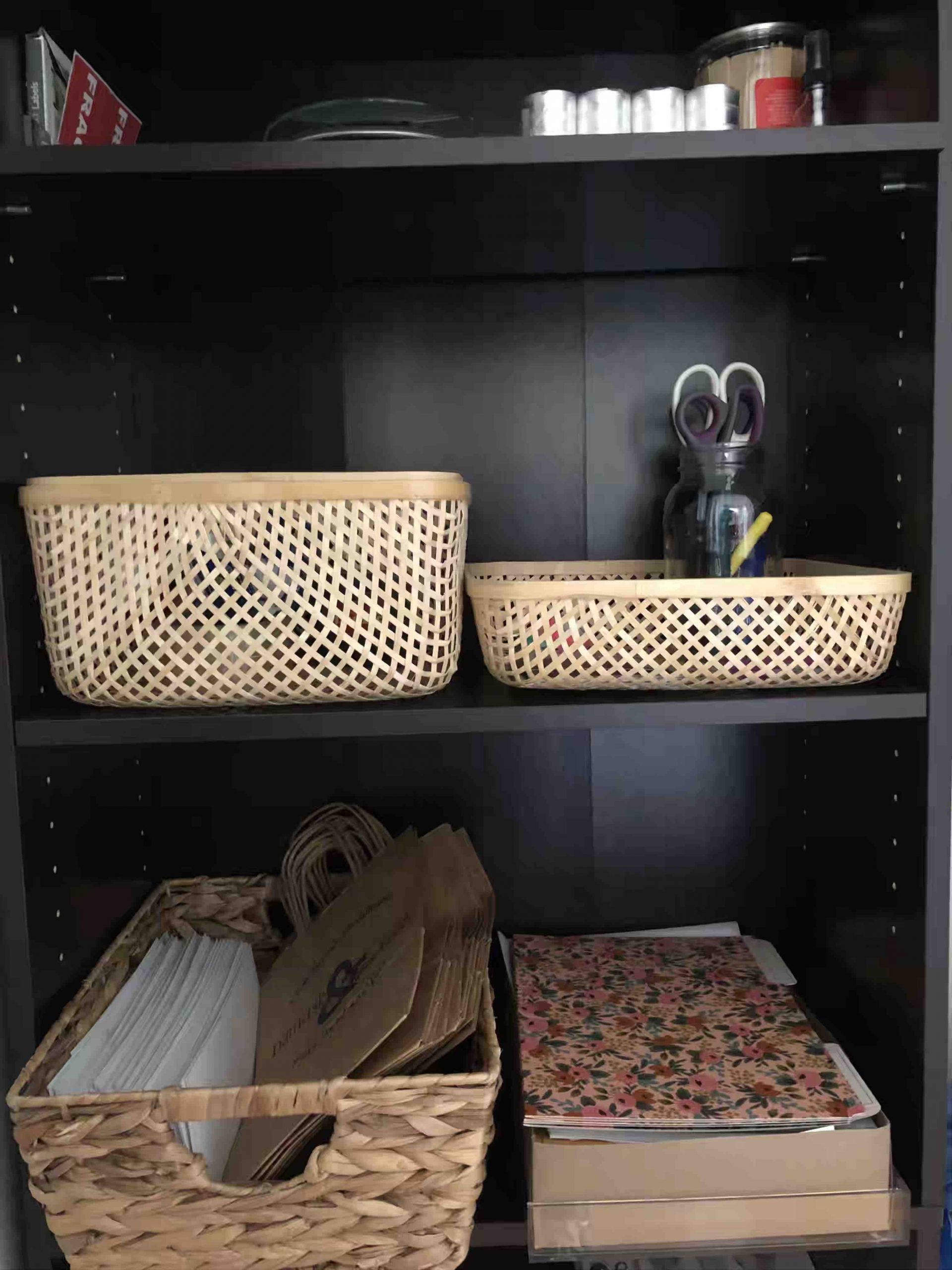 Finally, to hide another not so pretty (but practical) shelving unit, I used some fabric remnants that I had laying around and covered each shelf for a boho feel that I really like.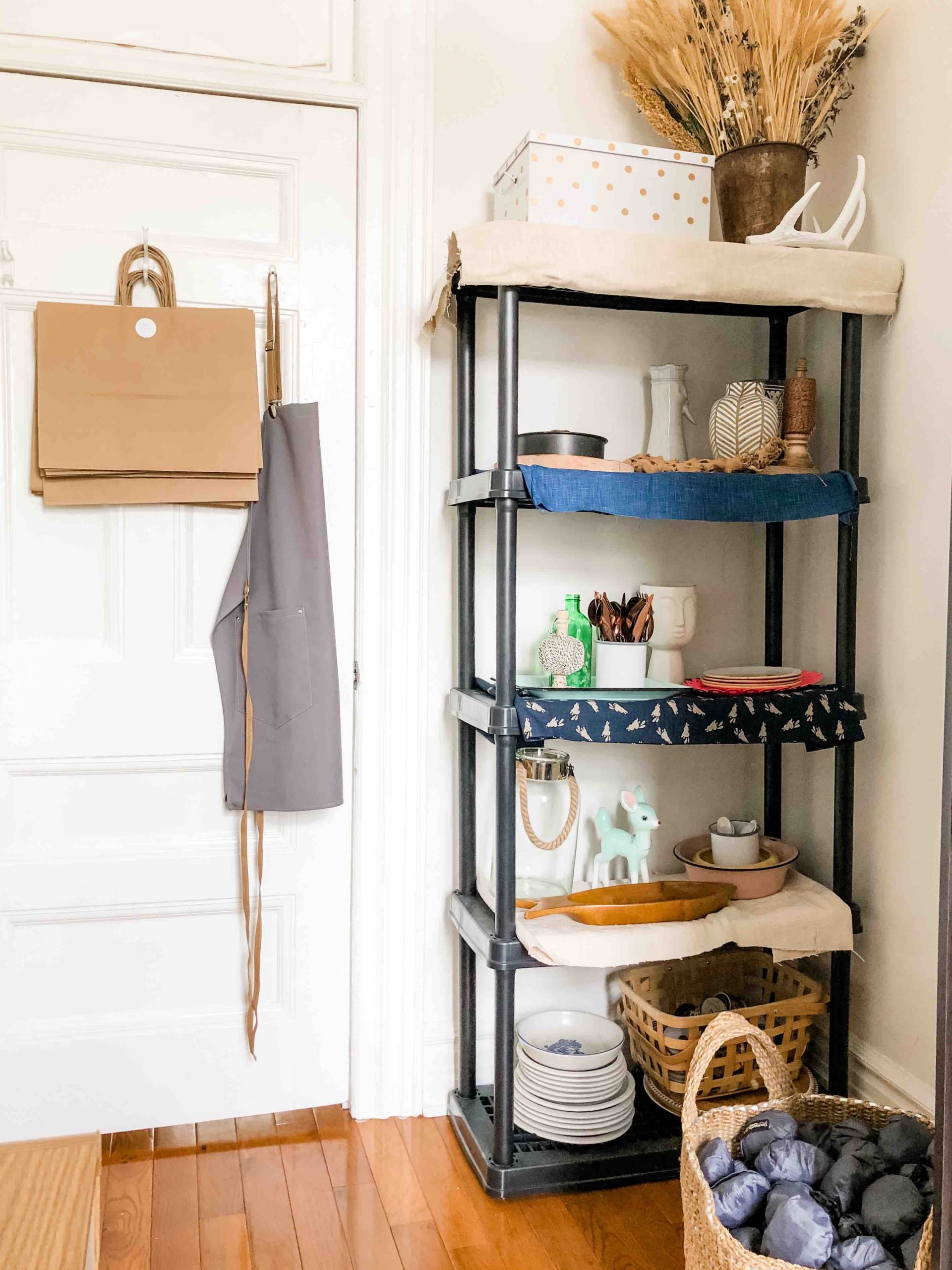 So there you have it. It took the better part of two days, zero dollars and a lot of hard decisions, but the result is exactly what I was hoping for. I now have a tiny office all to myself and it is perfectly imperfect!
If you'd like to reach out to Tinka, check out her website or follow her on Instagram.
11